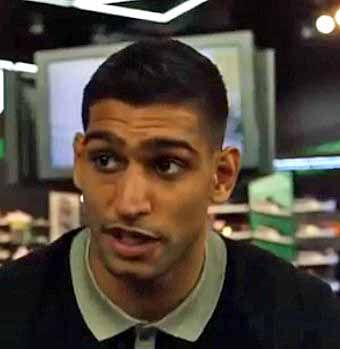 Fresh off his win over Julio Diaz in Manchester last Saturday week, Amir Khan flew over to America to watch Floyd 'Money' Mayweather, the worlds No1 pound for pound boxer, successfully defend his WBC welterweight title and top ranking status against Robert Gerrero. (Mayweather WUD12) at the MGM Grand, Las Vegas this weekend, and Khan left ringside after watching Mayweather closely and believes he has the missing blueprint to beat him!
Mayweather, 36, undefeated now in 44 fights, with 26 KOs, put on another of his defensive boxing masterclasses to outwit and out punch and make look easy, what was considered a tricky defence, by outpointing the rough tough Gerrero, and it still doesn't look like there is anyone that comes even close to defeating this modern day great.
But Bolton's Amir Khan, 26,  (28-3, 19KOs) and the former light-welterweight world champion, is ready to step up to welterweight to chase a fight with Mayweather and the British boxer believes he has got what it takes and possesses the style and skills to cause the best fighter in the world problems!
"I think the way of beating Floyd is by having hand speed an explosive style, in and out footwork and great movement."
With Mayweather recently signing a six fight deal with US broadcaster Showtime, Khan would be on that possible opponent list as a big draw name to face the richest sportsman in the world, and a potential fight is looking ever more likely.
Visit www.freebets.org.uk for a free bet on Amir Khan's next fight.
"Styles make fights, with a style like Floyd Mayweather and myself, it would be a very technical fight." Khan told ESNEWS.
"You know all these fighters who fight Floyd Mayweather, if you haven't got hand speed there is no point being in the same ring with him because your just going to be perfect and suit what Floyd wants.
"I think the way of beating Floyd is by having hand speed an explosive style, in and out footwork and great movement. At times Floyd likes to come forward, he's a great pressure fighter as-well  which people don't give him the credit for. But I really think the way to beating Floyd Mayweather is hand speed, you know hitting him with shots that he doesn't see and also just working him hard.
"We saw when Ricky Hatton fought him, he put the pressure on and he hurt Floyd, but has the rounds got later I think he gave Floyd that extra bit to come forward and put the pressure on and that's why Floyd put him away and knocked him out.