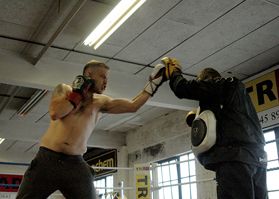 I'm sure that anyone that watched Prizefighter – International Heavyweights – back in June 2012, will remember 25 year old Tom Little from Hatfield, Hertfordshire, not because he won or anything like that, but for the surprising way he exited the competition in the quarter-final against Tom Dallas.
 I say surprising as Tom seemed to be cruising to victory, but after two sensation rounds dominated by the Hatfield man he ran out of steam mid-third round.
Doghouse Boxing's Iain Dolan, who was ringside on the night, wrote in his report:
"Fight of the night was the 4th quarter final between Hatfield's Tom Little (18st 3lbs) and Tom Dallas. The flabby Little, in only his 4th paid bout showed surprising hand speed and a big heart as he threw the kitchen sink at Dallas from the off. 
Finding success with jabs and hooks both upstairs and down, Little looked to be on course for an unlikely victory as Dallas neglected defense in order to meet fire with fire.
Little started the 2nd round with similar ambition but, from quite early on, was looking up at the big screen to see how long was left in the round. Little continued to throw leather and give Dallas problems although he was clearly gassed by the end of the round.
In the 3rd it all fell apart for Little as he had just completely run out of steam. Dallas landed some good shots but it was 90% exhaustion that caused Little to crash to the canvas.
He managed to get to his feet but could barely stand so the fight was waved off. 
If Little can find the discipline to spend more time in the gym and less time in KFC, he has plenty offer on the domestic heavyweight scene."
That final comment may just have been the catalyst for the 'rebuilding' of Tom Little that has been taking place at the TRAD TKO Boxing Gym in Canning Town over the past couple of months.
That may sound a little dramatic, but believe me I have seen the transformation, both physical and mental, that has taken place.
I first met Tom when he was preparing for his pro debut, against Rolandas Cesna in July 2011. I was invited by Graham Earl to come to Luton to interview his fighters that were to take part in an event promoted by him at the Liquid Night Club in Luton.
To describe the difference between the Tom I met then and the one I spoke with earlier today is unreal. Back then Tom was yet another flabby heavyweight.
He's biggest selling point was his hand speed, ridiculously fast for a Light Heavy, let alone a Heavyweight, but his stamina was very, very poor, he was running out of steam after just a couple of rounds on the heavy bag.
Today Tom is almost a lean, mean fighting machine. Whilst yes he is still carrying a bit of excess weight, he really is beginning to look much more 'fighty'
I watched as Barry Smith put him through the paces, six rounds on the heavy bag, followed by another six on the pads – oh and I don't mean pitter-pattering I mean full on 'fight level' stuff.
The change is so extreme that I for one am looking forward to watching him in action, at Johnny Eames' TKO Events promoted 'Two Tribes' event at York Hall in London on Saturday June 1st.
If he performs at the level he did in the training sessions Tom Little may just be the breath of fresh air the Heavyweight division needs to ignite the fans interest once more.
As I said before I was amazed at his extraordinary hand speed, as well as the ease he is able to open up his opposition with both hands, so am sure he will become a serious crowd pleaser.
OK, enough of my praising the youngster, let's get down to the nitty gritty. Following the grueling regime Barry Smith, young Tom took some time out to talk about his career to date, his disappointing loss to Tom Dallas and of course the transformation since his move to the TRAD TKO.
 Click continue reading for the Q&A interview with Tom Little