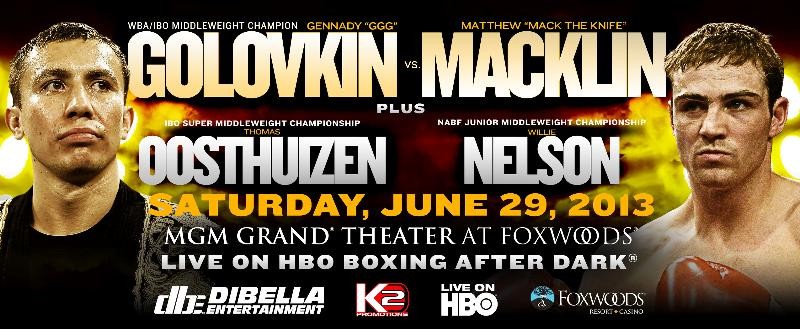 LIVE FIGHT REPORT
Matthew Macklin was looking to win the world title at the third time of asking when he took on the toughest challenge of his career against big hitting WBA middleweight champion Gennady Golovkin at the MGM Grand in Connecticut. But Macklin found out after three hard rounds just why this unbeaten Kazakhstan champion is considered one of the most dangerous boxers in the fight game.
Fight Report
Round 1
It is a cautious start from both feeling out, looking for the early mistake, as the round goes on Golovkin starts to show why he is rated so highly and begins to tag Macklin, the shots are hard and Macklin has already felt the heavy hands of this exciting champion.
Golovkin 10-9
Round 2
Golovkin is stalking Macklin, he's closing him down and Macklin looks concerned, big right hand left hook lands from the champion and Macklin felt that. It's a tricky start from Macklin, but he's still there. Golovkin is looking a class act.
Golovkin 10-9
Round 3
Macklin meets Golovkin in the centre ring and trades with him, he is looking to get his own shots off now, but is he playing into Golovkin's hands here? Big right knocks Macklin's head back. Golovkin backs his challenger to the ropes and unloads again. Macklin is DOWN! – A wicked body shot drops the Birmingham man hard, it was a left hook, thrown after an uppercut, whilst Macklin was covering up on the ropes.
Golovkin wins by KO
The referee could have counted to 100, Macklin wasn't getting up, the shot was delivered with menacing accuracy and wicked power, right behing the elbow into the floating rib and it was the end of the night for Macklin.
Golovkin is the real deal. This is a big punching dangerous fighter and looks like the hype is well deserved, he could be the biggest pound for pound puncher in boxing! Unlucky Matthew Macklin it was a tough night for him and he was dominated by the champion, afterwards he paid tribute to his victor.
"You have to give credit where credit is due, he's a good fighter and beat me fair and square, he's the best kid I've fought by far, he is better than Sergio Martinez, Sergio is a great fighter but Golovkin is the real deal."
Matthew Macklin
 Continue to Watch the Post Fight Press Conference Video