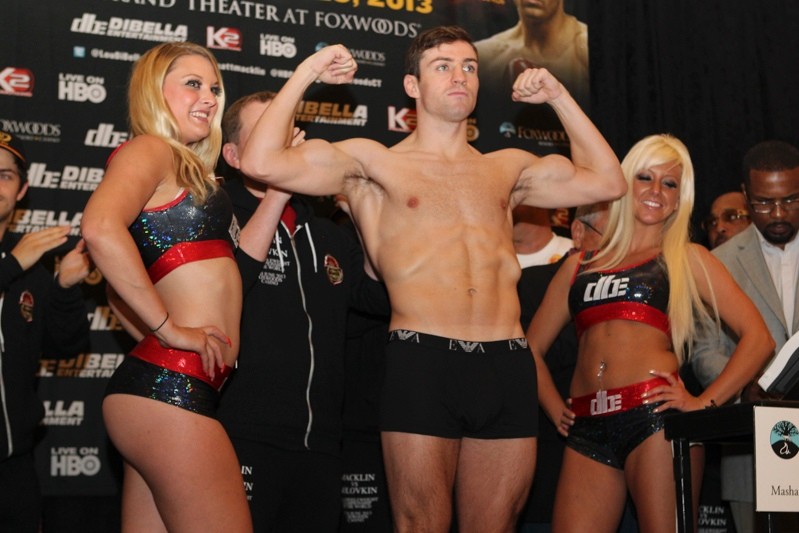 Matthew Macklin is expecting  the toughest fight of his career when he challenges Gennady Golovkin for his WBA middleweight championship belt at the MGM Grand in Connecticut, USA tonight.
Both weighed in yesterday at 159lbs. and looked in great condition ahead of what promises to be a great fight, UK fans can watch the fight live on SkySports 1 from 2am, straight after the Crolla v Rees and Smith v Dodson fights that start at 8pm.
[sam_ad id="30″ codes="true"]
This will be Macklin's third world title attempt when he challenges one of the games brightest talents the big-punching unbeaten Golovkin who has 23 knockouts in his 26 wins.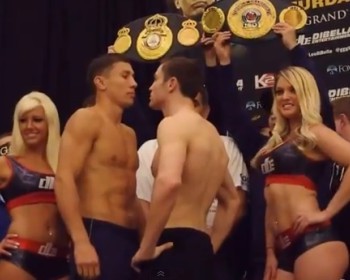 Macklin was defeated in his last two titles shots against Felix Sturm and Sergio Martinez, but he displayed his battling spirit on both occasions and believes he is better prepared than Golovkin for a gruelling war.
"I'm a lot smarter than I look, as I showed in the Sergio fight, I can adapt and box and be smart when I have to and when the going gets tough, the tough do get going," he told fightnews.com.
"When it's gruelling in there, he will never have been in there with anyone like me, that wants it as much as me, that's prepared to dig as deep as I am. That's going to be a massive factor for me."
The Birmingham fighter has been stopped twice, but is confident he can withstand Golovkin's punching power.
Both men are likely to go toe-to-toe at some stage in the fight and Macklin insists he could be the last man standing if they exchange big punches.
"I've got a solid chin, I went down twice against Sergio, the first one I was off balance, the second one was a knockdown but got up straight away. I've got a lot of faith in my chin and anyone can get knocked out," he said.
"I have 20 knockouts as well, I KO'd Alcine who just went 12 rounds with Jason Williams who was supposedly the biggest hitter ever. He's obviously a bigger puncher, he's heavy handed and I think he's got good skills as well. I'm focused on what I have to do and the tactics that I want to try and impose on him."
Golovkin has already fought twice this year and is determined to maintain this busy schedule as he bids to become one of the biggest names in the sport.
"I want to fight the best, and I want to fight all the time," said the Kazakh. "This is my dream, so I have to keep going."
Watch live on Sky Sports 1
[sam_ad id="30″ codes="true"]
Continue to the Next Page to Watch the Golovkin vs Macklin Weigh-in Video