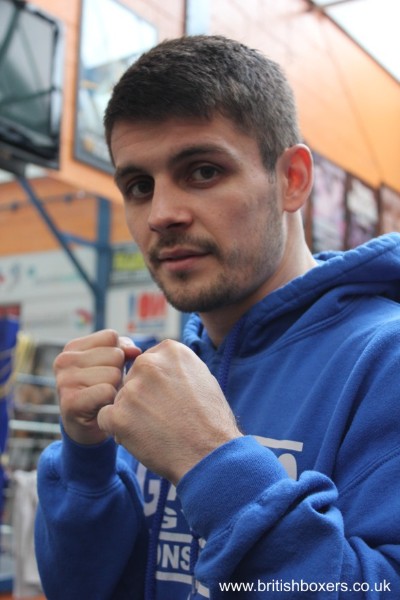 It is now just over a year since Liverpool's Stephen 'Swifty' Smith was last in the ring, the longest period he has ever had amateur or pro without having a fight.
The former British and Commonwealth featherweight champion underwent an operation for a perforated ear drum after his last outing against Jose Luis Graterol in June 2012. Since then 'Swifty' has had a frustrating time getting going again, after a number of fight dates have been cancelled or postponed, which at one point left him on the brink of quitting the game.
Thankfully that hasn't happened and the dedicated Liverpool fighter will finally get to showcase his talent this Friday night at the Olympia in his home city. (opponent was still TBC at time of writing) This will be an exciting bill that features the Big British and Commonwealth title fight, between Manchester's Denton Vassell and Birmingham's Frankie Gavin, a real trade fight is this one!
For Smith, this will be his first fight back at the Olympia, since his shocking 8th round defeat to Lee Selby in September 2011. It was his first defeat as a professional and cost him his treasured Lonsdale belt and Commonwealth title, both of which he had took off Greenock's John Simpson. Selby has gone on to prove himself a worthy champion, after entering the Olympia that night against Smith as something of an unknown quantity.
Smith that night though wasn't himself, you could see something was missing, his approach was sluggish, he wasn't letting the punches go and after a couple of rounds looked tired, and there for the taking. Credit to Selby he took full advantage and as gone on to prove his quality and stands on the verge of a world title shot.
It was Smith's 13th fight against Selby and for the superstitious that could be perceived as an omen, but there were other factors that could explain just why Smith was so lackluster that night, without taking anything away from Selby's classy performance.
The fight had originally been set for the July of 2011 at the Excel Arena in London, but the show was cancelled a week before and the promoter's informed Smith they would reschedule the contest for July 16 in Liverpool, but that was the weekend he was to be best man at brother Paul's wedding and instead the fight was pushed back to appear on a show coming up in September.
Smith had been training for the Excel date, in Germany with his coach Joe Gallagher who was there training Matthew Macklin, for his challenge of Felix Sturm's world title. Smith was fight ready after his continental preparations and was said to be looking fantastic in camp, but after the cancellation of the London show and then the time in-between the actual fight, Smith had already peaked. He had had a short rest after being told the fight was off, did Paul's wedding and began training again, but he'd left his best work in the gym and was burnt out by fight night.
Since that loss to Selby, Smith bounced back in 2012 with three wins, picking up the vacant WBO Inter-Continental super featherweight title and off the back of it a top 3 place in the WBO's world rankings, but he wasn't able to capitalise and continue the momentum to a return with Selby after the various setbacks that have stalled his progress.
But patience is a virtue and 'Swifty' has kept his head down, arse up and grafted to keep himself fit sharp and ready, knowing he would eventually get the chance to kick-start a career that had once promised so much. The thoughts of knocking boxing on the head were just a dark moment that he soon snapped out of and he is now optimistic about his future and cant wait to get back in the ring to do what he does best.
Smith, 28, has not yet decided where his best options lie in terms of weight division, he can still make the featherweight limit and would do it in an heart beat if he was offered the big one with Selby or another title shot. But his last three contests have been at super-featherweight, and it is clear to see, he looks a much stronger, more powerful proposition at 130lbs.
After a couple of tune ups to shake off the rust, Smith should be back in the title mix and It will be good to see him back!
After watching Stephen spar with unbeaten British super-bantamweight champion and gym mate Scott Quigg and amateur star Joe Costello, I spoke to him about his comeback fight and the frustrations of being out of the ring. Here is our short interview.
You can Follow Stephen Smith on Twitter @SwiftySmith
Follow us on Twitter for British boxing News, interviews, videos and more @britishboxers
To Watch our full in-depth Interview with Stephen 'Swifty' Smith about how he got into boxing, who his favourite all time fighters are, current favourite British boxer and much more, please continue to the next page.