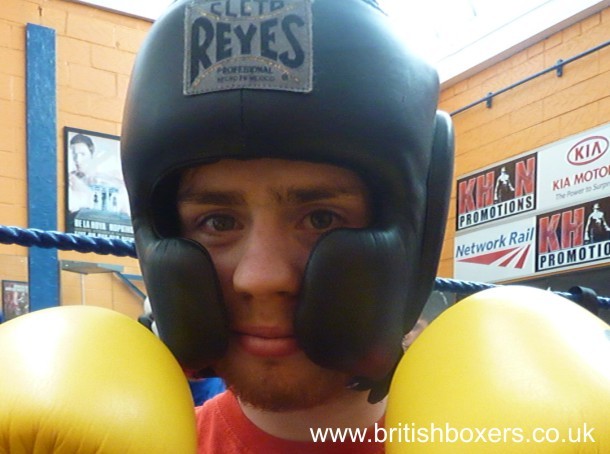 You may have been wondering where Manchester's one-time promising featherweight prospect Joe Murray had got too in recent times? Well last night (Friday) he made a welcome return to the ring to score a eight rounds points win over the recently improved and determined Londoner Dan Naylor at the Olympia in Liverpool, on the undercard to Frankie Gavin vs Denton Vassell. (full show report to follow)
Southpaw Naylor pushed Murray the distance and gave him plenty of problems, but farmer Murray, who came to the ring in a straw hat and a pair of dungarees to his country theme tune 'Cotton Eyed Joe' solved the puzzles and eventually got his shots off well, doing enough to contain a determined opponent and get his stagnant career going again.
Murray now 26 years-old, has had a stop start professional run since turning over in March 2009, on the back of a successful amateur stint. He had won a bronze medal at the world amateur championships in 2007, and was then part of the British Olympic team in 2008, for the Beijing games. He had 11 fights in the first two years of his career, which accumulated in him winning the IBF Youth Youth Featherweight title, but after that his ring appearances have been sporadic. In last two years,  Joe has had just three fights and it has been a frustrating time for him.
During his sabbatical from fight action Murray has changed promoters, from Ricky Hatton to Frank Warren and also his trainers, swapping Joe Gallagher for Anthony Farnell and has since has had two contests under 'Arnie' including this win over Naylor
Naylor, also 26, had come to fight and gave his former amateur room mate a good go. Naylor if you look at his record, will come across as a bit of a journeyman, who just does enough to survive and earn a few bob regularly, he does, but that doesn't tell the full story. Since he turned professional, he's been matched hard and takes fights with anyone. Always in condition, he is a durable lad and isn't far off putting a run together, but Murray overall controlled the action and was always in front, eventually he took the referees scorecard 78-75.
Murray was made to work hard for this win, he tired as the fight wore on, which is understandable considering recent inactivity, but his skills and better choice of shot overall saw him work out the lefty and come through well in the end. Murray cannot afford to have anymore breaks and ideally will be back out again next month. A lot of his shots became forced and his legs looked heavy near the end, but he got to grips with Naylor's style and it was a perfect fight to shake off ring rust, work on muscle memory and sharpen up. There was plenty expected of Joe Murray, lets hope now he gets to show it in these prime years of his career.
After the contest Murray made his future plans clear, he wants a title fight to bring the best out of him and called out anyone who is prepared  to take him on. "I want my next fight to be a title fight." said Murray.
"I'm sick of fighting these kids who have loss records, I want to beat somebody who has a good record, a good kid, I want a title fight.
"I want any of them want it? Come bring it, Joe Murray's here."
Continue to the Next Page to Watch iFilmLondon's Post Fight Interview With Joe and his brother, world rated lightweight John Murray.