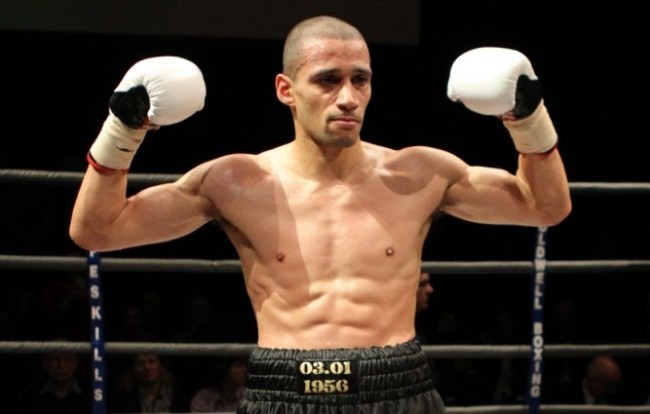 Driffield's Curtis Woodhouse has run around a few centre circles in his days has a Premiership footballer and tonight was no exception, has he gave  Joe Elfidh, not exactly the run around, but a good going over, has he got stuck into the Rochester man from the opening bell and gave a powerful display before administering the stopping in the 3rd round.
It was a real purposeful display from Woodhouse who had  Elfidh on the canvas in the first round after a right hand shook him and then a vicious left hook to the jaw inside, dropped him to his knees. Elfidh to be fare to him did very well to get up and continue, but he made it to the end of the round.
In the second round, Woodhouse came out well with the jab, and was cutting off the ring well and backing Elfidh up. Halfway through the session Woodhouse again exploded another right hand that crashed off Elfidh's chin, sending him to down again. He bravely got up and continued, but now Woodhouse was fully in control, taking his time and looking dangerous. Elfidh ended the round with a good left hook of his own, but it was all Woodhouse.
In the third round Woodhouse came out behind a solid jab again, looking powerful at lightweight, the former English light-welterweight champion stalked Elfidh and then threw a perfectly timed left hook that landed heavy and had Elfidh down again. The tough Eldith got up and took the count, but this time referee Howard Foster had seen enough and waved the fight off.
Woodhouse, 33, looks a much stronger and better boxer at lightweight and he looked in fantastic condition. It is hard to believe that Woodhouse has only been boxing for six years since changing sports. Eyebrows may have been raised, when Curtis turned over, but he has proved himself without doubt and now finds himself in a great position domestically in a lightweight division packed with talent.
Woodhouse takes his professional record to 18-5, 12 KOs and wants to now realise his dream and the promise he made to his father on his death bed, that he would one day win a British title.
"If someone would have said to me when I was playing football in the Premiership, that six years later, you'll be boxing at Hull's KR ground, I'd have probably given them a left hook," joked Woodhouse after the win.
"It does seem a little surreal, but I'm loving every second of it, it's the best game I've ever been involved in, I've met some brilliant people along the way, but to cap it off I need that British title. I promised my dad on his death bed that I'd win a British title and nothing has changed."
Continue to Next Page to Watch Post Fight Interview with Curtis Woodhouse