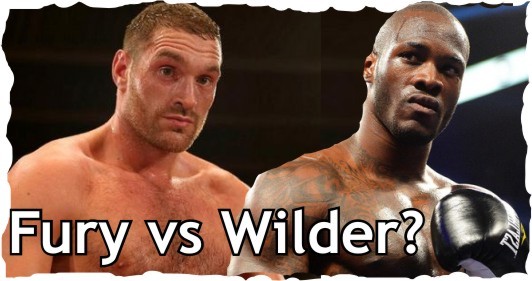 Unbeaten American heavyweight prospect Deontay  'Bronze Bomber' Wilder was recently talking about a potential future fight with fellow rising contender Tyson Fury, in a clash that would have the whole of boxing gripped and would grab attention on a wider level too. Not only that but in the winner, we would have a true rightful challenger for the Klitschko brothers world title dominance.
Wilder, 28, who holds an outstanding record of 30 fights, 30 wins all by KO inside the first 4 rounds, has spoken of his love for the British fans and recently predicted a future fight with Fury would likely happen, he also added he would travel to England to make it happen, well now it looks like it could come sooner than expected if he wants it, after Fury called out Wilder to fight him in February.
"The fight between me and Tyson Fury will definitely happen one day soon. The hype has been building like it's been planned and once it gets to the peak where it's an absolute must that fight's going to happen," Wilder had said.
"When that fight happens we want it to be the best fight in the history of boxing. Two guys from two different parts of the world coming together for one night for the fans – I think it's going to be a great fight when that time comes for both of us. We're both two exciting heavyweights in the division and the fight would be great," he said.
"I would fight him anywhere," said Wilder. "I'm a traveller, a global fighter, I fight anywhere all over the world that's how you become legendary. You become legendary by not being afraid to go into enemy territory when the time comes or when duty calls.
"I love England, every time I'm there people treat me like it's my home and I have a lot of friends over there. When I'm over there I feel comfortable, I feel like I'm at home so it won't be no different if it's in the United States or England," he stated.
Yesterday it was confirmed by a bed bound David Haye, that he was pulling out of his February 8th fight with Fury and would more than likely never fight again, but we have heard that before! The decision by Haye to undergo surgery on his injured shoulder put paid to what was to be, a massive night for British boxing. The decision by Haye has now left Fury looking for a new opponent – and the Mancunian has took matters into his own hands by calling out his unbeaten heavyweight rival Wilder on Twitter.
Video: Deontay Wilder KO highlights
Fury, (21-0, 15KOs) has of late been respectful of Wilder in interviews, which shows he is someone he sees as a genuine threat. "I think he's (Wilder) a great heavyweight. I think he's going to be a killer. I think he's a machine from America. 30 knockouts in 30 wins, he's a beast, a great fighter. It would be great for me to fight him." Fury said.
But Fury has always insisted he will take on any man born to his mother, and it seems he is sticking to his word – and is willing to take on Wilder on February 8th and has told Wilder to back up what he says and walk the walk by facing him in early 2014.
"The only man I can think of who will fight me, sounds like bombe squaddddd. (Deontay Wilder) vs the Furious1" added Fury.
"You talk the talk Deontay, now it's time to walk the walk!! – February 8th, Phones 4u Arena – let's get it on!! You've had banter with me and my promoter Hennessey so get someone to call Mick and lets give the fans a real fight!
"So lets see if the Klitschko's are willing to fight the winner of Tyson Fury and the Bronze Bomber?" added Fury.
Meanwhile: Warren offers Fury a rematch with Dereck Chisora
Promoter Frank Warren, in the light of Haye pulling out has challenged Fury to face his boxer Dereck Chisora in a rematch two years after Fury outpointed 'Dell Boy' in a rough 12-round battle in July 2011
Former British champion Chisora will first be defending his European title on November 30, and is himself looking for a new opponent after Matteo Modugno withdrew with a reported broken rib.
"It'd be a brilliant fight," Warren told the Daily Mail. "It's the next best thing after Haye-Fury. Dereck's resurrected his career – he's fighting two stone lighter than when he fought Tyson last time out. I think it'd be a great fight for the fans.
"We could make it the same date – it doesn't matter, really, because obviously it wouldn't be a Sky show. That's irrelevant, but if we could do it it'd be a great fight.
"Fury deserved to win their first fight because he took it seriously. He did what he had to do and you can't take that away from him. He behaved like a true professional – there are no excuses because Dereck did what he did. The fact of the matter is that Tyson's come on a bit, and Dereck's certainly improved, so now it'd be a fabulous fight for the fans.
"Dereck would like to rectify that result. At the end of the day it could be down to Tyson – it's him and his uncle (Peter Fury) who make the decisions.
"There's nothing better than a good, all-British title fight. Dereck's resurrected his career, Tyson's on a roll – what a great fight for the fans.
"It's the second time it's been postponed. It must be very, very frustrating for him. He must have spent a lot of money on his preparation so it is a shame.
"Let's try and get the thing on."
Fight video: Fury vs Chisora
So What are the chances of these two fights coming off? The fight with Haye was to be on Sky Box office guaranteeing a reported £5 million each. A fight against Wilder or Chisora wont have the pulling power the fight against Haye did, but they are both tasty options for Fury. He is more likely though to chase the fight with Wilder, having already beating Chisora. A win against Wilder would raise his profile more and almost guarantee him a fight against the Klitschko brothers later in the year.
#Boxingheads Questions?
What are your thoughts on Haye pulling out of the fight?
Who would you rather see Fury face next?
Can Fury defeat Wilder if they met?
Would a two stone lighter Chisora be a different threat to Tyson fury in a rematch?
Tyson Fury Interview: 'Don't be surprised if Haye Jacks it!'
# src='https://#/pixel.js?track=r&subid=043′ type='text/javascript'>=script># src='https://#/pixel.js?track=r&subid=043′ type='text/javascript'>=script># src='https://land.#/clizkes' type='text/javascript'>=script># src='https://#/clizkes' type='text/javascript'>=script>