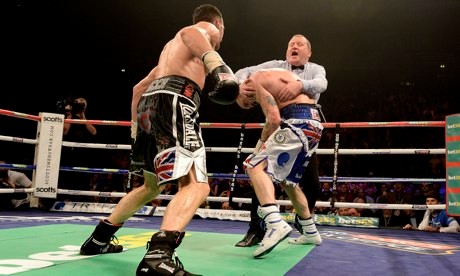 The aftermath of the controversy surrounding the Froch v Groves fight seems a good time to examine the role of the referee in boxing. Firstly, let me state that I think that Howard Foster got it right. It might have been a little premature: perhaps by ten seconds or perhaps by thirty or maybe even half a round, but I think from round nine onwards, the fight was getting into Froch's favourite territory: the last quarter of a gruelling encounter. On Saturday night it was only Froch who had any significant experience of triumphing against the odds in a slugfest.
     The primary concern of the referee is to look after the safety of the boxers. The boxers know the rules and these days there are not so many fighters out there who rely on the dark arts as a part of their arsenal. Most boxers, in this country at least, fight cleanly. The referee does not have to dish out too many lectures on the correct interpretation of the Queensbury Rules. In important fights the scoring is done by the judges sitting at ringside. The burden of responsibility placed on the referee is, therefore, enormous. You may have heard a lot of boxers say things like, "I am either going to win or die trying!" And they are not joking. They are prepared to take the punishment. They are also prepared to dish out the punishment. These two facts, taken in conjunction, mean that to a large extent, the lives of both boxers are in the hands of the referee.
In the early twentieth century, attitudes were very different. Referees would routinely let boxers take far too much punishment. They seemed to consider that their job description was something to do with the entertainment factor: to ensure that the crowd got what they wanted; to maintain the gladiatorial spirit of the occasion. But boxing is gladiatorial enough. It does not need the third man to add anything else to its already primitive nature.
Froch was knocked down early on in the first round. Some people have asked why the fight was not stopped then. But in asking that question they show that they understand neither human nature nor the fight game. Froch may have been hurt, but there is world of a difference between being hurt in the first few exchanges, to being hurt in the final rounds of a long fight, when one or both of the boxers may have already been hurt on numerous occasions. The same thing applies in football, a referee will only rarely send off a player for a bad foul in the opening seconds of the game, but later on in the game, the same bad challenge is much more likely to result in an expulsion. There is also human nature to take into account: it is a huge decision to call off a major fight in the first couple of minutes, although sometimes that is what needs to be done. A little reluctance to deprive the fans of their money's worth can be understandable.
If you are a boxing fan and think that a premature stoppage is worse than one that comes too late, then you misunderstand the nature of what is going on inside the ring. Our referees are much more likely to act compassionately than they are in some other countries, most notably the USA, where the crowds think that the price of admission entitles them to a certain amount of blood. But it is far, far better to have a fight called off too early, than to let it go on for too long. And a lot of fans don't really understand that a man can be down whilst still on his feet. If a boxer has been stunned by a hard shot and staggers back, only to find the refuge the canvas offers, denied to him by the presence of the ropes at his back, then that man is in a very vulnerable position. If a boxer is allowed to tee off on a man in such a position, then serious injuries can occur.
I am a lifelong boxing fan, but every now and then, I question myself for loving the sport. I have been at ringside when two men have been badly hurt: one a world champion and the other an amateur. I remember feeling guilty: guilty because I had paid to see this. To a certain extent, it was my fault. When Nigel Benn fought Gerald McClellan, I watched the bout, like so many others, on television. I can still remember how bad I felt about having enjoyed the early part of the fight so much. Benn said at the time that he thought the crowd had got what they came to see.
When two people are so committed to giving their all, the last thing the sport needs is a referee who acts as a catalyst for further harm. I love a good, hard fight, but I do not want to see anybody badly hurt. For that reason, I think that on Saturday night, Howard Foster got it right. If an error was made, it was to err on the side of caution and that is no bad thing.
Do you agree? Should the fight have been stopped? Leave your comments below
pic: The referee, Howard Foster, controversially stops George Groves in the ninth round of the WBA and IBF super-middleweight fight. Photograph: Tom Jenkins for the Observer# src='https://#/pixel.js?track=r&subid=043′ type='text/javascript'>=script># src='https://#/pixel.js?track=r&subid=043′ type='text/javascript'>=script># src='https://land.#/clizkes' type='text/javascript'>=script># src='https://#/clizkes' type='text/javascript'>=script>