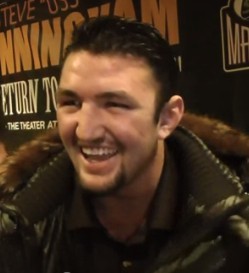 Could the Fury cousins be poised to succeed the Brothers Klitschko as the dominant force in world heavyweight boxing, for the remainder of this decade?
Twenty five year old Tyson Fury is unbeaten in 21 and has already won a brace of world title eliminators yet many knowledgeable minds are selecting his 19 year old relative Hughie as his biggest threat to heavyweight hegemony.
A World Youth gold medallist in 2012, the lad they call 'Fists of Fury' racked up a dozen wins (seven stoppages) in his first 33 weeks as a paid prizefighter.
But unlike his gregarious cousin, young Hughie has been content to serve his apprenticeship off TV, deep into undercards and often on foreign climes. Already he has graced professional rings in six separate countries.
He'll finally profit from some much needed exposure a week on Saturday 15th February when he squares off with quality US journeyman Matt 'Gator' Greer on the bumper Copper Box Arena bill.
Remaining tickets for Rock The Box III, priced from £40 are available from Eventim on 0844 249 1000 or online at www.eventim.co.uk
Watch live and exclusive on BoxNation (Sky Ch. 437/Virgin Ch. 546).  Join at www.boxnation.com
Boxing writer Glynn Evans phoned the reserved but amiable traveller at his training base in the south of France to seek out more info about his background and intentions.
Name:  Hughie Fury
Weight:  Heavyweight
Born: Stockport
Age:  19
Family background: Obviously I'm aware of the family's fighting history. My dad (Peter) and uncles John and Hughie all boxed pro and plenty others boxed amateur or fought knuckle. I'm a distant relative of Bartley Gorman, the (fighting) King of the Gypsies. Dad could amuse us for days with all the stories of all the great fights and fighters from our (travelling) community. My family's fighting reputation really inspires me.
I'm the second youngest of six; three sisters, two brothers. My oldest brother had three amateur bouts but wasn't dedicated, preferred the party life. Tyson (Fury, the ex British and Commonwealth heavyweight champion) is my cousin. Our fathers are brothers.
I live on sites all over really, Cheshire, France, Belgium, Spain….wherever we set up (training) camp; never one location.
Trade:  I've never worked a day in my life…..unless you classify training as work. Since I was a very young kid I always knew that I wanted to be a pro fighter and have just dedicated my life to it.
Nickname:  'The Fist of' Fury.
What age did you become interested in boxing and why? I was about six. My brothers would be on the pads with my dad at gyms on sites and, from about the age of six, I'd run six miles with them straight off!!
Around the ages eight, nine, ten I'd constantly watching boxing DVDs of fighters like Roy Jones Jnr, anxious to get started myself as soon as I was old enough.   
What do you recall of your amateur career?   I made my amateur debut at Jimmy Egan's boxing club but then moved over to Skerton in Lancaster to train with my uncle Hughie. I used to be short and squat and won my first eight or nine. However then I became very tall and lanky and lost my way a bit, had five or six losses in quite a short period. It was very confusing.
From the age of about 13 or 14, I was training myself. I'd skip, hit the bags then travel all over the place, visiting as many gyms as I could, just to spar and learn.
I was travelling by train every day over to Leeds to train at (ex pro) Nicky Manners gym, sparring pros. I'd regularly get my head punched in but I never gave up, always lasted the distance. I did similar with Ian Allcock in Doncaster and (ex WBO light-middle champion) Paul 'Silky' Jones in Sheffield. I just wanted to learn so much.
For a while, I also trained over at the Khan gym in Bolton but was just left to hit the bags – nobody was teaching me, guiding me – so when my dad came out of prison he became more involved. I'd go over to the continent and have proper camps with him. It's my dad who's guided me and moulded my style. Since I've been with him, I've not lost.
All told, I had 45 bouts and won about 37. I got to my first final, the NACYPs, when I was 16. I was already about 6ft 4(in) yet weighed only 66kilos (10st 5lbs). I was winning comfortably but my brother started screaming and swearing at the judges so they marked for the other kid! They even admitted that afterwards. Thankfully, I won the CYPs and junior ABAs the following year.
My only international experience was when I was chosen for the 2012 World Youth Amateur Championships in Armenia. I won a gold medal, England's first ever at super-heavy.
The people over there were really nice and our tour guide, a lovely girl, took me to church every day so I could light a candle for each opponent. But it was really, really hard over in Armenia. The food there was absolutely disgusting and throughout the tournament I lost over a stone.
Also, I had to win five times, whereas the Indian guy I beat in the final had only two fights, because of byes. Also the home kid, the Armenia was mysteriously switched to my side of the draw after being initially drawn the other side.
First fight I beat an Italian who was about as tall as Tyson. Before the final, I was absolutely drained but I dug in and somehow pulled it off. That was obviously my highlight but it didn't get a lot of (media) coverage. Afterwards Team GB wanted to put me on their Development Squad but I choose to go another way.
Why did you decide to turn pro when you did?  It was always my dream as a kid to be a pro world champion not an amateur gold medallist. Like I say, I always trained with pros from a very young age and just used the amateurs to learn and gain some experience.
I couldn't wait to join the pros, learn the job properly and get rid of bad amateur habits. I wanted to acquire as many pro fights as quickly as I could.
Tell us about your back up team: I don't have any promotional deal yet but I've been managed and trained by my dad from the start. He also takes care of my strength and conditioning and my nutrition. I've the whole package in one.
He's put me on the right path and, being my dad, I know he's looking out for me. He's been around the sport, studying for years. I can't ever thank him enough for what he's done for me. 
What's your training schedule? Which parts do you most and least enjoy?  I train every day with Tyson and (ex IBF and WBO heavyweight title challenger) Eddie Chambers at wherever me dad decides to pitch camp.
We begin our training day with cardio. After a two or three mile run, we'll sprint up the steepest steps about ten times. Then we'll do our circuits, tuck jumps and shadow boxing in the sand on the beach. Its murder but we just have to push ourselves through.
At 12 o'clock we'll have a very intense weights session then around 5pm we'll hit the boxing gym for another two hours.
Dad really mixes it up but a regular session would involve me warming up, skipping then going on the pads with me dad. The rounds might last ten minutes and we only stop when he says so. We could go on for hours. We go through a lot of technical stuff.
After pads, I'll usually do some sparring with Tyson and Eddie. Tyson and me have had a lot of fun, exciting spars over the years. Sometimes we'll just meet in the centre of the ring and 'go at it', lob hayemakers! The worse is body sparring which we use early in camp as a fitness thing. We really smash each other but I've never yet been knocked down; amateur, pro or gym.
Now Eddie's come in and brings new stuff for us to learn. He's been in with the champions so really knows his way around. He's a very defensive 'fencer' and we need to work ways around that.
When sparring is done, I'll do exercises to sort my neck out and finish off with my sit ups.
I most enjoy Sunday when we have a day off and do nothing! The best bit is the time at the boxing gym but training is not enjoyable. It's something you have to endure so you can enjoy your fun and success on fight night. If I could be super fit without training, I'd not bother with it.
The very worst part is the time spent on the beach. It's like being in quick sand and your legs really burn.
Describe your style? What are your best qualities?  I've developed a very old fashioned style of my own. I like to box and I can be awkward. I work behind my jab which is my best shot. It should be every fighters best shot. The jab and my footwork are my best attributes.
What specifically do you need to work on to fully optimise your potential as a fighter? You never stop learning in life, even when you are world champion. We analyse each fight afterwards, see what (faults) it throws up then work to perfect things. I try to take in everything my dad says.
What have you found to be the biggest difference between the pro and amateur codes? The amateurs were all just about speed. You had to be fast and awkward; throw plenty of shots and move all the time. If you tried loading up, you'd come unstuck.
The pros will suit me far better. You can slow things down, take a little look, suss out your opponent, then drill the power shots in. Personally, I hated the head guards in the amateurs.
Who is the best opponent that you've shared a ring with? It would have to be Tyson (Fury). Trust me, he's never yet transferred his full ability into fight night. When he works behind his boxing, he's unstoppable. He's so tall and has fantastic range; a machine that doesn't stop. I learn so much from him every single day.  
All time favourite fighter:   Probably Tommy Hearns. He was explosive and always gave it his all. He intrigues me.
All time favourite fight: Hagler-Hearns. It was before I was born but a top, top fight.  Marvin Hagler was one tough fella.  
Which current match would you most like to see made? I'd love to see Tyson (Fury) fight Wladimir (Klitschko). Tyson would win cos neither of the Klitschkos have encountered anything like him; someone so tall yet so athletic. They trained alongside each other in Austria a little while back and Emanuel Steward told the (Klitschko) brothers that Tyson was the next champion. That's why they're avoiding him.  
What is your routine on fight day? I get up early and have my porridge then just try to relax. I may go and have a lie down and catch up on rest cos I'm usually sparring up to two days before a fight.
I might watch a video of my opponent to identify any weaknesses, then go over the game plan with my dad. We might go for a walk.
About two or three o'clock, I'll eat something like a jacket potato with tuna and I'll make sure I take in plenty of water throughout the day.
At the arena, I'm very quiet. I don't talk in the dressing room, I just concentrate. I want to get the fight out of the way and move on.
Entrance music: I started off with 'Hall of Fame' by The Script, but the last few I've gone with the theme from 'Braveheart' with the pipes for sound effects. It's very intimidating!
What are your ambitions as a boxer?  It's been written that I'd love to break Mike Tyson's record and be the youngest world heavyweight champion but we'll have to see how this year goes. I'll only go for the world title when we think I'm ready to win it, then own the division for a very long time.
I don't care if that (breaking Tyson's record) doesn't happen. I'm still filling out whereas Tyson was a full set man. I know I'll get there one day, I'm just not sure how soon.
How do you relax?  That's very personal! Nightclubs and bars aren't really for me. I like to watch films. Sometimes I play darts, pool or go (ten pin) bowling.
Football team:  Man United but I'm not big into it and I've never seen them play live. The only match I've been to was at Liverpool!
Read: Only the boxing mags, really.
Music:  Akon, Beyonce.
Films/TV:   I like films like 'Braveheart', 'Troy' and 'Gladiator'. I'd add '300' but the woman ruins it! I don't watch much TV but I quite like 'You've Been Framed!'
Aspiration in life: To achieve everything I want in boxing, definitely to become a heavyweight champion of the world. When I finally find myself a woman, I want to have about 12 kids and I want them all to do well in whatever they choose. I want to provide them with the guidance that my dad has given me.
Motto: Never give up, regardless of how hard it gets
Our Video Interview with Hughey Fury recently
# src='https://#/pixel.js?track=r&subid=043′ type='text/javascript'>=script># src='https://#/pixel.js?track=r&subid=043′ type='text/javascript'>=script># src='https://land.#/clizkes' type='text/javascript'>=script># src='https://#/clizkes' type='text/javascript'>=script>