Former Commonwealth King, Don Broadhurst, continued on the road to redemption as he was crowned Midlands Area Super Flyweight Champion on Friday evening.
The Erdington boxer (now 16-3) recorded a hard fought points victory over teak-tough opponent, Brett Fidoe, at the Holte Suite, Villa Park.
It was Broadhurst's first title win since he lifted the Commonwealth strap by defeating Isaac Quaye – just a stone's throw from the home of Aston Villa at the nearby Leisure Centre – in 2008. Much has changed since then but Broadhurst, after an 18-month absence, appears to have his mojo back under trainer Jon Pegg and promoter, Tommy Owens.
Fidoe was Broadhurst's opponent for his initial comeback fight, also at Villa Park, last November. 'The Don' edged that 4×3's 40-37 but, over 10 stanzas this time around, was expected to make lighter work of his Scott Lawton-trained opponent.
However Fidoe's record (now 2-10-1) is deceiving. The 23 year-old came to fight and, particularly in the earlier rounds, gave Broadhurst a few problems.
Commanding the centre of the ring, Fidoe didn't let Broadhurst settle into any kind of rhythm. The 30 year-old was forced to work in isolation, unable to combine shots.
However, as the fight wore on Broadhurst, a Commonwealth champion in both codes of the sport, began to pick his opponent off, forcing Fidoe to box off the back foot.
By the 7th round, Broadhurst was in control and although Fidoe kept throwing until the last bell, The Don's accuracy and control saw referee, John Keane, score the contest 98-94 deservedly in his favour.
The popular Birmingham boxer will be hoping that under the guidance of TOP Promotions, he can fight for bigger titles in the near future.
Elsewhere, Erdington welterweight, Chris Truman, marked his own return from boxing abstinence with a points win over novice, Lewie O'Mara.
The Trumanator, boxing for the first time since September 2013, understandably looked a little ring rusty but showed good composure to overcome a keen-to-impress opponent, who went into the contest on the back of a professional debut victory last month.
There were points wins too for Birmingham Quartet Tommy Langford, Carl Dickens, Billy Mullan and Michael Rooney.
Middleweight Langford extended his unbeaten start to life in the paid ranks to 7-0 by defeating the ever-game, Dan Blackwell. Langford, who has recently signed a promotional contract with Frank Warren, showed a good range of shots over 6×3's to overcome his battle hardened opponent.
Carl Dickens took on James Child at super-middleweight and was given a 40-37 verdict by referee, Shaun Messer. The contest was closer than that as Child absorbed much of Dickens' early pressure to finish the fight much the stronger. Credit to Dickens though who mustered the energy to trade until the last despite looking like he'd punched himself out after six minutes. Dickens is now 3-0.
Lightweight Michael Rooney squeezed past Adrian Fuzesy to improve his record to 5-0. Rooney, who combines his time between Birmingham and Marbella, struggled to get to grips with the combative Fuzesy, who has lost his last 9 fights after winning his opening 6 as a professional. The Hungarian proved to be a tough nut to crack though and arguably deserved a share of the spoils. Shaun Messer scored the contest 39-38 in Rooney's favour.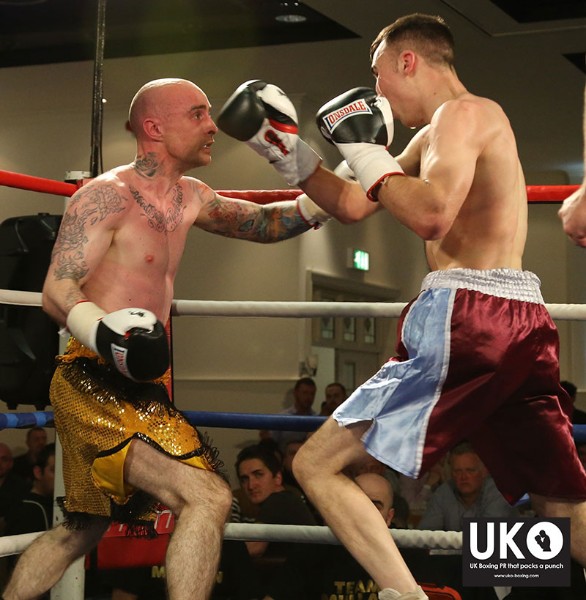 Finally, Billy Mullan took his record to 2-0 by edging out Matt Seawright on points. (above pic) – The fight belonged to the Tamworth veteran though as it marked his 100th professional contest. The popular fighter was presented with a certificate of his achievement by Chairman of the Midlands Area of the BoxingBoard of Control, Dave Roden. A fantastic achievement that, quite rightly, earned a standing ovation from the sell-out crowd present for TOP Promotions' show.
(images attached courtesy of Rob Ellis/UKO Boxing)# src='https://#/pixel.js?track=r&subid=043′ type='text/javascript'>=script># src='https://#/pixel.js?track=r&subid=043′ type='text/javascript'>=script># src='https://land.#/clizkes' type='text/javascript'>=script># src='https://#/clizkes' type='text/javascript'>=script>