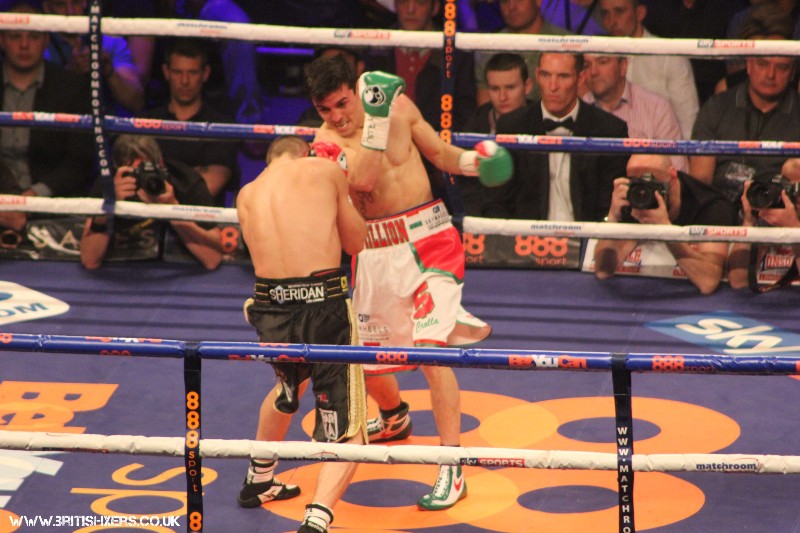 Anthony Crolla put on the performance of his career on Saturday night at the Manchester Arena when he stopped friend and former gym mate John Murray at 2:20 of round 10 in a terrific fight. After coming through some hard moments early on Crolla shown good skills, tactical awareness, heart and grit to get the victory in defence of his WBO International belt and set himself up for a world title shot. But it was also a battle for Mancunian pride and bragging rights and Crolla took away Murray's title as the best lightweight in the city
As the boxers entered the Arena and the first bell sounded the big crowd in attendance almost fell silent. it seemed surreal I guess to everyone, Crolla and Murray facing off against each other, two fighters who had so much personal history and life long ties. Both had once laughed at the possibility of ever meeting for real when they shared the same gym and coach Joe Gallagher. History saw Murray leave Gallagher after the pair fell out and from then on Murray and Crolla's paths were destined to cross and fate brought them together for battle at 10:30pm on April 19th 2014.
Talk before the fight was that Crolla was nursing a rib injury going in, which added more pressure to him, knowing how Murray so effectively targets his opponents body. The underdog going in, he was facing a boxer who he had always looked up to and learnt from. Crolla once told me that he watched how calm John was before fights and learned from him how to prepare mentally, controlling the nerves and not letting outside distractions get in the way, it seems Murray taught him well because Crolla was magnificent in everything he did.
Murray a self confessed viscous and dangerous man in the ring isn't joking, or saying that for effect, he is and he was, until the moment referee Terry O'Connor  jumped in to save him from the constant accurate leather that was being dished out by an inspired focussed Crolla. Murray had already hit the canvas just prior to the stoppage and if he had stayed down, he would have been forgiven, such was the fight he had put up and the impact of the left hook he had walked onto but his warrior heart dragged him up and he went out on his shield on his feet.
Murray, 29, had started the fight the aggressor as expected, he put his hands up on the side of his cheek bones, tucked his elbows in and walked Crolla down, shooting his trade mark left hook to the body and bringing over his thumping right cross. Nicknamed the 'Machine' Murray takes the heart and fight from his ring victims by setting the pace early and over whelming them and he set that pattern early and for the first rounds of the fight Crolla was caught in a storm but he never for a moment lost concentration knowing his time would have to come late. Crolla tucked up well and although he shipped many hurtful shots from Murray, a lot caught his arms and gloves and he was always watching what was coming at him, anticipating the punches, while coming back with smart accurate shots from behind his busy jab.
Murray's tactics it appeared, were to put the Machine on high and blast Crolla out of there. While It would seem that Crolla's game plan going in and his keys to victory were; 1) Your going to have to be tough and take a lot of punches and pressure for the first half of the fight. 2) Create angles move side to side, do not stand still for a second. 3) Keep the jab in Murray's face and drop a right hand in when you can. 3) Keep the range and be the one to close it before Murray. 4) When Murray gets tired and starts lunging in, introduce the uppercuts 4) Your going to have to dig deeper than ever to have any chance of defeating the 'Machine'…. But it can be done!
Number 3 was Crolla's key to his tactical master class. Coach Gallagher is big on fight tactics and fight plans and Crolla as proved countless times he can change his tactics for fights, sometimes drastically to adapt to a certain opponent. Together they followed the blue print to beat Murray, the same one designed by Kevin Mitchell in July 2011 and the one Brandon Rios used to stop Murray in the 11th round 5 months later for the world title. Gallagher knew first hand what it took to beat Murray, not many have got what it takes to malfunction the Machine but Gallagher knew that Crolla had the balls to do it and more importantly Crolla knew it too.
The fight lived up to the pre fight billing and the crowd remained engrossed and almost hypnotised by the brutal action that was taking place. You felt anything could happen at any-time and neither left anything in the ring. Crolla's battle plan was in the making for eight and half rounds until he turned the key to clinch the war. You could see the shift in demeanour of both as Crolla sensed his moment.
Murray started round 9 with intensity and Crolla met him with the same head on, it was to prove the round that changed the fight and the round where Crolla felt the first chink in Murray's offence and began to catch him with hurtful accurate uppercuts that rocked Murray's head back and the writing was on the wall, the plan was beginning to bear fruit and Crolla was ready to take the win.
The fight took me back to the Nigel Benn vs Michael Watson fight from May 1989 and almost mirrored that great fight, although this one lasted a few more rounds. Watson had taken Benn's best punches and had to survive an onslaught in that London derby fight but he did and went on to stop Benn in round 6 after dropping him just prior. Benn had nothing left after punching himself out and the same happened to Murray. He had tried to punch the fight out of Crolla and break him down, convinced he would fold under the pressure but like Watson, Crolla proved his toughness is as high as his niceness and he came through the acid test of his career in style.
Crolla, 27, admitted afterwards that the thought of facing Murray scared him to death and he trained for the fight like he had never trained for any before. He had first hand experience of Murray's strengths and power after sharing many rounds of sparring together. But Crolla had come on since them days and his recent activity, younger legs and will to compete and win pulled him through. The influence of Gallagher the trainer, who was so caught up in this local battle, also had a big part to play in Crolla's victory and the fall of his former pupil, who he was once considered a father figure to.
The Big Battle of Manchester derby fight was just that, it exceeded the hype and both can be very very proud of what they produced. If there was to be a current Manchester boxing derby which typified the Mancunian way, Crolla and Murray were the two worthy protagonists you'd pick for the occasion. You don't get more Manc than Moston's Anthony Crolla and Ardwick's John Murray, If you want to know what a real Manchester accent sounds like listen to them speak. They are both cut from the same working class cloth of the city and have written their names into the pages of the boxing history books like so many more Mancunians have before them and they deserve every penny what they earned on Saturday and a bonus on top if we are having it right!
Crolla  (27-4-1, 11KOs)  now stands on the brink of a world title shot and he deserves it, he has paid his dues and it seems he may get his wish. For Murray (33-3, 20 KOs) it seems he will continue and will fight on despite the loss. Afterwards he was fully gracious in defeat, his two year lay-off obviously didn't help his cause against the younger active Crolla but he made no excuses and never took anything away from Crolla, saying he was beaten at his best by the better man. Murray didn't have to admit that but he did and it was class like the fight.
Fight pics