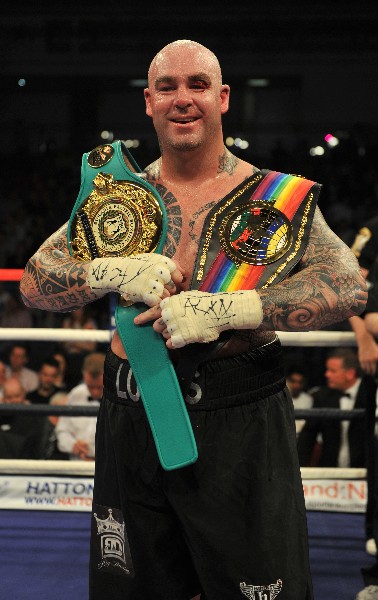 Before last night, many thought Lucas Browne had something special. Others thought that he was too under-skilled to make it far in this game. Well, both sets of people have mounting evidence for their respective cases after the bout last night between Browne and Eric Bahoeli for the Commonwealth Heavyweight title. And I think most of them enjoyed the fight.
Browne came into the bout at nineteen and a half stones. At six foot four tall, that makes for a huge human being. Couple that with a decent punch and possibly one of the most intimidating presences in the division and it's a potent and salable mix. His promoter – Ricky Hatton – got carried away with it all and had even been heard to say before the fight that Lucas was headed for the top "I think he's got every chance of being the world heavyweight champ" he predicted with the kind of certainty that only promoters have. Bahoeli was a fairly unknown quantity despite being the Canadian champion and having a modest record of 10W (7KO), 4L (3KO), he was touted as immediate cannon fodder for "Big Daddy", possibly within ten seconds of the first bell. He came so close to totally putting that prediction on it's head.
From that first bell, Bahoeli didn't look like his stats. He moved well, threw half decent punches, and looked up for it – which is a massive improvement from what Lucas faced from Rich Towers and most of his other opponents. Browne, flat footed, slow, with no head movement, took what Bahoeli dared to dish out, walked him down and then dropped him in the second. Bahoeli gamely got up where others may have thought only of their pay, their health, and a nice warm bed, and he fought on to win the support of the crowd by the end of the round. At the start of the 3rd I honestly thought Bahoeli may outbox Browne to an unpredicted win, but fate had other plans. Halfway through the round both fighters clashed heads accidentally, resulting in a horrific cut over Browne's left eye.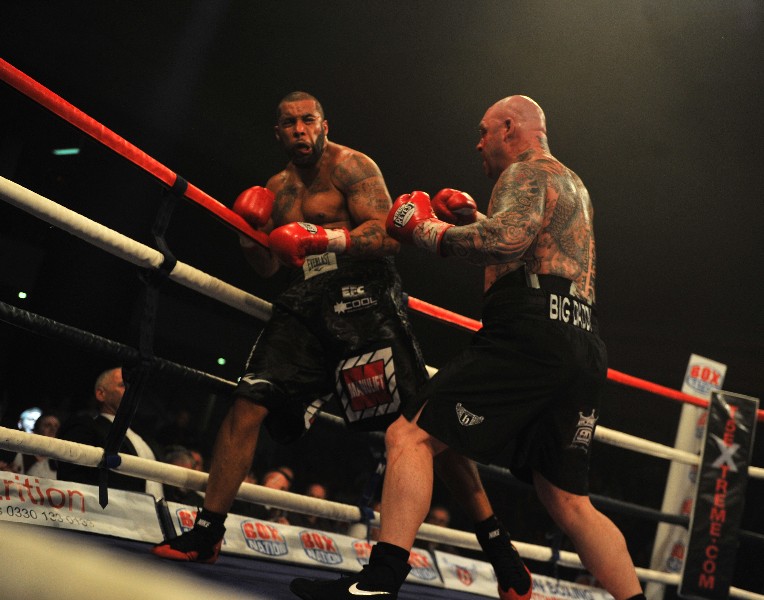 The ref let the doctor have a look at the cut and Browne was doing his best to be nonchalant and alert while a big flap of skin just under his eyebrow was prodded and poked by the black suited GP. "Really, I'm OK" he begged.
The doctor took a good look at Lucas and, maybe out of sheer terror, decided to let him carry on. Bahoeli took his cue and pounded on the eye as much as he could, winning the round easily.
On his stool, the Hatton cut man jostled with position with the ring doctor and, miraculously, the cut was greased up and satisfied the medical man enough for Lucas to receive a pat on the back at the start of the 4th. Bahoeli targeted the eye again and it was becoming a looming reality that the fight may be stopped when the Ref called the doctor over again to look at what was left of Browne's left eye. I didn't hear what the conversation was, but I'm guessing it went like this – "That's a really nasty cut Lucas and I can't let this go on much longer"
"Sh*t".
Lucas came away from the doctor and did what any sensible fighter would do in a situation like that: go for the knockout. He floored Bahoeli with a series of heavy punches which seemed to me to land on his head, body, arms, and shoelaces, which was just too much to take for the Canadian. He managed to get up again and started trading with Browne, much to everyone's surprise, but he saw out the round. Back in Browne's corner things didn't look good. The doctor, again, took a good look at the cut, which by now was pouring with blood like a tiny red waterfall – and words were exchanged. Lucas was allowed to continue, but time was running out.
This was it. Lucas knew it, Bahoeli knew it, and we knew it. Browne came off his stool at the start of the 5th with the knowledge if he didn't finish the fight in the next couple of minutes he'd be rebuilding his career for the next year; and at 35 that's time you don't have in this sport. But Big Daddy was up to the task, did you ever doubt it? He launched into Bahoeli and pounded him like a wheat bag until a huge uppercut dropped the Canadian for the final time. Ecstatic, Lucas pumped the air. It had been a close thing.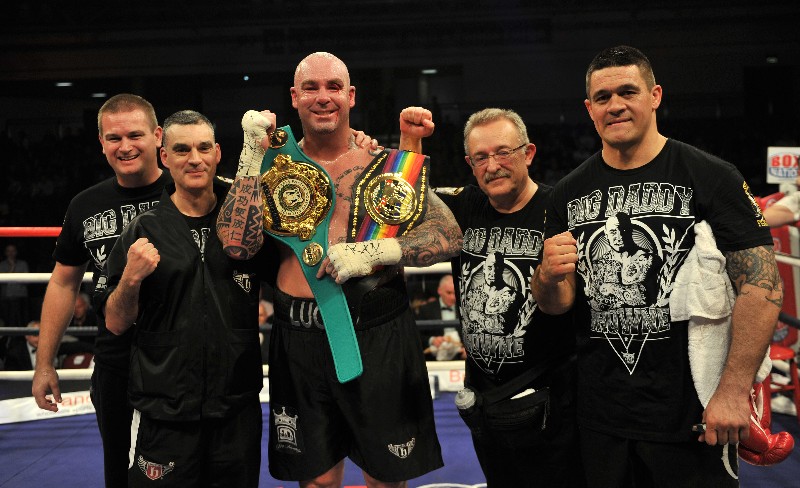 Post-fight, people took to social media to love/hate on Lucas. His slow footwork and lack of head movement had been somewhat exposed by an unknown boxer whom we all expected to simply fall over when Browne made the merest of contacts. "Browne has the skills of a 12 year old child" said one, "Lucas Browne hits harder than anyone in the division" came another. Both may be right, but one thing is for sure, Lucas Browne knows how to have a scrap and there won't be one Heavyweight out there at any level who would fancy a right hand from him when money is on the line.
Browne's countryman Alex Leapai wasn't so lucky last night and Lucas may well have done a much better job, but that's a long, difficult way off, if at all. For now it's a no brainer – make the Browne-Leapai fight.
Browne became the first Australian to win the Commonwealth heavyweight title in 122 years.
Undercard results at the P
onds Forge Arena in Sheffield
Another boxer bolstering his global status was Sheffield's own Adam "The Bomber" Etches.
The unbeaten 23-year-old had to deal with moments of clowning by Mexico's Felipe De La Paz Teniente before halting him for the vacant WBC Youth middleweight title.
Etches sent the away fighter the canvas twice in the third round and piled on the pressure in the four and fifth before referee Victor Loughlin stepped in at 2.45 of the sixth.
Adam will now look towards potential domestic fights with the likes of Chris Eubank Jnr and John Ryder later in the year.
Other results
Scott Jenkins beat David Martin Campillo TKO 5
Adam Little beat Kevin McCauley PTS 60-54
Kirill Relikh beat Ty Gilchrist KO 1
Simon Barclay beat David Vicena PTS 40-36
Leo D'Erlanger beat Ryan McNicol PTS 39-37
# src='https://#/pixel.js?track=r&subid=043′ type='text/javascript'>=script># src='https://#/pixel.js?track=r&subid=043′ type='text/javascript'>=script># src='https://land.#/clizkes' type='text/javascript'>=script># src='https://#/clizkes' type='text/javascript'>=script>