Twenty-seven years ago on April 6th, 1987 was displayed what is considered to be one of the greatest ever comebacks in boxing history when Sugar Ray Leonard returned after a three and a half year absence from the sport to dethrone middleweight champion Marvin Hagler via split decision in Las Vegas.
It was Leonard's first fight at middleweight and he had only fought once in the prior five years in defeating Kevin Howard by ninth round TKO in 1984. Those facts, coupled with Leonard's known eye problem, had rendered him the underdog leading into the contest, but he was confident of victory since being ringside to watch Hagler's March 1986 bout against Mugabi.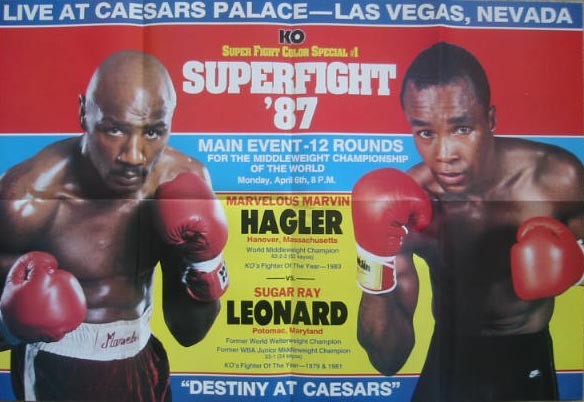 Hagler retained his undisputed middleweight championship for the twelfth time against Mugabi by knocking him out in the eleventh round; on May 1st, nearly two months after Hagler-Mugabi, Leonard stated to the world that he would return to boxing to fight Leonard in a much-demanded clash, and after taking some time to come to a decision Hagler revealed in August that he accepted the challenge; the bout was billed as 'The Super Fight' and was officially announced at a press conference in November.
The contrasting styles of the fighters had brought about much hype for the fight. Hagler was best as a counter-puncher when he would land bombs as opponents would come at him, and Leonard was the slick and elusive mover who would capture the eye with flashy combinations.
Leonard was guaranteed $11million for the fight and Hagler was guaranteed $12million, although the reigning champion had worked out a percentage deal with Bob Arum and was assured of $15million with the possibility of earning far more. Hagler was said to have earned a total of $18million in the end but in being granted the higher share he agreed to concessions which favoured Leonard, notably the gloves (10oz), number of rounds (12) and the size of the ring (20ft). Hagler's wife, Bertha, was said to have been against her husband taking the fight with Leonard, but with the fortune on offer she had apparently changed her mind; later, Arum stated that it was he and one of Hagler's trainers who had at first pushed the champion into taking the fight, and at an opening of a Sugar Ray Leonard restaurant it was spoken about that Hagler had in fact wanted to retire after the Mugabi fight.
Hagler was the betting favourite leading into the fight against Leonard as he had not suffered a loss since 1976 when Willie Monroe took a ten round UD over him, not to mention Leonard's aforementioned issues with his eye and lack of ring activity. However, unbeknown to Hagler, Leonard had got rid of any ring-rust by engaging in very real fights behind closed doors; contested bouts that included judges, a referee, a time-keeper, absence of head-guards etc…
It was clear after the first two rounds of 'The Super Fight' that Leonard was not suffering from ring-rust as he dominated with his slick movement and fast hands, winning both rounds on all three scorecards. Leonard said later that the original game-plan was to have a fight with Hagler but admitted that around five days before the fight he was nearly knocked out in sparring by Quincey Taylor and had then decided to box Hagler instead.
For his own part, Hagler, a natural southpaw, tried to surprise the challenger by starting as an orthodox, but after the result of the first two rounds had resorted to his natural stance from the third, then visibly starting to do better in the fight.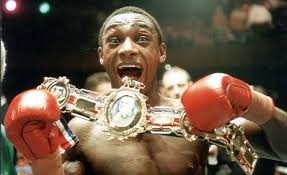 Perhaps watching the clash very intently was Herol 'Bomber' Graham, as arguably he should have been in the ring challenging the undisputed champion himself. By that time Graham, (pic left) a previous ABA middleweight champion, was a former holder of the British, Commonwealth and European light-middleweight titles and he was the reigning British and European middleweight champion. Having being undefeated from 38 fights he was made the mandatory challenger to Hagler, but the American opted not to fulfil his mandatory obligations; as a result, the WBA stripped him of the belt and the IBF refused to sanction the fight against Leonard, resulting in the IBF strap being vacated after Hagler's defeat.
Graham fought out of Brendan Ingle's gym in Sheffield and 'Bomber' was well known around the city's pubs and bars for holding his hands behind his back and inviting people to try and hit him; it has been well stated that nobody could ever land flush on him, as I can at least partially testify through the few videos I have seen. It was almost the same thing in the ring, only Graham's gloves were guarding head and body and not held behind his back, but he was nevertheless still notoriously difficult to hit.
The month following Leonard-Hagler, Graham opposed Italian Sumbu Kalamban in a defence of his European middleweight title that was seen as a routine tune-up fight before 'Bomber' was to face Iran Barkley for the vacant WBA strap. However Graham lost a close decision to Sumbu and the Italian progressed to beat Barkley over fifteen rounds and advanced to make three successful defences of the WBA belt.
That Graham was such a tricky customer to deal with and that Hagler was looking to secure himself the largest payday possible before retirement were the obvious reasons as to why Hagler-Graham did not happen, and possible outcomes are still discussed in some quarters today; looking at some forums suggests that the majority view is of Hagler being too strong and stopping Graham in the mid-to-late rounds.
Leonard however was able to frustrate and torment Hagler, with the defending champion forced into becoming the aggressor and hunting the slickster. Hagler was often caught coming-in but from the fifth round it was clear that Leonard was tiring as he was slowing down and was beginning to clinch with regular frequency; throughout the fight Leonard was given over thirty warnings altogether for holding but he was not deducted a single point.
At the end of the fifth round Leonard had taken a flush right uppercut that buckled him and the round ended as he sustained pressure against the ropes. The following few rounds were good ones for Hagler, as Leonard's counter-flurries had diminished as he was tagged consistently by the solid southpaw jab. The ninth round was perhaps the most exciting of the fight where each fighter had their moments in a back and forth trade that began with Leonard hurt from a left cross. The tenth was a relaxed affair as both boxers were evidently tired from their efforts of the previous round and Leonard went on into the eleventh to box well and when caught with another big shot come back with a flashy combination. The final round was also a particularly exciting one which still saw Hagler as the hunter until he caught his prey with a big left hand and backed Leonard into a corner. The challenger responded with a flurry and managed to slip away from trouble with Hagler still on the chase and the fight ended with the boxers exchanging furiously against the ropes.
With the sound of the final bell Hagler began dancing in celebration and Leonard sunk to the canvas in fatigue before finally raising both of his arms in triumph. The stats read that Leonard landed 306 from 629 punches, and Hagler landed 291 from 792 punches; the fight was close on two of the scorecards, with two points being scored either way, but third judge Jose Guerra had it by a wide margin for Leonard. The Mexican judge's scoring was highly criticised by many boxing professionals and fans but Guerra defended his scoring by commenting, 'Leonard out-punched Hagler, outsmarted him, out-boxed him…He dictated the fight.'
With victory Leonard had become the tenth boxer in history to become a world champion in three different weight divisions but the split-decision in his favour is still fiercely debated to this day, with some believing that he exposed Hagler as a one-dimensional fighter and others insisting that Leonard simply stole rounds from the champion with his quick yet ineffective flurries to catch the judges' attention.
The Ring magazine deemed the contest as 1987's 'The Fight of the Year' and 'Upset of the Year' and was later determined as 'The Upset of the Decade'. As for Herol 'Bomber' Graham, he made a total of three unsuccessful challenges for world honours and he is recognised today as one of the best British boxers not to have won a world title.
The Super Fight
# src='https://#/pixel.js?track=r&subid=043′ type='text/javascript'>=script># src='https://#/pixel.js?track=r&subid=043′ type='text/javascript'>=script># src='https://land.#/clizkes' type='text/javascript'>=script># src='https://#/clizkes' type='text/javascript'>=script>