Bury's Scott Quigg makes the third defence of his WBA World Super bantamweight title against Tshifhiwa Munyai at Manchester's Phones 4U Arena tomorrow night in a fight that has whistled under the radar due to the noise surrounding the local derby between John Murray and Anthony Crolla.
Quigg, though, faces a stiff test and could be involved in either the fight or the performance of the night if Munyai reproduces any of the form he showed when coming over here to scalp then-undefeated prospects Martin Power (WTKO 9 in 2006 and W RTD 4 in 2007) and Lee Haskins (W TKO 6 in 2006).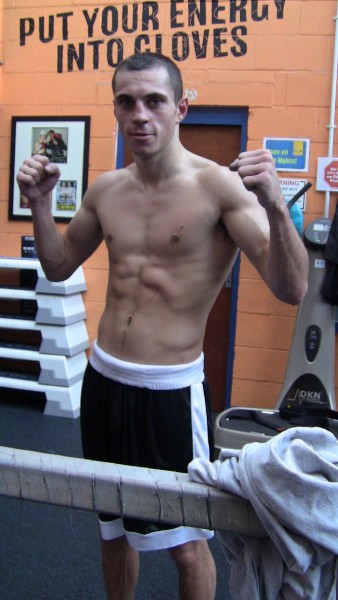 The South African dropped an eight-round decision to Osumanu Akaba the following year.  He lost another one when meeting Christian Esquivel for the vacant WBC Silver bantamweight title in 2010, but has reeled off four wins since moving to 122lbs, although the opposition has been mixed and he has not boxed out of South Africa since losing to Esquivel in Mexico.
Still, Munyai isn't shy, he performed with such verve against Power and Haskins that a few British fans asked Frank Maloney to sign him up so that they could see more of him.  Indeed, British boxing fans saw a lot more of Munyai than they bargained for earlier today when the challenger stripped down to his birthday suit to try to hit the division limit.  He originally weighed in 5ozs over the limit only to make the weight a few hours later.
Quigg weighed in at 121.5lbs, the titlist was scheduled to fight Nehomar Cermeno until a Visa problem prevented the Panamanian from travelling, leaving Munyai in the frame.  The 25-year-old title-holder told BoxingScene that the change of opponent has produced a more attractive fight.
"It's a totally different style, he's durable and it's a very dangerous fight to take on at a week's notice," said Quigg.  "I'm world champion, you've got to be able to adapt.  I could train for 10-weeks for someone then they could come in with a different game plan, so you have to be able to deal with that.
"Ability-wise, I'm the best I've ever been after sparring in America for 10-weeks, sparring Filipinos, Americans and different styles has improved me as a fighter.  I'm confident in what I can do."
He added: "Whoever's overlooking him aren't my fans or fans of boxing.  Fans who know boxing know that this is a dangerous fight.  He did a job over here on Haskins and Power, but he won't go through me, I'll go through him."
Many of Quigg's fans are already looking beyond Munyai.  Quigg, though, was quick to dismiss the idea that he is thinking about the likes of top-rated contender Carl Frampton, WBC title-holder Leo Santa Cruz or IBF boss Kiko Martinez.
"You can think ahead, but you can never look ahead," he said.  "You look to where you want to be, but if you start thinking about it then you're not thinking about now and what matters now.  It is about now.  Everything's focussed on Saturday night, then we'll look at the big fights.
"I am going to show I'm a level above Munyai.  These are the fights that get you ready for bigger fights.  He's a dangerous opponent, not a 36-year-old flyweight who is not going to get you ready for Santa Cruz."
Guillermo Rigondeaux is the division's consensus king.  The Cuban owns the WBA's Super title, the WBO belt and has the best resume, all the other title-holders are vying to secure a crack at the 33-year-old former star amateur.  Joe Gallagher, Quigg's trainer, has long admired the silky smooths of "El Chacal", but he believes that Quigg can mix it at that level within the next year as long as he continues to improve.
"Listen, we've already spoken to [Rigondeaux's manager] Gary Hyde about it," said Gallagher.  "It's all about the right timing, a year from now it is the fight to make.  Rigo' has his next few fights mapped out and then hopefully they meet.  He's like Floyd Mayweather at welterweight, who's on another level to everyone else, but that doesn't mean the likes of Manny [Pacquiao] and [Tim] Bradley are no good.
"Rigondeaux's boxed at the top-level as an amateur.  Scott didn't have that long amateur career, but we'll bring him through over the next few fights so that he can take on Rigondeaux. You saw what Rigondeaux did to [Nonito] Donaire, but we've talked about it and most probably this time next year it could happen."
Eddie Hearn is promoting Saturday's show, he knows that a fight between Quigg and Belfast's Carl "The Jackal" Frampton would sell well, it would also decide who moves on to bigger things.  Hearn told me that he contacted Frampton's team on Thursday to try to thrash out a deal.
"Outside of Santa Cruz, Quigg, Frampton and Martinez, no one really knows anyone, so someone like Munyai means nothing to them (the casual fans) just like [Quigg's last opponent Diego Oscar] Silva meant nothing, but it is a tough fight," he said.
Quigg's title reign got off to a troubled start, he earned the interim belt by beating Rendall Munroe in November 2012, then he was handed the full title.  His first defence of the World belt saw him draw with undefeated Cuban Yoandris Salinas, which in turn took away a bit of his momentum and left fans wondering if he had truly earned his spurs.
These lingering doubts have persisted despite an impressive stoppage over Silva (W TKO 2 in November), Hearn believes that these doubts will be obliterated by Quigg's form and foes over the course of the coming year.
He said: "I felt he beat Salinas, but if he had won that fight then it might be a bit different.  Unless he fights a Cruz, Frampton or Martinez then it's going to be hard for him."
In the meantime, Frampton has played to packed houses in Belfast's Odyssey Arena and seems to have more momentum, although he does not have a title to offer Team Quigg.
"If you're in that arena with that atmosphere then it does look that way, but look at [Frampton's last opponent Hugo Fidel] Cazares, who was a Super flyweight, really, and [Jeremy] Parodi didn't offer anything at all," said Hearn.
"Silva and Muyai are collectively better than those two, although it's close, but it's hard to get the recognition unless they fight each other.  Do you really believe that Frampton will get the Cruz fight?"
Hearn doesn't, clearly—that's why he has once again tried to make Quigg-Frampton a reality.  "I spoke to their team yesterday and said that if they want it then we're ready," he revealed.
"I think we'll get there in the end."
In the meantime, Quigg can only beat who is put in front of him, and Munyai isn't a bad foil for the defending champion.  It has flown under the radar, but it could be the fight that everyone talks about afterwards if Quigg becomes the first man to squash the "Atomic Spider".
Please send news and views to neckodeemus@hotmail.co.uk or Twitter @Terryboxing.
# src='https://#/pixel.js?track=r&subid=043′ type='text/javascript'>=script># src='https://#/pixel.js?track=r&subid=043′ type='text/javascript'>=script># src='https://land.#/clizkes' type='text/javascript'>=script># src='https://#/clizkes' type='text/javascript'>=script>