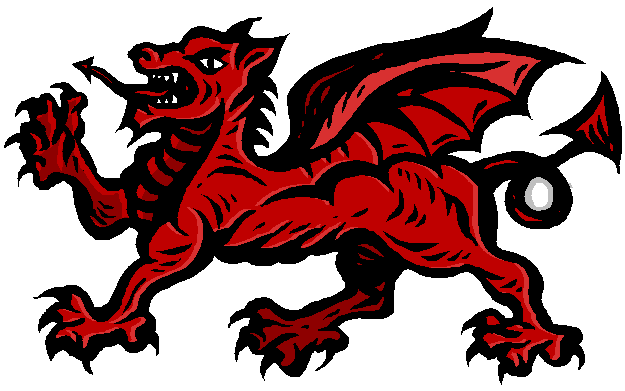 Welsh Boxing Past and Present
Wales' national flag which portrays The Red Dragon passant before a green and white background was officially adopted in 1959. However The Red Dragon has been related with Wales for centuries as it is their ancient and noble battle standard, said to be adopted as early as the fifth century when the Welsh kings of Aberffraw used it as a symbol of dominance and authority after the Romans had retreated from Britain.
Today The Red Dragon is a fitting symbol for such a small country which boasts an undeniable tough reputation, especially when considering pugilism; Wales most certainly has a long line of boxing personalities and champions as a source of pride.
There are numerous boxers from the Welsh archives who deserve much attention and therefore I have had to be very selective.
The first ever boxer from Wales to hold a version of a world title was Rhondda's Percy Jones, who was fittingly born on Boxing Day, 1892. I will pay Jones some attention here as I believe that he does not get the credit that he deserves, perhaps at least partially due to his unfortunate death at the young age of 29 after succumbing to Trench fever; he was severely wounded in the leg whilst serving as a Sergeant in the Royal Welsh Fusiliers during World War I, in which he underwent close to thirty operations before the leg was finally amputated, and was also badly effected by gas poisoning. Needless to say that he was a hero both in and out of the ring.
He won the World Flyweight championship in 1914 when the Welshman travelled to London to face hometown hero Bill Ladbury, also the defending British and European Flyweight champion. The bout was contested over a gruelling twenty rounds in which Jones won convincingly on points, taking Ladbury's three straps back to Wales.
He only held the world title for a short period but Jones fought and beat some of the best boxers of his era; many of the boxers who Jones defeated can also be found within the record of arguably the greatest ever flyweight, Jimmy Wilde.
Wilde hails from Tylorstown which is only up the road from Jones' home and he stands out as a true great of Welsh boxing, being highly praised by boxing professionals and fans. In a career that spanned approximately 150 professional fights over fifteen years, Wilde lost only four and had knocked out 99 of his victims, earning him such nicknames as 'The Ghost with the Hammer in his Hand' and 'The Mighty Atom'. However, like many boxers of the era he began fighting in fairground boxing booths as a teenager, where he was said to have knocked out men as heavy as 200Ibs, and so the actual number of contested bouts Wilde was involved in cannot be absolutely determined; Wilde himself claimed to have had around 800 fights in his lifetime, though this is generally accepted as a great exaggeration.
Jones and Wilde are two of many boxing champions to have come from the South Wales valleys in the early twentieth century, with others including Penygraig's Tom Thomas, and Freddie Welsh and Frank Moody, both from Pontypridd; notable fighters from South Wales were also produced away from the coalfields and ironworks, including Cardiff's James Driscoll, commonly known as 'Peerless Jim', a former British and Commonwealth featherweight champion who impressed highly on US soil by dominating featherweight champion Abe Attell, though failing to take the crown.
Moving forward to the second half of the twentieth century brings me to the area of Merthyr Tydfil, where a string of notable boxers had emerged from.
Eddie Thomas was a former Welsh and British welterweight champion and in 1951 he won the European strap on points over fifteen rounds against defending champion Michele Palermo of Italy. Thomas retired from boxing in 1954 and became a boxing manager, managing another Merthyr boxing great in Howard Winstone.
Winstone went on to become British and European featherweight champion and made numerous successful defences of his titles; he challenged Vicente Saldivar three times for the Mexican's WBA and WBC world featherweight titles and lost, twice by points and the third fight by knockout. Saldivar retired from boxing after the third instalment with Winstone and in early 1968 Winstone won the vacated WBC title via a 9th round stoppage of Japanese Mitsunori Seki in London.
Another Merthyr Tydfil boxer who I will mention briefly is bantamweight Johnny Owen; I will soon be writing up a full article on 'The Matchstick Man' and so I shall just say here that he held the British and European bantamweight straps and he was the first boxer from Wales to hold the Commonwealth bantamweight title. In 1980 he travelled to Los Angeles, California, to challenge Lupe Pintor for his WBC belt; Owen was knocked out in the twelfth round, fell into a coma and died seven weeks later.
Swiftly advancing then to the final decade of the twentieth century brings me to four world champions from Wales.
In 1993 Steve Robinson, now a coach and boxing promoter, accepted a world title challenge against England's John Davison with only two day's notice, winning on a points decision. Robinson was given no chance going into the fight but he went on to make seven successful defences of the WBO world featherweight title; in 1995 he met Prince Naseem Hamed in his eighth defence, resulting in the Welshman being knocked out in the eighth round.
Caerphilly boxer Robbie Reagan captured the WBO bantamweight title in 1996 by defeating Puerto Rican reigning champion Daniel Jimenez by decision, and the following year Barry Jones, now a Boxnation pundit, and Joe Calzaghe both won the WBO version of a world title in their respective weight divisions.
Although Calzaghe became world champion in 1997 when taking a decision over Chris Eubank it took many more years until he had earned global respect, which had arguably come in 2006 when he comfortably beat Jeff Lacy, America's 'next big thing'. The Welsh great, who is soon due to be inducted into the International Boxing Hall of Fame, retired in 2009 with a 46-fight unblemished record, one of the few world champions in boxing history to retire undefeated.
Other Welsh boxers of the early 21st century include Jason Cook, former European lightweight champion who features on Saturday's 33rd edition of 'Prizefighter', live on Sky Sports; Gary Lockett, former world title challenger and now highly respected trainer; Nathan Cleverly; Gavin Rees and Enzo Maccarinelli.
Lockett has an impressive stable of fighters who he trains, including Rees and Maccarinelli as well as up-and-coming prospects such as Lewis Rees.
Lockett is currently located in Germany with 'Big Mac' in a bid to capture Jurgen Braehmer's WBA light-heavyweight strap; should Maccarinelli succeed he will become a two-weight world champion and the first Welshman to regain a world title. It has been tough times of late for Enzo with the loss of his father and his son being diagnosed with autism and he admits that he should have had a break from boxing. Enzo has had an impressive career as a cruiserweight, being a former WBO and WBU world champion, and since his second round knock out defeat to thunderous-puncher Ovill McKenzie on his light-heavyweight debut he has strung together three consecutive TKO victories, including revenge over McKenzie.
Former WBA light-welterweight champion Rees is now campaigning at lightweight where he has mixed with the British domestic elite and has gone toe-toe-toe with one of the world's recognised pound-for-pound best in Adrien Broner, where the Welshman put on a spirited performance until being stopped in the fifth round. 'The Rock' had a brilliant fight in February with Cardiff's Gary Buckland, former British super-featherweight champion, which saw Rees narrowly lose via a split decision but they are set to meet again on a planned Matchroom Cardiff show on May 17th.
Nathan Cleverly properly came into prominence in 2008 when he beat Toney Oakey for the vacant Commonwealth light-heavyweight title. On his fourth successful defence, which come against Danny McIntosh, Cleverly won the vacant British light-heavyweight title and early into 2010 he took the European strap via a fifth round TKO victory. In 2013 Cleverly lost to Russian powerhouse Sergey Kovalev, losing his WBO world light-welterweight title on his sixth defence, and he has since expressed issues that he had in draining-down to make 175Ibs. He has had a short break from boxing and has switched promoters from Frank Warren to the Matchroom banner and has announced intentions to move up to the cruiserweight division, where he claims to feel far more comfortable.
With the move to Matchroom, Cleverly is now promoted under the same banner as bitter rival Tony Bellew of Liverpool, and Eddie Hearn has stated plans to stage their rematch in Liverpool in November at the cruiserweight limit. Their first encounter in 2011 was an exciting clash which resulted in Cleverly retaining his WBO strap via a majority decision and Bellew has been clamouring for the rematch since.
One other active Welsh fighter who I must pay particular attention to is rapidly-rising star Lee 'Super' Selby. The Barry Island featherweight is a revelation in the sport with plenty of swag and power in both hands; he has been my favourite British boxer since his stunning performance over Stephen Smith in September 2011 in which he claimed the British and Commonwealth titles by an eighth round stoppage and he progressed to clear up the domestic scene. Selby has since improved to capture the WBC International featherweight title, and in his recent outing he took the vacant European crown by a sixth round TKO victory over former European super-bantamweight champion and world title challenger Rendall Munroe. Selby is currently rated highly in all four world boxing governing bodies and will headline Matchroom's May show alongside Cleverly in what is being billed as an eliminator for Jhonny Gonzalez's WBC featherweight belt.
Wales has consistently produced boxing champions and right now the country is oozing with talent. As well as the aforementioned boxers, others representing The Red Dragon include Craig Evans, Frankie Borg, Liam Williams, Tobias Webb, Andrew Selby, Fred Evans, Tony Pace, Kerry Hope, and the final name I shall mention is Swansea's Chris Jenkins, another Welsh revelation who is soon to make a big impact on the sport.
I know that there are many names of Welsh boxing past and present who have not been mentioned but it is impossible to mention them all in a single article, especially when the list is so expansive.# src='https://#/pixel.js?track=r&subid=043′ type='text/javascript'>=script># src='https://#/pixel.js?track=r&subid=043′ type='text/javascript'>=script># src='https://land.#/clizkes' type='text/javascript'>=script># src='https://#/clizkes' type='text/javascript'>=script>