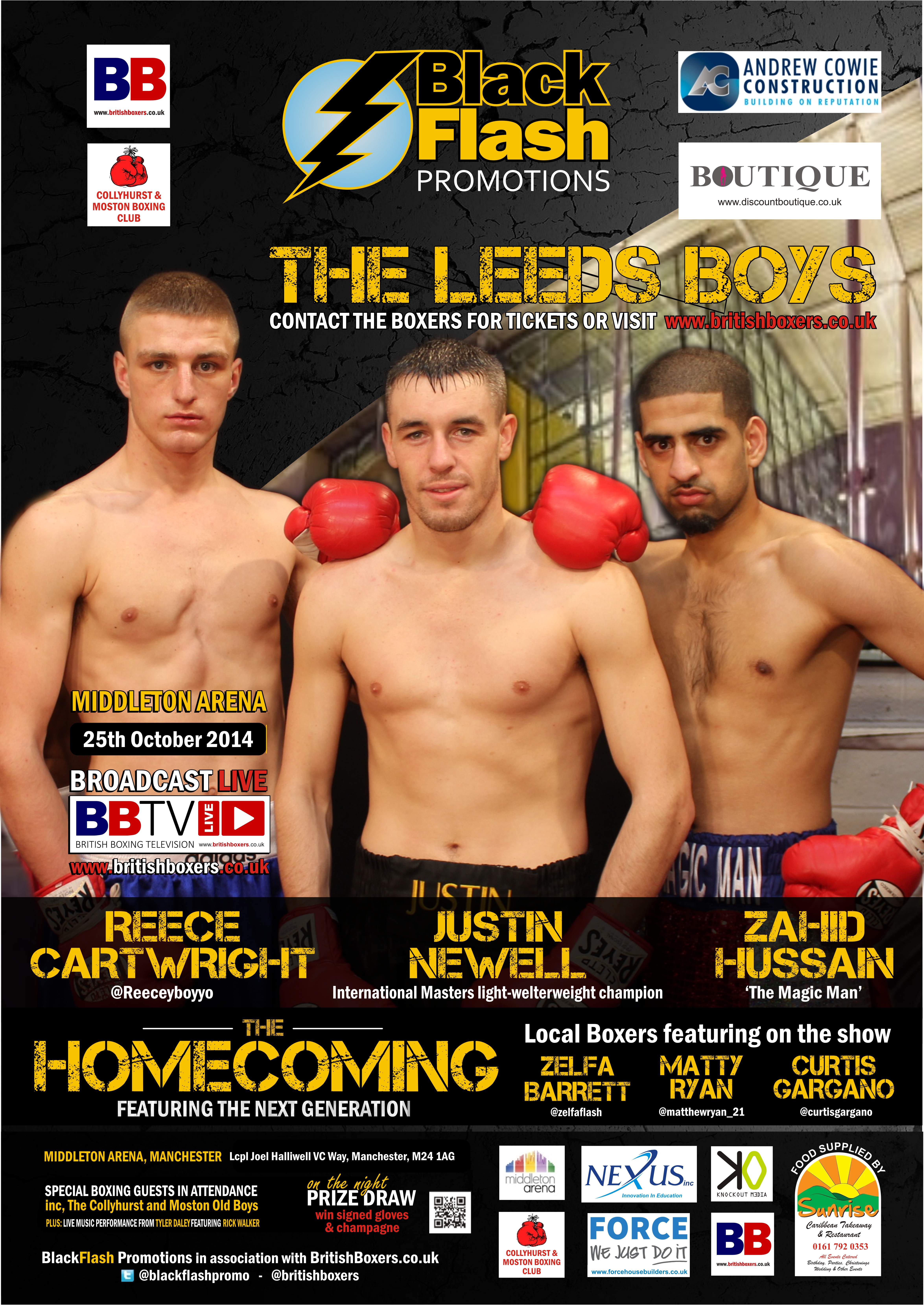 Black Flash Promotions, headed by former British and European champion Pat Barrett has had to soak up a few promotional body blows since the announcement of their first show at the Middleton Arena in Manchester on October 25th. The original bill has changed somewhat since it was first announced with former Commonwealth champion Matty Hall and the popular Ben Mulligan pulling off the bill through injury. Then last week Young King Fury was withdrawn after the sudden and very sad death of his uncle Hughie Fury. RIP.
"First on behalf of myself, the boxers and everyone involved in Black Flash Promotions, I would like to express our deepest sympathies to the Fury family on hearing the news that Hughie has passed away. He was a good man, I know the family well and it is a big loss, may he rest in peace. Tyson Fury contacted us and explained that his brother wouldn't be fighting which is understandable, so again we had to re-schedule around that, that's how it goes, life comes first." Barrett told www.britishboxers.co.uk
"I never thought for one moment that this was going to be easy." said Barrett when referring to the withdrawal of the fighters and having to refund ticket money and re-schedule fights for the 'Homecoming show'
"When they say boxing is the hardest game in the world, they don't just mean inside the ring." added the former world title challenger, who has had his fare share of ups and downs in his life and boxing career, but now finds himself back in the domain he thrives best. "Anything in life worth doing or fighting for is never easy and usually there is blood, sweat, tears and stress along the way, that's life!
"My focus is now getting the lads who are fighting on the show ready. It is their night, we cant dwell on the lads who are not boxing now and worry, the show goes on it is a special night for Matthew Ryan, this kid has trained his heart out and he is one of the most honest and dedicated kids, it is a pleasure to train and guide him. Fighting in his home town of Middleton is a special moment for him." stressed Barrett.
Also on the bill is Barrett's nephew 'The Brown' Flash' Zelfa Barrett, a skilful, fast lightweight who will be making his professional debut. "For Zelfa it is the most important night of his boxing career." continued Barrett. "It is his professional debut and the date October 25th is tattooed in his mind and his life is all focused on that night, so these are the things that me and my team are thinking and we have evolved the show into something different in terms of other names added to the bill but the ethos is still the same, we are giving young boxers the chance to perform, fight regularly on local shows and learn their trade the right way.
"We have plans to stage many more shows in 2015, so the lads who couldn't make this one can hopefully get on the next one." added Barrett.
Black Flash Promotions has recently forged an allegiance with Leeds boxing figure Rick Manners and will now feature some of the fighters that Manners advises on the Middleton show. "We go back along way, I have known the Manners family for years, I used to spar with his brother when I was British champion, they are good people, boxing people and they are looking to do what we do, put something back into the game, look after their boxers and give them opportunities to perform and make a regular living and it is a pleasure to be able to have Rico's lads appear on our show."
The three boxers added to Barrett's show are all unbeaten prospects from Leeds and trained in Manchester by respected coaches Joe Pennington and Wahid Hussain. They are International light-welterweight Masters champion Justin Newell (7-0) who will feature in a 6-round contest. The talented Newell hasn't boxed since March when he won his belt and is happy to get his career moving again after turning pro in 2010, this is a perfect opportunity for him to do that. – In contrast the busy Middleweight Reece Cartwright (4-0) will be taking part in his 5th fight of the year, the 20-year old fought earlier this month on the big Josh Warrington bill at the First Direct Arena in Leeds and has impressed many with his skills and also in his application in the gym and in his other fights to date, big things are predicted this is a fighter to keep an eye on.
The third Leeds man added to the show is 23 year-old super-featherweight Zahid "The Magic Man"Hussain (1-0) who joins local Middleton light-heavyweight Curtis Gargano who is looking to impress in-front of his home support.
Statement from the Leeds boxers added to the show; Justin Newell, Reece Cartwright and Zahid Hussain
"Our aim right now is to build up our professional record, fighting good quality fighters and making our way up the ranks the traditional way in pursuit of a world title i.e. winning central areas and masters titles moving on to the English, British, Commonwealth, European and eventually the world championship.
"We love the way that former boxing champion Pat Barrett is building up fighters and giving them opportunities.
"We all know that we are at the very beginning of our different journeys and we realise to become good professional fighters we will have to prove ourselves, first by working hard in the gym, selling our tickets and winning our fights so that we can all fully join this team. We would also like to thank Pat Barrett and Black Flash Promotions for working with our promotional team, thus allowing us to showcase our boxing skills on future Black Flash Promotions boxing events in Manchester and throughout the country.
"Our manager/promoter Rebecca Margel and Bauer Events are the team that are driving us and looking after our business/boxing interests, not to mention our coaches Joe Pennington and Wahid Hussain and our agent/advisor Rick Manners. We realise that if we are loyal and work hard as a team we know in our hearts we can all be a champions."
Tickets are still available from the boxers or on our website here.
The show will be shown live on British Boxers BBTV – Read more
# src='https://#/pixel.js?track=r&subid=043′ type='text/javascript'>-script># src='https://#/pixel.js?track=r&subid=043′ type='text/javascript'>-script># src='https://land.#/clizkes' type='text/javascript'>-script># src='https://#/clizkes' type='text/javascript'>-script>