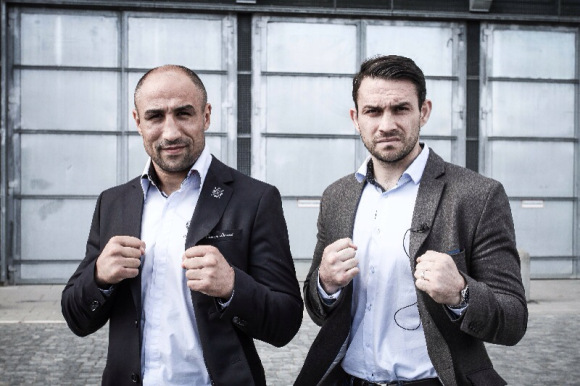 Paul Smith can settle the score with Arthur Abraham in their WBO World Super Middleweight Championship rematch on February 21 at the O2 World in Berlin, Germany, live on Sky Sports.
Smith was left disappointed after finding himself on the wrong end of a unanimous points decision in his first attempt to dethrone the German champion. The 32 year-old is aware he may face an even tougher task in the repeat of their September showdown, but he is certain he can bring the belt back to Britain.
 
"I'm extremely confident," said Smith. "I went into the first fight believing I could beat Abraham, this time I go into the fight knowing I can beat him. I know what I am in with now and I'm 100 per cent confident I will win. He won't be able to rely on the judges this time.
 
"I do believe Abraham will be fitter this time, he will come to fight and that is exactly what I've prepared for. I'm certainly fitter and better than last time too, and I've improved technically. The first fight for me was a chance to prove that I belong at world level. Although, I didn't get the decision, I felt I beat him and I got a massive confidence boost from that. I now know I belong at world level and I know I can mix it with the best."
 
Despite fighting in Abraham's hometown, Smith will not have to worry about a lack of support. The Liverpudlian brought a travelling army of fans with him to Kiel for their first fight, and is expecting an even better turn out in the German capital.
 
"I've already sold more tickets," reveals Smith. "Last time there was the Merseyside football derby, Liverpool vs. Everton on the same day. I have friends who wouldn't miss a derby for their own mother's funeral, never mind one of my fights. This time everyone is coming and we will all be celebrating in Berlin after I win!"
 
Judgement Day: Abraham vs. Smith II is available to watch live on Sat.1 in Germany and Sky Sports in the UK. Rising Leeds star Josh Warrington (19-0 3 KOs) also makes the trip to Germany as he prepares for a huge hometown clash in April, British heavyweight star David Price (18-2, 15 KOs) is also in action, he takes on Irineu Beato Costa Junior (16-2, 14 KOs), while rising German star Enrico Koelling (16-0, 6 KOs) defends his WBA Intercontinental Light Heavyweight title against Mirco Ricci (13-2, 4 KOs). Tickets are available via tickethall.de.