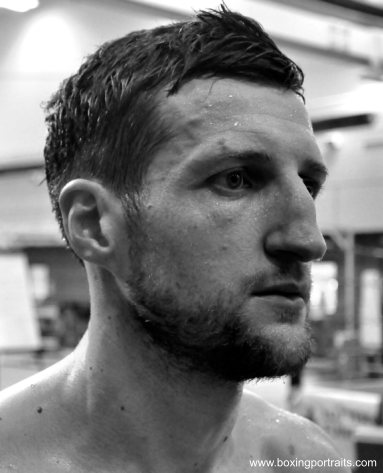 The battle hardened cobra of the prize ring has been coiled for some time. Nottingham's Carl Froch recently ended any speculation linking him with a fight with mandatory IBF title challenge James Degale by vacating the belt – seemingly to embark on his much publicized Las Vegas adventure with a fight in the boxing capital of the world.
For this to come to fruition however, Froch needs an opponent. Julio Cesar Chavez Jr, son of the Mexican icon, placed himself out of the running when he sustained an injury in January.
Such a fight appeared ideal for Froch. Chavez presents an opponent who would come to fight, providing a spectacle for the fans as well as lining the Cobra's pockets with a substantial fee, owing to Chavez's huge Hispanic following and general appeal to the fight goer.
Another mooted alternative seems to be modern day boxing's answer to the "Old Mongoose" Archie Moore: – Bernard Hopkins.
B-Hop's stock will have fallen somewhat following his world title defeat to Sergey Kovalev last November. Rob McCracken, trainer for Froch has also publicly denied any plans for a date with Hopkins, despite the latter's attempts at goading the Froch camp this week.
Former foe Andre Dirrell has also thrown himself into the mix, declaring his desire to avenge the only previous smear on his record which Froch undertook as part of the World Super Six boxing classic in 2009. Froch would be unlikely to accept the invitation, as Dirrell offers little by way of an incentive as he is without a title and is slowly clawing his way back into the title picture.
The bout that harbours the most interest for me would be a return bout with Andre Ward. Ward's almost volcano like inactivity (his last fight came against Edwin Rodriguez in November 2013) would certainly not hinder Froch if the two fighters agreed a return.
The incentive here would be obvious and perhaps a fixture in Carl Froch's mind. It would the present the opportunity to join a rather exclusive club, that of beating every man he has faced as a professional. The rewards may not come as prominently in financial terms as a Chavez date as they would be with Ward, but the boost to Froch's legacy, if not already cemented, will be sizeable indeed.
Carl Froch it seems can take his pick. Though "The Cobra" remains coiled, any strike he makes will certainly be an exciting one.
Carl 'The Cobra' Froch Tribute Video