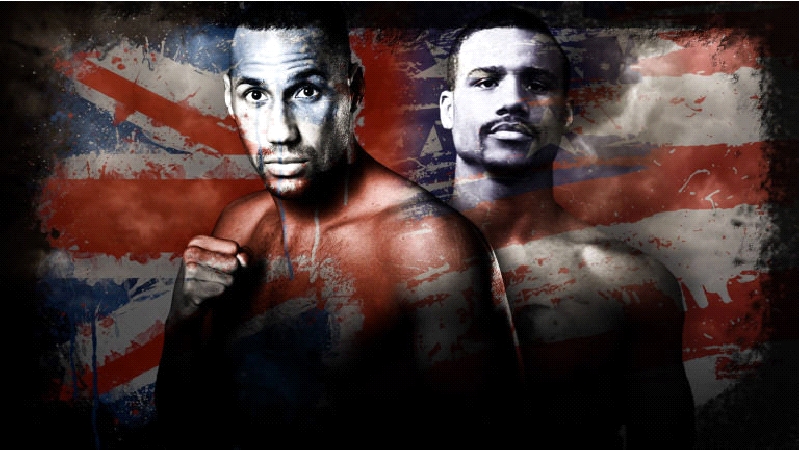 One of the most competitive fights of the year takes place in the US as Great Britain's James DeGale takes on home fighter Andre Dirrell for the vacant IBF World Super Middleweight Title.
James DeGale 20(14)-1, a gold medallist for team GB at the Beijing Olympics, turned pro in 2009 with much hype. After a good start as a professional, picking up the British Title with an impressive TKO victory over Paul Smith, he lost a close majority decision to long term amateur rival George Groves.
Following that loss a period of injury and promotional changes saw DeGale lose focus and as a result, media attention. However, in the last 12 months DeGale has got his career back on track. Now injury free and signed to Matchroom Sport he has had some explosive stoppage wins over good opposition. He goes into the May 23rd clash with Andre Dirrell a fighter full of confidence and determined to make history as the first British Olympic Gold Medallist to win a World Title.
DeGale "Chunky" hasn't fought since he beat Marco Antonio Periban back in November where he needed just six minutes and 30 seconds to stop the visitor, landing a heavy left hook that left Periban sprawled on the canvas.  
Afterwards DeGale labeled Carl Froch a 'coward' and accused him of dodging a title fight where he became Froch's mandatory challenger to his IBF world title, but the "Cobra" went on to vacate and still hopes for a Vegas super fight later on this year.
If victorious In America against Dirrell, DeGale could pave the way for a another showdown against rival George Groves in a unification match, should Groves be successful against Badu Jack.
Andre Dirrell 24(16)-1, the Super Middleweight most will know for his two super six competition outings, which saw him first lose a controversial decision to Carl Froch. He then won via disqualification to Arthur Abraham, where the former middleweight king appeared to knock Dirrell out when he had slipped onto the canvas. The Abraham fight left Dirrell with neurological injuries, which postponed his return to the ring for 21 months. Since his return, he has faced low-level opposition winning all contests comfortably.
Last time out Dirrell faced Derek Edwards in front of a national Showtime audience on Friday, Dec. 19 in his IBF super middleweight elimination bout  where he won a unanimous decision to get back in line for a title shot.  The judges scored the fight 119-109, 120-108, and 119-107 all in favor of Dirrell.
The odds for this fight are extremely close with both fighters currently at evens to win and looking at them at face value it is easy to see why. Both are slick southpaws who are technically very good. They are both ex-Olympians with DeGale an unexpected gold medallist in Beijing 2008 and Dirrell winning bronze at Athens 2004, after losing a close bout to the beast that is Gennady Golovkin in the semi-final. Their records are also very similar in terms of opponents faced with Dirrell having the edge in experience due to his super six performances; however, he has only fought five times in the last five years in comparison to DeGale's 15 fights in the same period.
Battle of the southpaws
James DeGales biggest strength is his awkward style, speed and work rate. He throws a lot of shots at odd angles and overwhelms many victims with his sheer volume of punches when he manages to trap them on the ropes. He uses his quick left cross to get on the inside of his opponents and follows this up with a flurry of fast hooks. Since he has returned from injury, his power has noticeably increased with impressive stoppage wins over durable Periban and Gonzales in his last two outings. He is much better on the inside than Dirrell and will look to make him uncomfortable up close.
However, DeGale has looked poor against counter punchers in the past, as he did in his only loss against George Groves back in 2011; he struggled to land at range and found it difficult to trap him. He can also leave himself open when attacking, particularly when throwing wild hooks. Interestingly, Groves' sparring partner for the DeGale win was none other than Andre Dirrell.
Dirrell's main strength is his jab, which he uses to great effect to keep opponents at bay. He is well schooled in the counter punching style, keeping at range and boxing off the back foot, favouring the 'step back left hand' move that has seen him stop many of his opponents. He is a known switch hitter, fighting comfortably in the orthodox stance; however, I don't think we will see him switching too much against DeGale as he tends to stay southpaw against fellow left-handers.
His weakness is his inactivity caused by the Abraham knock out; he hasn't faced any major opposition since and DeGale will be his toughest test in recent years. He isn't great fighting on the inside and can be flat footed due to his wide stance, something DeGale will look to expose.
DeGale, full of confidence from his recent form; will be the aggressor in this fight and many fancy him to score a late stoppage. He will look to cut the distance and make Dirrell uncomfortable on the inside. If he can get his jab working and keep up with Dirrell at range, he's got the skills to take a points victory, as the American judges often favour aggression.
Dirrell will most likely adopt the punch and move tactics, which gave Froch and Abraham so much trouble; constantly working the jab and firing quick punches, then getting out before DeGale can respond. While he has good power and would love to score a knock-out in front of the big exposure of American terrestrial television, I think he will likely fight to the style he is comfortable with and aim to get the points win in front of his home crowd.
I believe the fight will start out slow for the first three to four rounds while the two fighters try and work each other out. If DeGale uses his awkward style well and attacks, at angles, he will cause Dirrell a lot of problems and I think he will get a late stoppage or points win. However, if the Andre Dirrell that fought Froch and Abraham arrives then we could see a very tactical fight with him winning a close points decision.
Watch DeGale Vs Dirrell live on Sky Sports 1 from 9:00pm – Saturday 23rd May