Unbeaten welterweight prospect Qasim Niaz from Blackburn will take part in his 8th pro fight on Saturday night when he takes on wiley veteren Kristian Laight at the Middleton Arena in Manchester on the latest Black Flash Promotions card.
Niaz, 23, who is trained by Kevin Maree, hasnt fought since November after suffering hand injuries and his absence from the ring has been noted amongst his ever growing fan base and the believers who have tipped him to go far.
It is a well over due return for the boxer nicknamed 'Cast Iron' who stands at 6ft, very tall for a welterweight. What is impressive is he uses his attributes to his advantage and has dominated so far in all his fights. Niaz turned pro in 2013 and has stood out with his elusive skills and the variety of punches he throws from acute angles. All his work comes from behind a fast cultured jab and he is a nice boxer to watch for the purest.
Niaz is certainly one to keep an eye on, Blackburn could have a star in the making!
If you would like to go along to see Niaz in the flesh on Saturday night, Tickets are available at £25, £35 and £60 Ringside and are available from @BlackFlashPromo or from @1Niaz1 
If you cannot get along to the Middleton Arena, you can still get to see Niaz in action on BBTV LIVE on this website from 7pm: visit our TV Page Here to subcribe:
More info on Qasim Niaz
Nickname: Cast iron

Record: 7-0

Weight: welterweight/light welter

Born: Pakistan but came to the UK when I was 1 year old

DOB: 28.01.92

Where do you live: Blackburn Lancashire

Favourite current boxer? Floyd Mayweather and Amir Khan

Favourite all time boxer? Mike Tyson and Prince Naseem Hamed

Favourite all time fight? Arturo Gatti v Mickey Ward

Why do you box? To become world champion and give my family a better life

How did you start boxing? I started boxing because I was laughed at from the age of 11 to 14 due to bowel conditions

Who influenced you at the start? Myself

What amateur clubs did you box for? Fit2xl and Blackburn with Darwen boxing Academy.

What do you recall of your amateur career? Winning a gold medal in Denmark and a silver in Sweden

Why did you decide to turn pro? My style was more suited for the professional game.

How would you say your professional career has gone to date? It's gone pretty well apart from the injury I have had.

What are you capable of achieving in boxing? I believe I have that ability to become a world champion one day.

Who are the people who will help you achieve your goals? The people who believe in me and my coach and family.

Which parts do you most and least enjoy about traing? I enjoy it all because if it's not been hard I don't feel good

Describe your style? What are your best qualities? Speed elusive slick and Rangy

What is your routine on fight night? I just follow instructions and concentrate on what I have to do and that by staying calm

What ring walk music do you use? I have a few but Roy Jones can't be touched

Do you like to take part or watch other sports? are used to play a lot of football but not any more.

Who is the toughest opponent you have faced amateur or pro? Jimmy Kelly as an amateur

Who is the best you have sparred with? Former world champion Hasan n Dam Who is fighting for the IBF title soon.

What is the best venue you have boxed at, when? Bolton Reebok Stadium

What three All British boxing matches would you most like to see made? Scott Quigg vs Carl Frampton. Amir Khan vs Kell Brook and Carl Froch v James Degale

If you could be at just one of the above fights which one would it be? Khan vs Brook

Which current British boxer do you feel can become a global star in the next few years? Amir Khan

If you wasn't a boxer what would you like to be? I honestly don't know.

Family life and background? Good family backing and support

Best friends in boxing? I don't have any best friends in boxing apart from the relationship with my coach

When you are not boxing what do you do to relax? Watch boxing

Favourite Holiday destination? LA

Favourite TV program? TOWIE

Film? Lock up

Music? Dance adrenaline

Food? Steak

Football team? Blackburn Rovers

Motto? Turn the negatives into positives

When is your Next fight, where and who is it against? Next flight is at Middleton arena in Manchester. Not been in the ring since last November. Kristian Laight

Is there anyone who you really, really would like to fight this year? No one in mind at the moment

How can fans get in touch with you for tickets? All my social media. Facebook: qasim Niaz Instagram: qasimniaz1 Twitter: @1niaz1

Current Topic – Klitschko vs Fury? How do you see that fight going, klitschko On points
Qasim Niaz Fight and training Highlights
30th May 2015 – Qasim Niaz vs Kristian Laight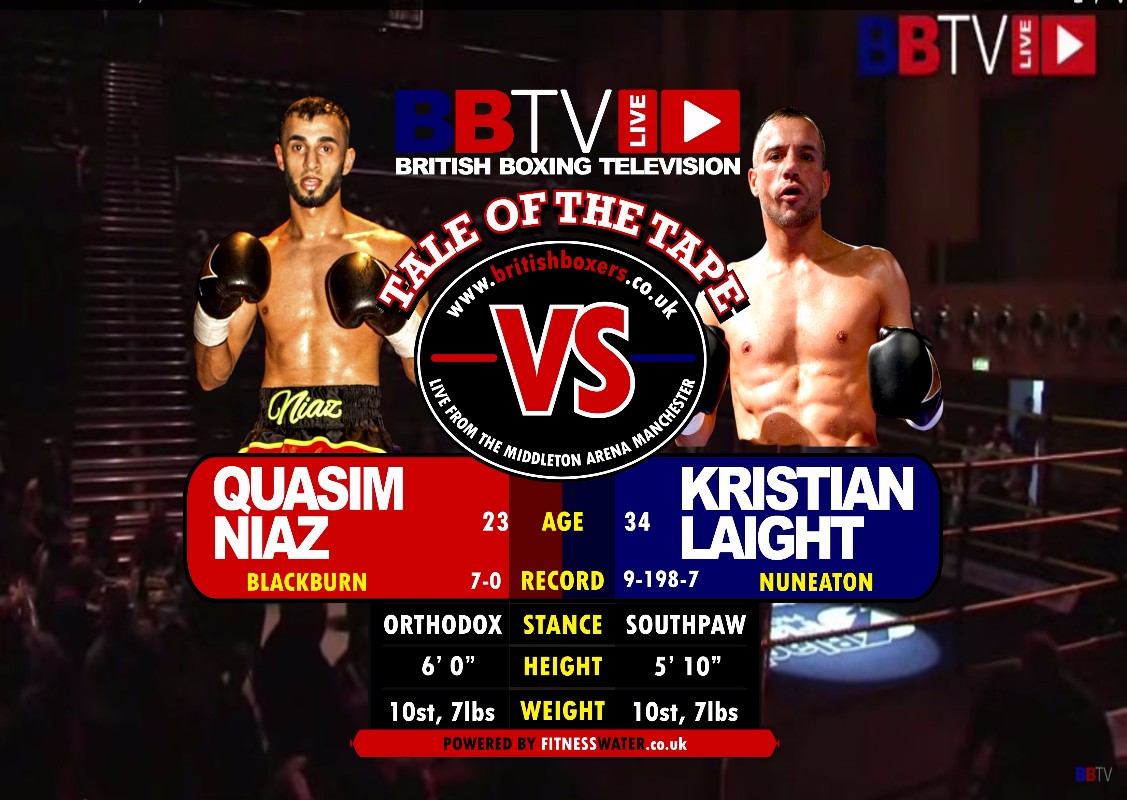 Tickets are available at £25, £35 and £60 Ringside and are available from @BlackFlashPromo or from@1Niaz1 
WATCH ON: BBTV LIVE on this website WWW.BRITISHBOXERS.CO.UK  from 7pm: visit our TV Page Here: