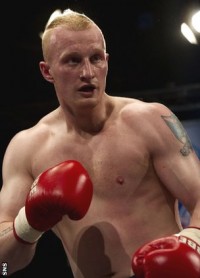 Scotland's Gary Cornish is relishing his forthcoming clash Commonwealth title clash with rising heavyweight starlet Anthony Joshua at London's O2 Arena on 12th September.
The Scotsman expressed confidence of scoring what many will feel is a considerable upset should he defeat Joshua, despite the "Highlander" possessing his own undefeated record and lofty credentials.
Cornish, will enter the ring with a career ledger of 21-0 (12 KO's) and comes into the fight on the back of a particularly rich vein of form, stopping six opponents in his last seven fights.
Despite this statistic, Cornish wears the familiar tag of the "underdog" without any noticeable concern. "When they phoned me up for the fight, Tommy said to me; you've got to look at all the bad and good aspects".
"There aren't any bad aspects…they've written me off already so I have nothing to lose."
Cornish underlined his rhetoric with further aplomb, adding; "I'm there to fight, I'm there to win. I'm not there just to come in and get a pay day or cover up; I'm there to have a proper fight."