Unbeaten Teignmouth-born boxer, Ben 'The Entertainer' Day (7-0-1) is due to fight Londoner Ryan 'Crash Bang' Taylor (10-5-1) on December 5th at London's York Hall for the now vacant Southern Area super-lightweight title. 
The Goodwin Promotions show will feature two Southern Area clashes on a packed event boasting a whopping 18 scheduled fights. 
Taylor, 27-years-old, will be hoping it's third time lucky on that first weekend in December after challenging for the Southern Area title twice before back in 2013. 
Trained by Johnny Greaves out of the famous Peacock Gym in Canning Town, 'Crash Bang' first competed for Southern Area honours in March 2013, losing out on a three-point margin to Liam Shinkwin at Wembley Arena for the lightweight version. 
A second crack at the same crown nine months later in December ended disastrously for Taylor, having a point deducted in round one for use of the head, suffering a knockdown in round two before referee, Richard Davies halted the contest at just past the minute mark in round four after two thunderous left hooks landed straight on the button from the victor, Floyd Moore. 
For Day, 37-years-old, it'll be his second title fight after winning the International Masters Bronze lightweight strap with a first round KO of Latvian opponent, Ilja Sovdra in March this year, also at the York Hall. 
The London gym owner, unbeaten in eight fights and four years said of his forthcoming opponent, "I know he's had 70 amateur fights so that's 70 more than me!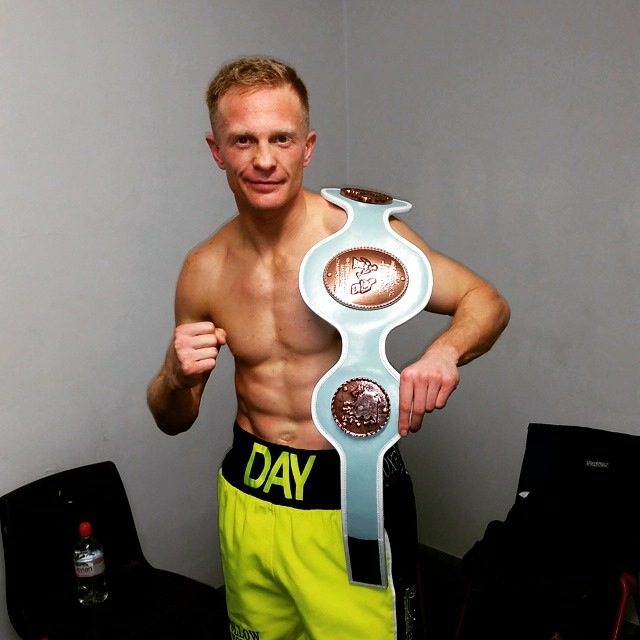 "He's a come-forward fighter, had a glittering amateur career; fair play to him, he wants to win. 
"I like that he said in an interview that he's not taking me for me granted. I've got fresh legs, I'm awkward, and I'll do what I do and hit and move." 
Day continued to add, "I've been getting some good sparring down at RJ's in Chingford with Andrew Joicey and Tyler Goodjohn. It's a great gym and Rod Julian has been giving me some great advice." 
Taylor has competed in twice as many paid contests as Day, as well as boasting a decent amateur pedigree so certainly possesses an advantage in experience going into the title fight. 
Day responded, "It should give him an advantage, he's fought for this title twice already. Behind every misfortune is an opportunity but it's down to the individual whether he sees it as a loss or experience, it could either make him or break him. It's not nice going into a fight having lost it before but it's how it sees it." 
The Devonian boxer only turned pro aged 32 with just a couple of white collar boxing fights to count on as experience. 
"When I first turned pro I wasn't even thinking about winning a fight let alone a title!" he laughed. 
"A lot of people have told me to give up boxing but there's no reason for me to do that whatsoever. I'm not punchy, not been in many hard fights," he firmly stated. 
A close friend of Day's, Darren Hamilton, won the British title in his mid-thirties against the odds by stepping in as a last-minute, stand-in opponent to defeat the title-holder, now signed to Floyd Mayweather, Ashley Theophane on points. 
Day draws inspiration from the Bristolian still fighting on, aged 37, "If you don't want to fight for the British title then you shouldn't be in boxing, that's the ultimate goal," he affirmed. 
"People would have thought I was mad challenging for the Southern Area a few years ago so look at it that way." 
The Devonian boxer is the owner of a boutique boxing gym in Central London and balances his time between his demanding business and professional boxing career. 
"It's hectic but I'd like to say thanks to Greg White for looking after my business, Ringtone Boxing Gym, so I can concentrate on training," he concluded. 
The packed Goodwin Promotions show boasts yet another exciting Southern Area clash as well as nine unbeaten prospects and two debutants. 
Baghdad-born Ali Adams (14-1) and unbeaten Dominic Akinlade (4-0-1) will clash for the vacant Southern Area heavyweight title. 
34-year-old Adams' most recent loss came at the hands of former European champion and Prizefighter winner, Audley Harrison and his latest win was over Larry Olubamiwo, a former Southern Area heavyweight champion himself. 
35-year-old South Londoner, Akinlade's inferior experience is made up by the fact that he has taken the unbeaten record from three of his five opponents, who have a combined record of 9-6. 
New recruit, Wadi Camacho (13-5) gets his debut outing under the Goodwin Promotions banner. 
Peckham's Johnny Garton (15-1-1), a former Southern Area welterweight titleholder takes part in a six-rounder, in what will be a tune-up fight for a major title challenge next year. 
Promoter Steve Goodwin's son, Josh Goodwin competes in his professional debut over four three-minute super-middleweight rounds. 
The 20-year-old from Leighton Buzzard has staged his own shows under the Goodwin Sports banner and turns over after many years as an amateur at Luton Academy. 
Former English super-lightweight champion, Tyler Goodjohn (11-4) makes his eagerly-awaited return to professional boxing after an 11 month hiatus in a six-round welterweight contest. 
John O'Donnell (29-2), former English and Commonwealth title-holder, performs in a six-round welterweight contest. 
Unbeaten prospects, Jose Lopes (4-0), Freddy Kiwitt (7-0), Adam Hart (2-0), Lucas Balingall (3-0), Neil Parry (1-0), Darren Townley (1-0), and Mickey Diggin (1-0) are all in action on the night. 
Top talents, Karl Wheeler (10-5-1), Jamie Speight (13-8), Matt McCarthy (13-1), and Todd Roberts (4-1) are also competing. 
Middleweight debutant, Brad Pauls completes the busy line-up. 
To follow Ben Day on Twitter click here @benday32