Lenny Daws takes on Ruben Nieto on Saturday night for the vacant EBU super welterweight title.
Lenny Daws has warned Spanish opponent Ruben Nieto to expect a hostile reception from his Carshalton fans when the pair lock horns tonight (December 5) at the Westcroft Leisure Centre.
CLICK ON THE PLAY BUTTON ABOVE TO WATCH THE FIGHT WEIGH-IN VIDEO
Daws and Nieto meet for the European super-lightweight crown, a belt vacated by former champion Michele Piccirillo, and Daws feels home advantage could be key on the night, especially against a man who has only once boxed outside his native Spain.
"You've got to look at his record," said Daws. "He's had fifteen fights in Madrid. He's never really come out of his hometown, he's still unproven and there are lots of question marks over him. He's yet to really step outside of his comfort zone and prove himself.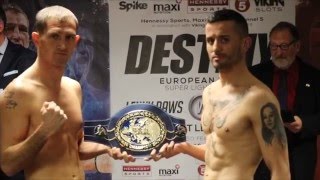 "He ain't going to like Carshalton at all. He's going to be well up against it. He won't be used to the noise and the atmosphere. I wouldn't want to be coming into an atmosphere like that as the away fighter.
"But I take my hat off to him for coming over. I don't know how he'll cope with my Carshalton fans, but he'll have to figure something out."
Thirty-six-year-old Daws, 30-3-2 (11 KOs), has become something of a road warrior in recent years, fighting in various pockets up and down Britain, but is now delighted to be boxing for the European title just a stone's throw from his front door.
"The last time I boxed close to home was when I boxed at York Hall four or five years ago," he said. "Since then I've been up and down the country and out to Italy. I haven't had a home base behind me for a while now, but this is all I have ever wanted – boxing for the European title right next to my house.
"It's about a mile from my house and half a mile from my mum's house. It's literally just up the road. I think a lot of my people will walk there on the night. I can't see them bothering to drive. It's too close for that.
"It makes the world of difference, too, not only to ticket sales, but also in the fight itself. It really helps you in the long, gruelling fights; when it starts to get tough and painful, you hear the noise and it drives you on. It helps a lot.
"We could have sold out the Westcroft many times over, based on how the tickets have just flown out the door. The atmosphere is going to be amazing. They'll have to be careful the roof doesn't come off."
Daws continued: "When I was telling people about the fight, they couldn't believe it was going to be there. They couldn't believe it was going to be so close. They'd say, 'You're joking, aren't you?' I then showed them the tickets and they believed, but it was tough convincing them at first. This fight is basically taking place in my living room and, for a European title fight, that's pretty much unheard of."
You can watch this fight live on Channel 5.