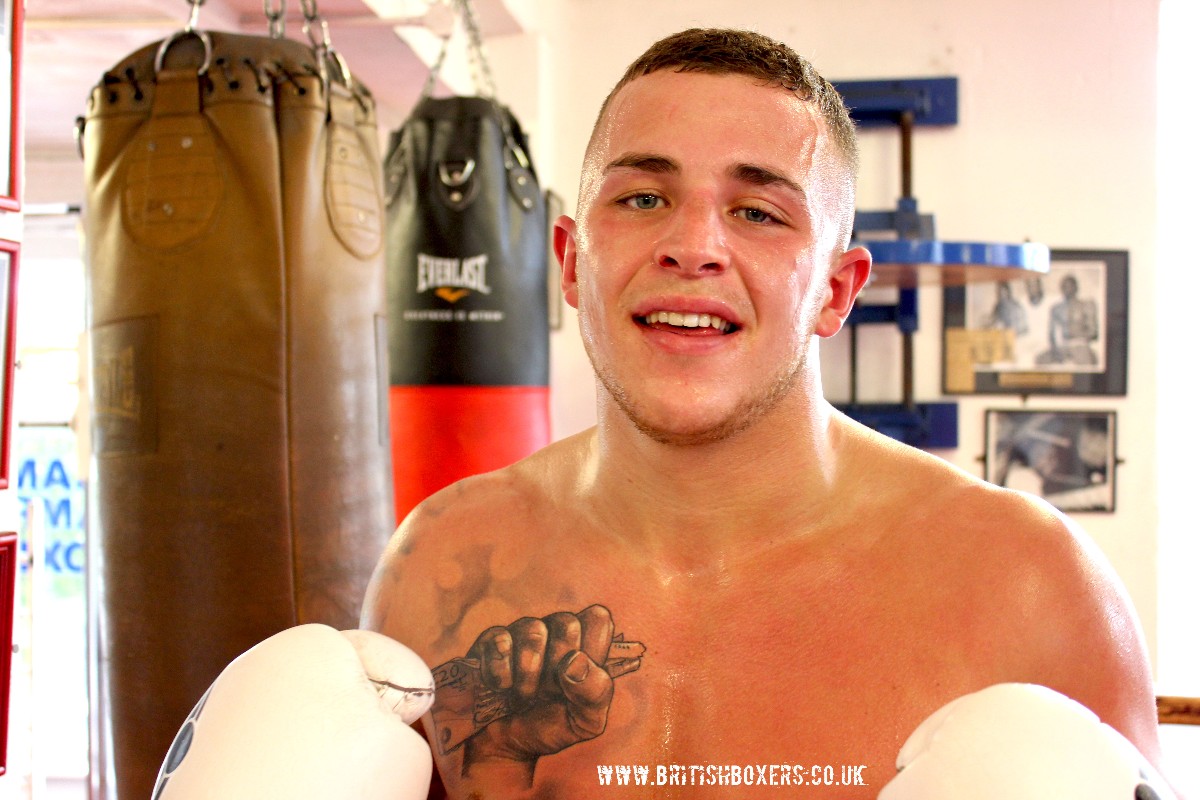 Unbeaten cruiserweight prospect Sam 'Nowhere2' Hyde takes the first step into title action when he fights for the International cruiserweight Challenge belt on March 5th at the Middleton Arena in Manchester.
He will take on Lithuanian Rolandas Cesna over 8-rounds for the vacant belt.
Hyde, 22, who is trained by former British champion and world title challenger Ensley Bingham at the famous Champs Camp gym in Moss Side is looking to have a busy 2016 after ending last year on a high, with two stoppage wins to put him in contention for this challenge belt chance.
"I have been in the gym since my two back to back KO wins at the end of last year." Sam Hyde told BritishBoxers.co.uk.
[sam id="1″ codes="true"]
"I trained over Christmas and New year with this International challenge belt in mind and I want to keep up the momentum now this year and push on to bigger and better things.
"I'm in no rush and I realise I need to get regular learning fights as I progress and build the experience so this is a nice title for me to fight for at this early stage of my pro career. 2016 is all about staying in the gym, working hard with 'Bingo' and the lads and finding what works for me."
The cruiserweight division is now becoming more and more completive with Tony Bellew heading the pack, followed by Ola Afolab, Enzo Maccarinelli and Ovill McKenzie, Jon Lewis Dickinson and Matty Askin, after that the division really opens up, with many up-coming British prospects including Hyde who all will be looking to stake their claim for titles and big fights.
Hyde says when gets his chances, he will take them! "I have always believed I have what it takes to be successful in the cruiserweight division, but I've only had 7 fights." added Hyde…
British Cruiserweight Rankings
| | | | |
| --- | --- | --- | --- |
| 1 | Tony Bellew | Liverpool | 26-2-1 |
| 2 | Ola Afolabi | London | 22-4-4 |
| 3 | Enzo Maccarinelli | Swansea | 41-7 |
| 4 | Ovill McKenzie | Derby | 25-12-1 |
| 5 | Jon Lewis Dickinson | Birtley | 16-4 |
| 6 | Matty Askin | Blackpool | 19-3-1 |
"So I have lots of time to build myself up, take the right fights, at the right time and when the chances come, I will be there to dominate and take them with big performances, not just snatch a win.
The Sale banger, will be having his second fight on the latest Black Flash promotions show, after scoring a 1st round KO over Czech Republic 'Dangerous' David Vicena on Halloween night 31st October last year and Hyde is looking forward to teaming up with Black Flash again after securing this title fight.
Sam 'Nowhere2' Hyde vs 'Dangerous' Dave Vincena – @BlackFlashPromo #BBTVLIVE
"I really enjoyed fighting on the last Black Flash show in Bury and it is great to be involved with them. Chris and Pat do things proper and look after the fighters. Under their banner they have some great prospects coming through like Zelfa Barrett for instance and loads of others.
"So for them to have me topping their bill in my first title fight means a lot and I can't thank them, 'Bingo' and my manager James Lindemann enough, for their their help and for coming together to get me this opportunity.
It promises to be a great night of boxing in Middleton and Hyde says he is not predicting a knockout, but says he would like to continue the KO streak. "I don't go looking for the knockout anymore, and that is the key I believe to getting the recent KO's.
"My coach 'Bingo' has been drilling into me to slow down, pick my shots and box more. I was always going in crash, bang, wallop and looking for it, trying to put on a show for my fans but it was working against me and I made fights harder for myself than they should have been.
"I have a different outlook on it now, I know that if I take my time and box and don't go looking to load up and take them out, the KO's come anyway. I hope to get one in this fight, but the main thing is to get the win and get my first belt around the waist, push on and keep as busy as possible.
Sam 'Nowhere2' Hyde tops a great Black Flash Promotions fight card at the Middleton Arena in Manchester with a host of up-coming prospects on the bill too.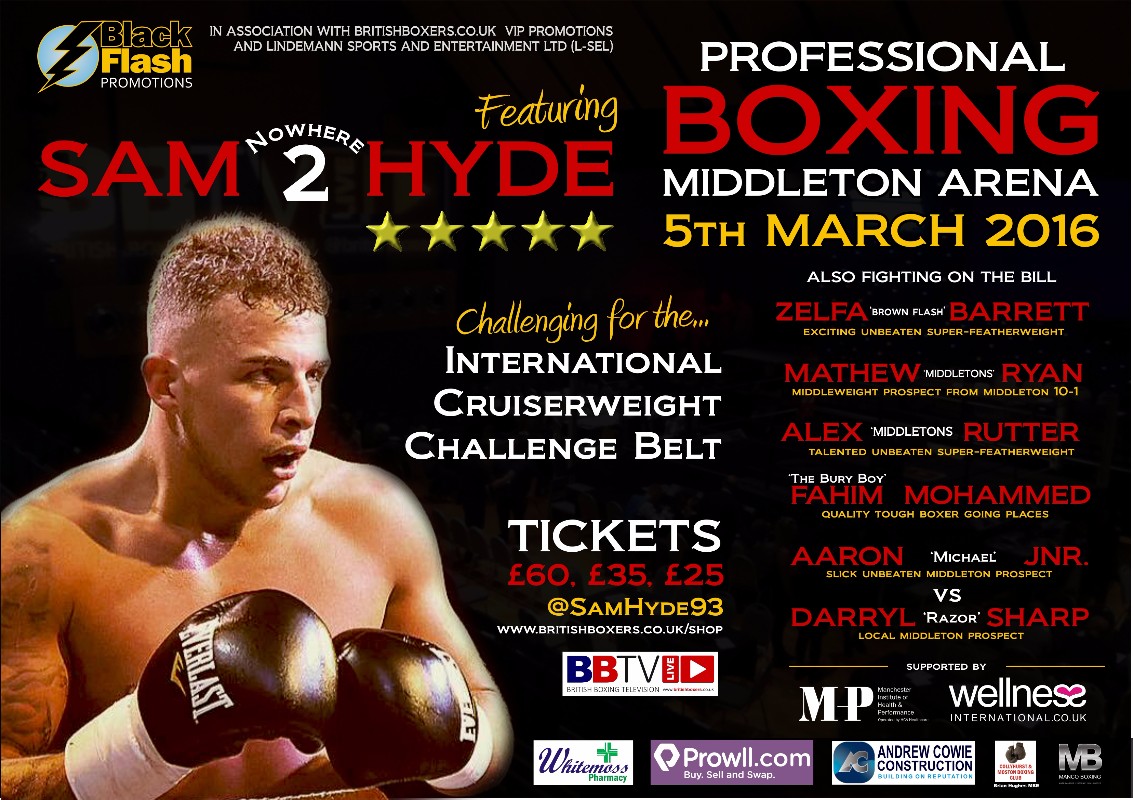 Super-featherweight Zelfa 'Brown Flash Barrett will have his 8th pro fight on the bill. Barrett nephew of former champion Pat Barrett, is coming off a crushing KO win over Ismail Anwar and is looking to stamp his mark again with a silky performance with a dashing of power. Barrett is tipped for big things and has just signed a contract to appear on Frank Warren shows on BoxNation. He will still fight as well on Black Flash shows and Steve Wood's VIP Promotions too, so should be a very busy year for the 'Flash.'
Also on the bill is: Local Middleton favourite Matthew Ryan. The light-middleweight has been out of the ring since July after suffering a leg injury and he is raring to go again in front of his home fans
A new addition to the Collyurst and Moston boxing club and Black flash Promotions is unbeaten featherweight prospect Alex Rutter, another boxer from Middleton and another with a bright future in the sport. The Middleton Boys are really back in town, and joining Ryan and Rutter are Midd, natives Aaron Michael Jr. and Kieran Farrell trained light-middleweight Darryl 'Razor' Sharp.
Having his 4th fight will be the popular 'Bury Boy' Fahim Mohammed. Trained by Barrett in Manchester, who also used to train current world champion Scott Quigg, also from Bury. Fahim is a boxer with immense talent and one to watch out for as he looks to follow in his home town hero's footsteps.
TICKETS: Can be purchased from the boxers personally, or from the Collyhurst and Moston Boxing Club, between 11am-1pm Monday-Friday.
ONLINE TICKETS: Can be purchased here securely on our website here.
BBTV will be streaming the fight live, sign -up here with your email and we will send you the link on the night to view the full show. link