SAM 'NOWHERE2' HYDE THE NEW INTERNATIONAL CRUISERWEIGHT CHALLENGE CHAMP
Sam 'Nowhere2' Hyde claimed his first belt as a professional when he outpointed Lithuanian Rolandas Cesna over 8-rounds at the Middleton Arena in Manchester on Saturday night.
Hyde, 22, from Sale, had a big crowd cheering him on as he put on a measured display of boxing to take the International cruiserweight challenge belt home with him.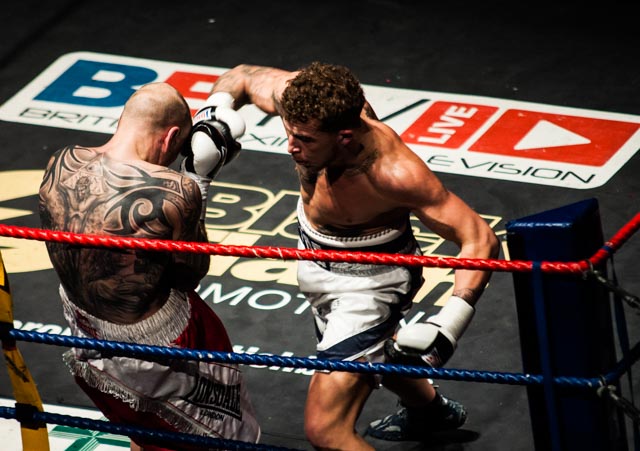 The heavily tattooed tough overseas opponent stood up to some savage hooks and right backhands that crashed off his shaven head throughout the fight but he never gave in and Hyde's hands afterwards were as swollen and battered as much as Cesna's head and body, credit to him for going the distance with the rampant Mancunian and staying in for the full fight.
Hyde managed to drop Cesna on three occasions during the fight but he kept getting up. Hyde went 8-rounds for the first time in his career and moves on. Hyde could be the best kept secret in the cruiserweight divison, there is plenty more to come from the new cruiserweight challenge champ and it will be hard 2Hyde him from the bigger picture for much longer.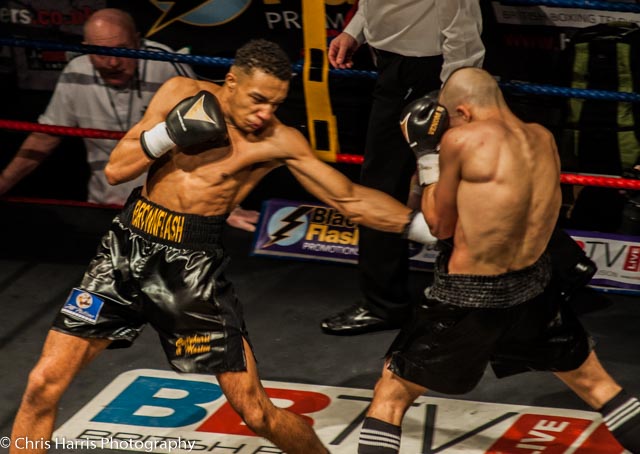 For boxing fans who still appreciate the sweet science of the sport and haven't yet seen super-featherweight prospect Zelfa 'Brown Flash' Barrett in action, then you are missing out! This isn't said lightly by any means, but British boxing could have in Barrett a pugilist with everything it takes to go to the top and beyond.
In his 9 fights to date, Barrett has hardly had a glove landed on him and his punch selection and offensive work are administered with text book accuracy and precision.
In Saturday's fight against Hungarian Aron Szilagyi, it was the first time Barrett has had the privilege of fighting in his natural super-featherweight division. Up to now he has had to fight at lightweight and super-lightweight to get the contest. Against the young Hungarian Szilagyi he was presented the chance to come in at the required 9, 4lbs and made it easy, two pounds under. At that weight, Barrett is massive and says he makes it comfortably.
Szilagyi had no answer to Barrett's movement, angles and rapid fire punches and at times he must have thought he was surrounded such was the Manchester lads foot movement and ring generalship for a boxer only a year in to his paid career.
Barrett has every shot in the book and more, he is fast, spiteful with his shots and is strong in his application. At one point against Szilagyi, he threw a triple left hook, left uppercut combination! Who does that? Barrett is a student of the game and watches hours and hours of boxing footage everyday of his hero's Sugar Ray Leonard and Roy Jones Jnr, always looking to improve and learn. His commitment and will to succeed is even higher than his skill set and that is saying something. The name Zelfa Barrett is without doubt the future of British boxing.
Also on the fantastic Middleton show was the return of home town favourite, super-welterweight Matthew Ryan, who had been out of the ring for ten months after an foot injury. Ryan chose a tough return foe in Atherton's William Warburton, who always comes to cause an upset.
Warburton was up for the challenge and tried his best to send the loud Ryan support home disappointed but the Middleton lad produced a good display on his return and deserved his 6 round points win.
Another local Middleton favourite in action was unbeaten featherweight Alex Rutter who was taking on Stockport's Jamie Quinn in a local derby. Quinny always comes to fight and It turned out to be a very competitive affair and going into the fourth and final round it was their for either to win. And it was Rutter who ceased his chance and took the fight by the scruff of the neck.
Quinn was carrying his left hand low and Rutter took advantage, planted his feet and produced a perfect right hand to drop the tough Quinn. He jumped up immediately but his legs were buckling and did well to finish the fight on his feet as Rutter went in for the finish and shown on the night he does posses power  to go with his cute boxing skill set. Plenty more to come from Rutter and Quinn can be proud of his performance.
The big derby fight of the night was contested by two rookie unbeaten Middleweight's who live that close to the arena in Middleton they walked there. Aaron Michael Jr and Darryl Sharp both live local, both boxers with ambition and it was canny matchmaking to get the local crowd interested in a fight that meant a lot for both fighters and both camps. Sharp who is trained and managed by former fighter Kieran Farrell came out of the traps fast and took the fight to Michael trying to make it a rough affair, but Michael looked fully concentrated and in control of his work. Good movement and counter punching was the key to victory for Michael was the one always one step ahead of his less experienced opponent.
Both put up a good fight and entertained the crowd in attendance. Sharp can come again and get his career going, Michael is a talented boxer who goes on. You get the impression the naturally talented Aaron Michael has a lot more to give.
Black Flash Promotions staged another entertaining show, with every fight competitively matched. The show was streamed live on BBTV and was a successful night of action.
Black Flash Promotions and BBTV are back at the Middleton Arena on July 9th for a bill topped by Zelfa Barrett who will be fighting on his Birthday. And again on November 5th for a bonfire night special. Boxers lined up to appear on the shows will be Sam Hyde, Matthew Ryan, Sean Ben Mulligan, Chris Monaghan, Alex Rutter, plus other special fighters in the pipeline to appear. Follow @BlackFlashPromo to keep updated.